The women who work for Representative Matt Gaetz's office have issued a statement about recent allegations of inappropriate conduct made against Gaetz, saying he has always been "a principled and morally grounded leader."
"After the shocking allegations last week in the press, we, the women of Congressman Matt Gaetz's office, feel morally obligated to speak out," the women wrote in a statement.
"Congressman Gaetz has always been a principled and morally grounded leader," the statement reads. "At no time has any one of us experienced or witnessed anything less than the utmost professionalism and respect. No hint of impropriety. No ounce of untruthfulness."
"On every occasion he has treated each and every one of us with respect. Thus, we uniformly reject these allegations as false," the statement added.
The Florida congressman's staffers defended Gaetz amid a reported Justice Department investigation that is looking into allegations that Gaetz had sex with a teenage girl and paid for her to travel with him.
Gaetz allegedly met the 17-year-old girl around two years ago. No charges have been made against him and the extent of the investigation remains unknown.
However, Katie Benner, the New York Times reporter who broke the story, told MSNBC's Rachel Maddow that their reporting team discovered that the investigation began last summer and has been going on for more than six months, indicating "this is a serious investigation."
Gaetz has strongly denied the allegations and claimed that he and his family are being extorted by a former DOJ official for $25 million.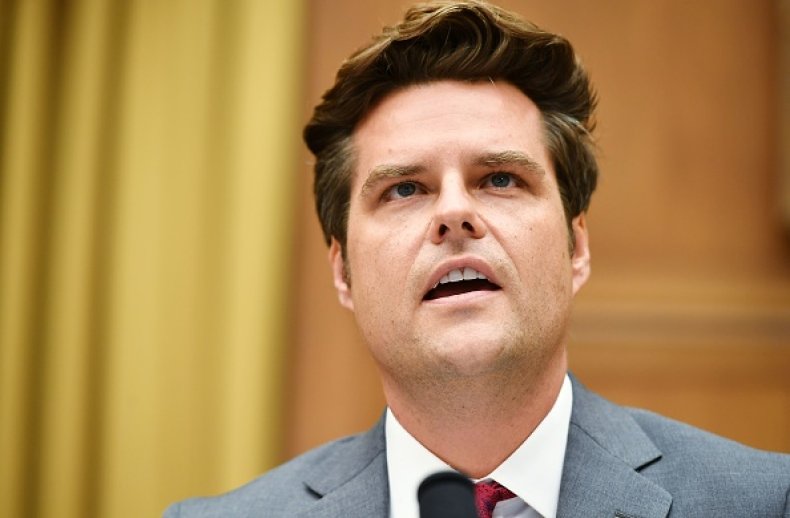 "In our office and under Congressman Gaetz's leadership, women are not only respected, but have been encouraged time and time again to grow, achieve more, and ultimately, know our value," the women working for the congressman's office said in their joint statement.
"Many of us started in entry-level positions and have been promoted to positions of leadership within the office," they added. "In our professional ecosystem, women are given every opportunity to advance and utilize our talents to help the country in the best possible way."
Gaetz's staffers said they will continue to stand with him and urged other elected officials to publicly support the congressman.
"While we recognize the scrutiny we will face for making this decision, we take comfort in the hope that more Americans and elected officials will stand up and refuse to remain silent," the women concluded.
There has been a collective silence surrounding Gaetz from his fellow Republican colleagues. The congressman's communications director Luke Ball also resigned after the news broke.
Even former President Donald Trump, who Gaetz was a loyal ally to, has refrained from defending him. According to Maggie Haberman, a White House correspondent for the Times, Trump had to be talked out of doing so because of the seriousness of the allegations.
"His first impulse was that he wanted to defend Gaetz, you know, 'He's one of our people,'" Haberman told CNN's New Day on Thursday. "Several of his advisers had told him that's a very bad idea, that the nature of what Gaetz is being investigated for is so serious that this is not something that former President Trump should be out there on a limb [for]."
Newsweek reached out to the Justice Department for comment but did not hear back before publication.