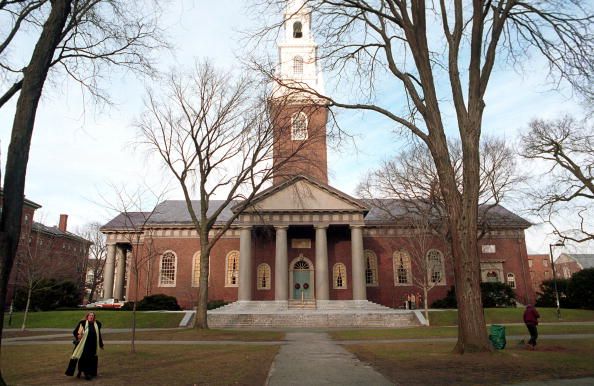 The doors to Harvard's Fox Club have once again been shut in the face of women.
In 2015, a small number of females were the first to gain "provisional" memberships, but these temporary privileges have been revoked for all the men and women who held them, and only males have been invited to apply to become full members, university newspaper The Harvard Crimson reports.
The club graduate board president, Hugh Nesbit ('77), "said that if you'd like to be re-considered for membership, you should send an email to that effect…and that the grad board will vote individually," a former Fox undergraduate president, Daniel Skarzynski ('16), wrote in email correspondence obtained by the Crimson. "However, he said this invite for reapplication does not apply to female members until such a time as the club votes successfully to add women to its membership."
The prestigious university club, an off-campus social organization, accepted only male members for more than a century after its founding in 1898. Its most famous alumni include T.S. Eliot, former King of Nepal Birendra Bir Bikram Shah Dev, Bill Gates and Steve Ballmer.
Harvard itself went co-ed only in the 1970s, and it was decades after that historic event before the Fox Club even experimented with doing the same. Nine single-sex finals clubs severed official ties with the university in 1984 over the issue, preferring to become independent rather than adhere to the university's anti-discrimination rules and admit women. In the fall of 2015, the Spee Club invited women to participate in its recruitment process, and soon afterward Fox's undergraduates invited a group of junior and senior women to become members.
"Earlier this year, after much discussion and deliberation, the undergraduate members of the Fox Club decided to open our membership to women," said an email message signed by the "President and Members of the Fox Club." These first female members "will be advising our transition to a fully co-ed club over the next year."
That move, however, rankled some of the club's graduates. A compromise allowed the women to remain in the club as "provisional" members. But now those temporary memberships, have been revoked.
A vote to change the club's bylaws in August 2016 showed that more than half of club graduates were in favor of a more permanent move to include women, but with 63.5 percent voting in the affirmative, the idea fell just short of the two-thirds majority needed. The new class of members who joined last fall consisted of all men. An internal survey of undergraduates in August 2016 showed that 83 percent of those polled were in favor of the club going co-ed, but in May undergraduates decided in a nonbinding vote against letting in women.
Though the final clubs such as Fox are not officially recognized by the university, Harvard announced a set of sanctions against members of such single-sex organizations in May 2016. Starting with the class of 2021, which begins its freshman year in about two months, undergrads who are members of such organizations will not be eligible to serve as athletic team captains or leaders of recognized student groups, or to receive endorsements for Rhodes or Marshall scholarships or for other prestigious fellowships.
A committee formed in January to review and improve these rules is scheduled to announce its recommendations this fall, just as the class of 2021—which includes former first daughter Malia Obama—is settling into campus.
A former graduate board president, Douglas Sears ('69), expressed his dismay at the Fox Club's move back to excluding women. In response to the women's provisional memberships being revoked, he said that "some folks certainly know how to get on the wrong side of history voluntarily."