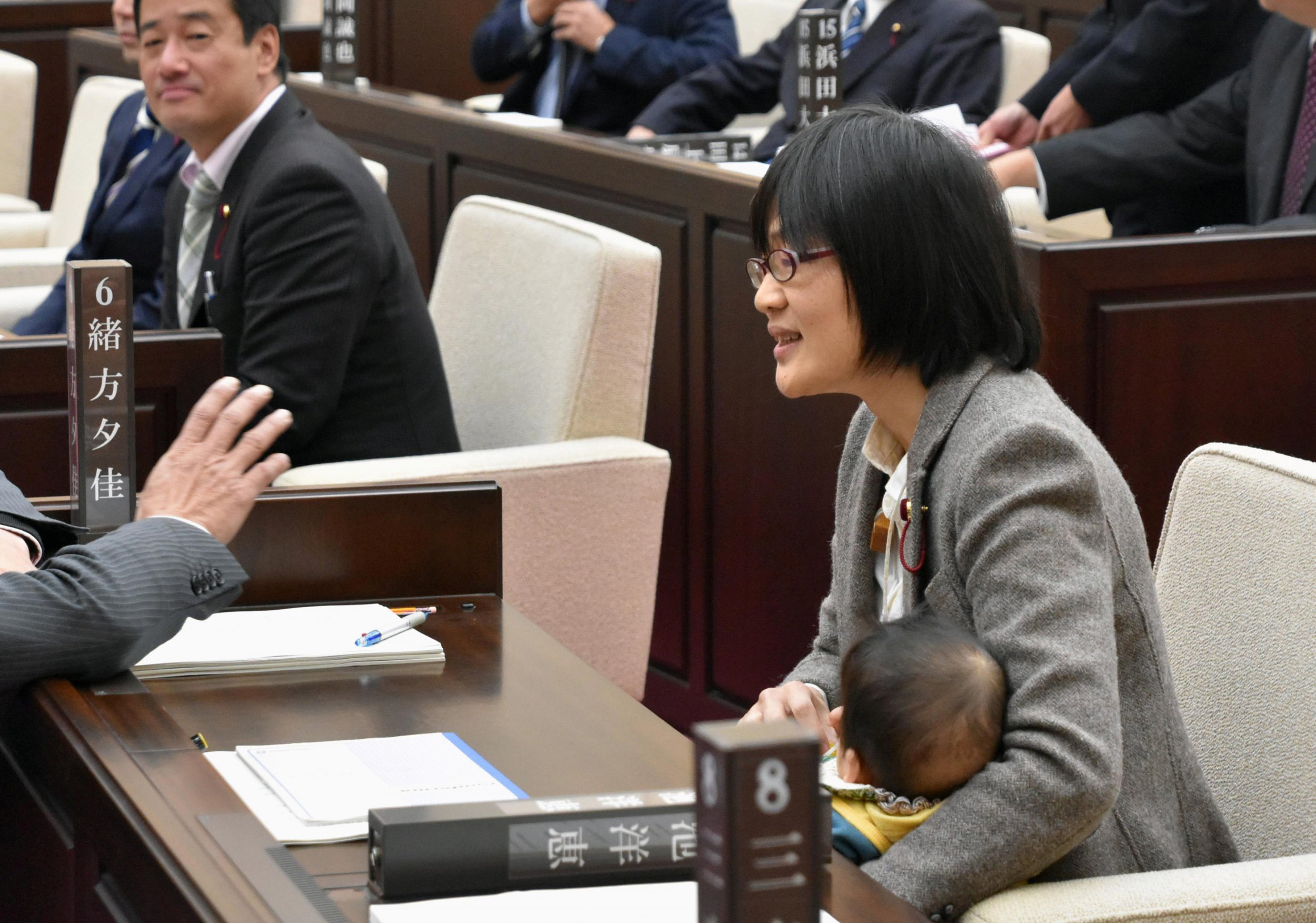 A Japanese politician was told that she would not be allowed to participate in a council session because she had brought her infant son with her.
The legislator, Yuka Ogata, said that the Kumamoto municipal assembly does not offer daycare, and so she had no choice but to bring her child along to a session. Still, officials insisted that she was violating the rules, as visitors and observers are forbidden from the floor. After 40 minutes of debate, Ogata was able to find emergency childcare and the session continued.
"I wanted the assembly to be a place where women who are raising children can also do a great job," said Ogata, who was attending her first session since giving birth seven months ago. She stressed the difficulty for women to juggle careers and raise children in Japan.
Video from the session shows Ogata sitting with the well-behaved child in her arms while her male colleagues looked on angrily.
About 70 percent of Japanese women drop out of the workforce when they have their first child. Those who stay still struggle with their wages, Japan was ranked 114 out of 144 in the World Economic Forum's 2017 Global Gender Gap report.
Prime Minister Shinzo Abe has attempted to create subsidized day care programs that encourage women to go back to work, but his efforts have so far been unsuccessful.
Ogata claims she contacted legislative officials at her assembly multiple times about daycare options but never received a response. The council secretary, however, claimed that she only expressed "anxiety about being separated from the child for a long time."
The council speaker, Yoshitomo Sawada, told reporters that he would like to open a discussion about how to better serve working women with children, "We would like to work on a system where assembly members can participate in meetings with their children," he said.
Female politicians around the world have made a point of bringing their children to work. Licia Ronzulli, an Italian member of the European Parliament, has taken her daughter into the chamber with her regularly since 2010. In 2017, Larissa Waters became the first woman to nurse her baby in the Australian chamber.
Official Japanese figures show that more than 3 million women would like to continue working after childbirth but cannot find sufficient childcare.