Women Take the Stage at the RNC to Make the Case for Trump
Melania Trump may be the first woman to break through the chatter at the Republican National Convention (RNC) this week, but she won't be the only one. The Trump campaign has chosen several women for prominent roles in making the case for a second term for the president.
"The Republican National Convention is a time to highlight the many successes of President Trump and how his policies are benefitting everyday Americans," Trump campaign spokeswoman Courtney Parella told Newsweek. "Throughout the week, we will hear women from all walks of life share how this president has and will continue to make America even greater."
The women include mothers, a public school teacher, a coffee shop owner, an anti-abortion advocate and a nurse—leading up to the main event: the president's introduction by his daughter and senior adviser, Ivanka, Thursday night.
More than 40 percent of the featured speakers that have been advertised so far as having a role during the GOP convention this week are women. In keeping with the reality-show production techniques it has introduced, the Trump campaign has also touted surprise guests for the week, so that number could rise.
Speeches, particularly those from guests who are women, have focused heavily on themes of public safety, health care and schools—areas women consistently rank among their top priorities. Parella said the goal is to show "women across the nation can trust President Trump to put them and their families first."
Polls have consistently shown Trump lagging behind Biden in support among female voters. The latest weekly survey from The Economist/YouGov found Biden leading Trump 53 percent to 38 percent among women (margin of error 3.6 percent)—a number that has barely moved in the past three months.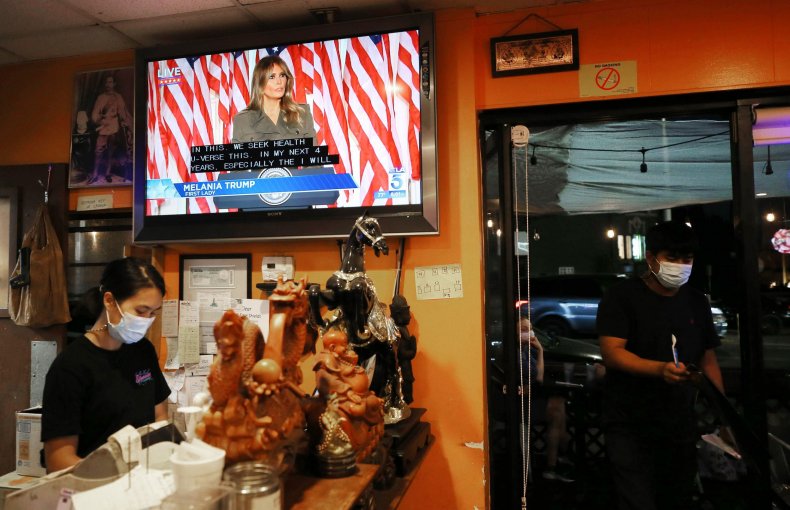 Melania Trump's speech from the Rose Garden was among the convention's most anticipated, both for what she might say about the administration and whether it will give her husband a much-needed boost among female voters. Her remarks touched on the ongoing coronavirus pandemic, racial unrest and similar topics that other speakers have visited infrequently this week at the RNC.
She delivered a forceful defense of her husband's first term.
"Just as you are fighting for your families, my husband, our family, and the people in this administration are here fighting for you," Melania Trump said. "No matter the amount of negative or false media headlines or attacks from the other side, Donald Trump has not and will not lose focus on you. He loves this country and he knows how to get things done."
The Biden campaign, meanwhile, shot back with a statement arguing that Trump's administration has "failed American women."
"President Trump's mismanagement of the pandemic has wiped out years of jobs gains for women," the statement read, "launching us into a she-cession with millions of women unemployed and worried about whether they will be able to feed their families and return to work. Even before the pandemic, President Trump has relentlessly worked against women's interests."
During Tuesday night's programming leading up to the first lady's highly-anticipated address, the Trump campaign showed a 3.5 minute video dedicated to women from Trump's orbit testifying to why they support him.
"Women have played a very, very big role—the level of genius is unbelievable, frankly," Trump said in a video voiceover as soft, inspirational music played over scenes from the nation's capital.
The slick, prime-time video included scenes of Trump's former White House press secretaries Sarah Huckabee Sanders and Stephanie Grisham, current press secretary Kayleigh McEnany, Trump's acting director of the U.S. Domestic Policy Council Brooke Rollins, senior adviser Ivanka Trump and soon-to-be outgoing White House counselor Kellyanne Conway, who called Trump a "champion for women" in one scene.
It also highlighted top campaign aides Mercedes Schlapp, Lara Trump and Katrina Pierson, among many other women who have roles in the administration or campaign team.
"It is barely covered, but [Trump] has empowered countless women to help him lead the nation, his campaign and our party," RNC Chairwoman Ronna McDaniel tweeted as the video aired.
As the music soars, the narrator stresses, "President Trump has proven that when the stakes are highest he is proud to entrust many of our nation's most crucial jobs to women."
Trump's showcasing women, both on stage and off—he has filled many high-profile roles in his administration and the campaign with women—could serve to overshadow his public interactions with women—which have included calling them "dogs" or worse—and also to shield him from the many allegations of misconduct and harassment he's faced over the years.
Trump has repeatedly and completely denied any wrongdoing when women have come claimed he acted inappropriately toward them, but the allegations continue to resurface. Writer E. Jean Carroll, who is currently in a lawsuit with Trump over her claims that he sexually assaulted her in a department store dressing room in the 1990s, this week unveiled through The Atlantic a series of detailed interviews with women who have also made allegations against Trump.
Carroll and her publicist didn't immediately respond to Newsweek's request for comment about the timing or her thoughts on Trump's lineup of convention speakers. But just before Melania Trump took the RNC stage in the Rose Garden Tuesday night, Carroll tweeted that she "can't watch it."