'Time Is Now' Declared by Women at United Nations for International Women's Day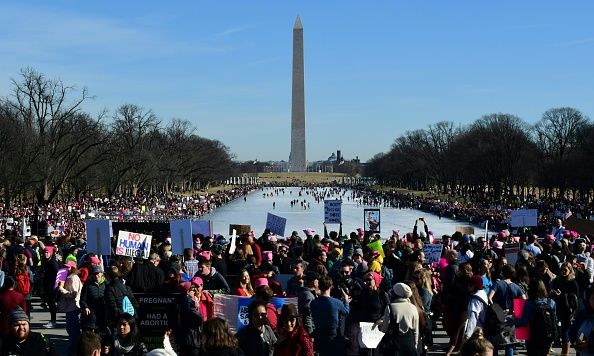 As people around the world celebrate International Women's Day, this year's celebration has taken on extra significance with activism around the #Metoo and #TimesUp movements. Women have shed light on the prevalance of sexual assault and harassment by standing up and speaking up.
These sentiments were echoed loudly Thursday at the U.N. Headquarters General Assembly, where the humanitarian community joined forces with Hollywood and women from all walks of life. Together, women at the U.N. declared that "The Time is Now" for gender equality and said their collective voices would continue to rise.
Each year, the U.N. has a theme for Women's Day events and this year spotlighted "Rural and Urban Activists Transforming Women's Lives."
"Rural and urban activists continue to mobilize, disrupt the status quo and influence a broad range of policy, legislative and social reforms, from founding projects to end violence at the workplace to providing access to services for ethnic, immigrant and minority women, working every day to leave no one behind," said U.N. Women, the agency sponsoring the event.
Speakers said society is at a tipping point and encouraged women to empower each other. Here are the powerful quotes heard at the U.N. on Wednesday:
Dania Gurira: Tony-nominated playwright, actor and activist
Gurira, who's known for playing Michonne on The Walking Dead and plays a prominent role in the critically adored Black Panther film, spoke about a powerful moment when she met Liberian women who had experienced sexual abuse and harassment.
"All of them had said to me no one had ever asked them what had ever happened to them. That really got to me," she said.
"It's about that circle closing very much because those girls have the potential, desire and the resilience," she said. "Women are the more powerful sex, because I cannot believe the things I've heard women say they've been through, and they still keep going day by day and handle their business, and take care of their children, and invest in their communities, and stand up and make things better for people around them."
Gurira pointed to social media, encouraging people to post about "real heroes."
"Let the world know them. Popularize them. Turn them into the next craze, the next hashtag, make their faces as well known as everybody else's. We can do that," she said. "We actually have the power to do that now with social media. Amplify. Amplify. Amplify."
She also encouraged men to speak out on behalf of women who are facing oppression.
"We need those who get it, to speak, and to change the minds of each other and to tolerate zero—not in the locker room, not in the bar, don't tolerate any of it. Stand up every minute because you could be saving a woman from a really unjust situation," Gurira said.
Reese Witherspoon: Academy Award–winning actor and activist
The actress encouraged attendees to stand up for each other.
"Make a pledge that you're not going to stop until things have changed in this world," Witherspoon said. "We're not going to stop and we're not going to be quiet...Because everybody can do something. Do what you can with what you have, where you are."
Monica Ramirez: Co-Founder and President of Alianza Nacional de Campesinas
The keynote speaker echoed the "Time is now" message.
"We are not waiting to be saved, we are saving ourselves despite all odds. Women in rural communities and urban centers are rising up and taking decisive actions to transform our own lives."
Phumzile Mlambo-Ngcuka: U.N. Women Executive Director
"The current solidarity movements have to be a tipping point for accountability; an end to impunity and the cyclical poverty of women in both rural and urban areas."