Women Told to Get Out of Sumo Ring As They Tried to Save a Man's Life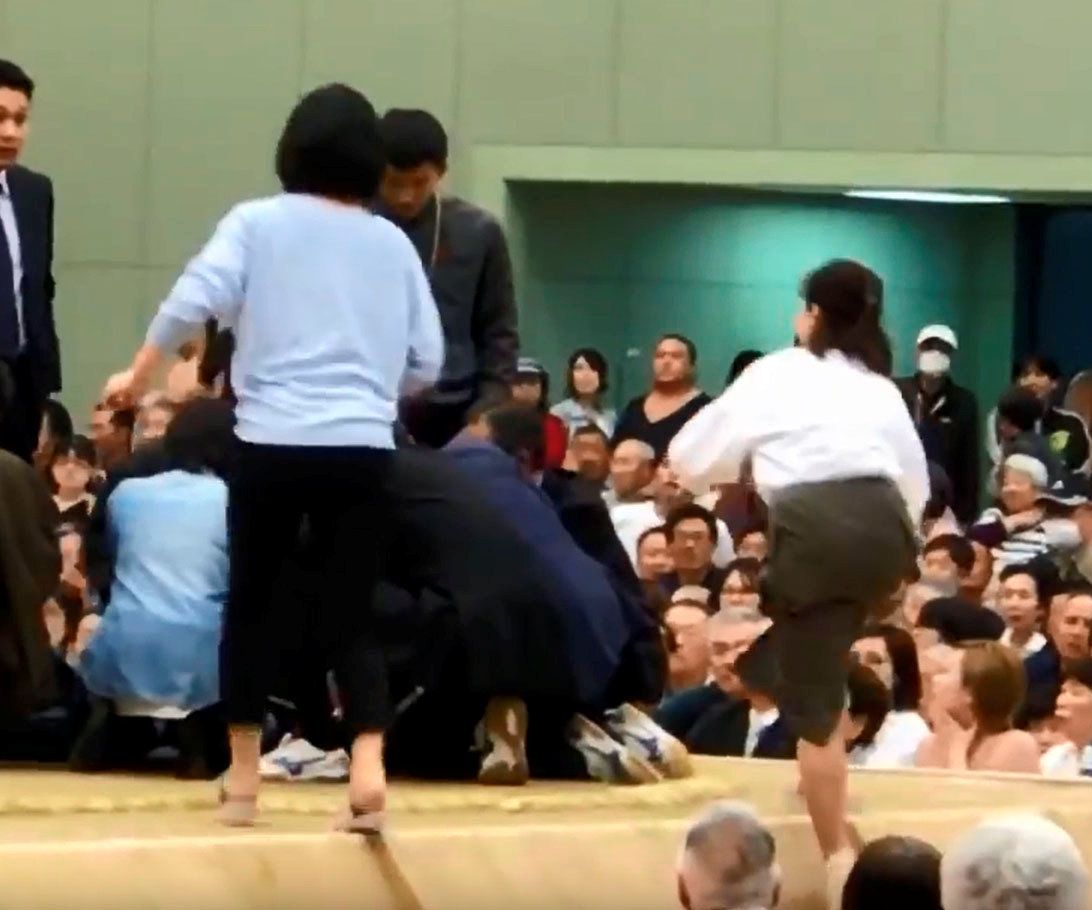 Female medics who rushed to save a man's life after he collapsed during a sumo event were told by organizers to "get out" of the ring.
The incident occurred at a gym in the Kyoto Preferecture hosting a Japan Sumo Association event on Wednesday. The 66-year-old Maizuru city mayor Ryozo Tatami was giving a speech in the dohyō (sumo ring) when he suddenly collapsed to the ground.
A video of the event broadcasted on several Japanese channels shows a woman swiftly stepping onto the ring where a few officials surrounded the mayor, moving the men aside to administer CPR.
More medics, including at least three women, entered the ring to assist in the life-saving efforts. But a referee repeatedly told them "Ladies, please get out of the ring," according to the translation provided by Japanese broadcaster NHK—the message was heard loud and clear across the gym's public speaker system.
The women can then be seen stepping out of the ring, but remaining by the sidelines to supervise the rescue efforts. The mayor was taken to a hospital and is said to be in a stable condition.
The women's treatment was widely criticized on social media and warranted an apology by the chairman of the JSA Nobuyoshi Hokutoumi, also known as Hakkaku. "It was an inappropriate response in the life-threatening situation. I deeply apologize," Hakkaku said in a statement quoted in Reuters, adding he was deeply grateful to the women who provided first-aid response.
Sumo wrestling is one of Japan's most popular sports and it's deeply embedded in Shinto religious principles. According to sumo tradition, women cannot enter the ring, believed to be sacred, because their presence is considered "unclean"—due the belief menstrual blood is "impure"—and would pollute it.
Women practice sumo wrestling, but are barred from competing professionally due to this rule. This isn't the first time that the ban has caused controversy. Osaka Governor Fusae Ota requested in 2000 to be allowed to enter the ring to hand out a prize at a tournament, but the association denied her permission, forcing her to hand out the award on a walkaway next to the ring. A similar incident involving then-Chief Cabinet Secretary Mayumi Moriyama occurred in 1990 and in 1978 when a 10-year-old girl was barred from entering the ring for the final stage of a children's sumo tournament, The Japan Times reported.