Women for Trump To Host 'Empower Hour' in Ohio Same Day as 2020 Democratic Presidential Debate
The Trump campaign will be hosting a Women for Trump "Empower Hour" event featuring leaders from the Republican National Committee in Ohio on Tuesday as part of its initiative to gain support from female voters ahead of the 2020 election.
The event will be held at the Powell Community Center in Columbus, Ohio, on Tuesday from noon to 1:30 p.m. eastern time. No ticket purchase is necessary to attend, but guests were asked to RSVP in advance due to limited seating.
Republican National Committee Chairwoman Ronna McDaniel and spokeswoman Kayleigh McEnany will be in attendance, according to the Trump campaign. Jane Timken, the chairwoman of the Ohio Republican Party, is also expected to be at the event.
The Women for Trump "Empower Hour" is being held on the same day as the fourth Democratic presidential debate. Twelve of the top primary candidates will take the stage at Otterbein University in Westerville, Ohio, at 8 p.m. eastern time.
The most recent Women for Trump event in Minneapolis, Minnesota, last week attracted hundreds of attendees as Karen Pence, Vice President Mike Pence's wife, and Lara Trump touted the president's accomplishments and made the case for his re-election.
"He cares so much about women, about men, and he cares so much about this country," Lara Trump said during the event, according to a report from the Twin Cities Pioneer Press.
In August, the Trump campaign held events across 13 states, including Ohio, to celebrate Women's Equality Day. The gatherings were part of an effort to mobilize suburban women who back the president. Polling shows that Trump's support among white, suburban women has plummeted since the 2016 election.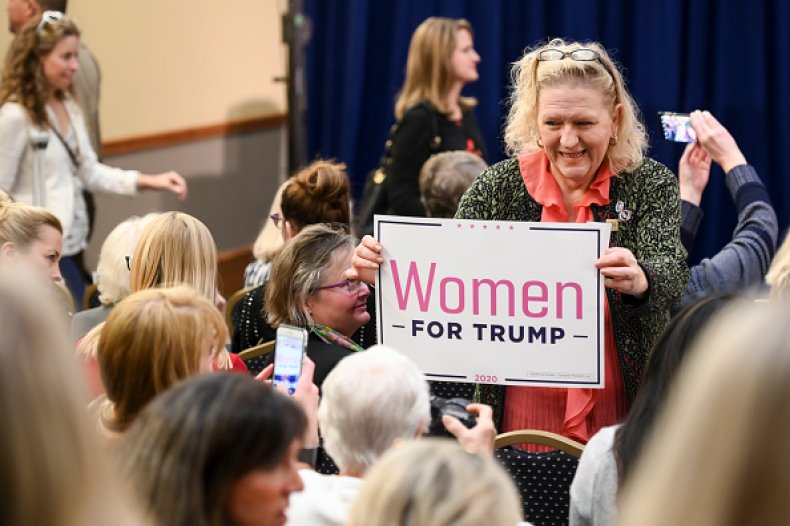 The event also comes as new 2020 polling shows Trump's hold on Ohio is weakening. Trump defeated Hillary Clinton by 8 percentage points in the state in 2016.
A Public Policy Polling survey released on Monday found former Vice President Joe Biden defeating Trump by 2 percentage points in a head-to-head general election matchup. Biden garnered 48 percent of the vote, compared to Trump's 46 percent.
Senators Elizabeth Warren and Bernie Sanders also pose a serious threat to the president's hold on the swing state. Warren and Sanders each tied with Trump with 47 percent of the vote in hypothetical races.
The poll also found Trump being edged out by a generic Democratic candidate. Forty-eight percent of those surveyed said they would prefer to vote for an unknown Democrat compared to the 47 percent who backed Trump.
Public Policy Polling surveyed 776 Ohio voters from October 10 to October 11. The survey has a 3.5 percentage-point margin of error.