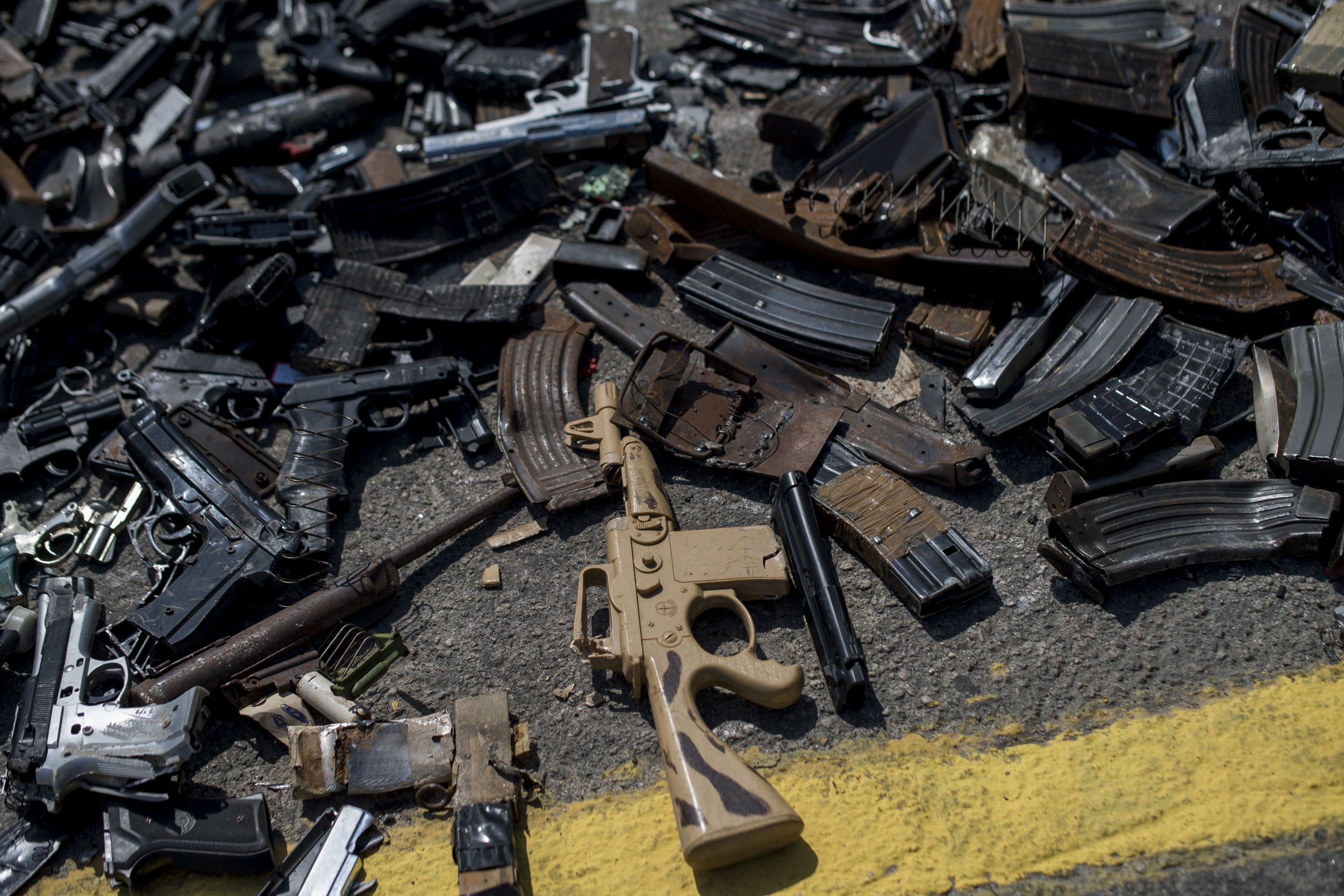 Women want gun control more than men, according to a wide-ranging new poll from Quinnipiac University released on Wednesday.
In a "wide gender gap," researchers found that 69 percent of women support stricter gun laws, and 26 percent don't, while the split is down the middle for men––with 47 percent in support of stricter gun laws, and 47 percent opposed, according to the poll.
Though the poll didn't dig into the reasons why women want tougher gun laws, several experts point to the fact that women are less likely to own guns, and pointed to social and cultural factors that lead to more male gun ownership.
"The horror of Sandy Hook still resonates, especially with women. But while Americans are crying out for tougher gun laws, the consensus is that Congress is sitting on its hands," Tim Malloy, assistant director of the poll, said in a news release.
The gun debate escalated rapidly in 2017 as the nation saw the worst mass shooting in modern U.S. history in Las Vegas, where 58 people were killed by a gunman, just one year after the previous worst mass shooting in modern U.S. history in Orlando. The debate, thus far, has not focused largely on gender.
"One obvious reason," said Jon Vernick, co-director of the Johns Hopkins Center for Gun Policy and Research, "is that women are much less likely to be gun owners than are men." And indeed, men are almost twice as likely to own guns, the Pew Research Center found in June.
Some experts point to long-standing social differences in the way we raise men and women.
"Higher levels of social control of daughters compared to sons in childhood leads women to become more risk averse, and men more risk tolerant," David Yamane, sociology professor at Wake Forest University, told Newsweek. "Both gun ownership and the protector role that goes along with it are more risky behavior."
One key issue in the gun control debate has wide agreement: the influence of guns on domestic violence. Many perpetrators of recent mass shootings had a history of domestic violence. It is one of the most data-backed parts of the contentious gun debate, and both conservative and liberal politicians have moved to pass legislation to get guns out of the hands of convicted domestic abusers.
Some cases slip through the cracks. Devin Kelley, the gunman in Sutherland Springs, Texas, was supposed to have been barred from getting a gun because of a domestic violence conviction during his time in the Air Force. Kelley was able to buy the firearms he used because the U.S. Air Force failed to enter his history of domestic violence—which included punching and kicking his wife and infant stepson—into the federal background check database.
We know that American women are 16 times more likely to be killed by a gun than women in other developed countries, according to a white paper published by the NIH in 2016. According to gun safety group Everytown for Gun Safety, 50 women are shot by their intimate partners every month, and 4.5 million American women alive today have been threatened with a gun by an intimate partner.
Other parts of the Quinnipiac poll measured support of gun control issues that the university has looked at for years. Ninety-four percent of Americans support background checks for all gun buyers, a statistic that has remained consistent since the Sandy Hook Elementary School shooting of 2012. Sixty-eight percent support a ban on gun modifications that make a semi-automatic weapon work like an automatic weapon—namely, bumpstocks. And most Americans––67 percent—say that Congress is not doing enough to reduce gun violence. Even 49 percent of Republicans hold that view.
The poll was conducted between December 13 and 18, and surveyed 1,230 voters nationwide; it contains a margin of error of plus or minus 3.3 percentage points. Interviewers called respondents on their landlines and cell phones.