Women Were Supposed to Stop Trump From Getting Elected in 2016—This Time It Might Actually Happen
The Republican Party has long known about its problem with female voters, but 2020 could seal its fate.
In 2012, a report commissioned by the Republican National Committee in the wake of Mitt Romney's loss in the presidential election—a document later deemed the party's "autopsy"—urged the party to bring women and minorities into the fold in order to be successful.
"Fast-forward to 2016 and you could argue pretty easily that the Republican Party with Donald Trump as its face man was doing exponentially worse with women," said Meghan Milloy, co-founder and executive director of the grass-roots group Republican Women for Progress.
Female voters were expected to carry Hillary Clinton, the first woman nominated by a majority party in U.S. history, across the finish line in the last election. After all, women make up a larger portion of the electorate than men do. But gender solidarity was not as strong as the Clinton team had hoped for, and Trump prevailed despite the infamous Access Hollywood tape and incendiary comments he made against women while on the campaign trail.
But the president might not get so lucky this time around. A wave of new polling shows that Trump is doing significantly worse among women than he was four years ago. According to an analysis from the New York Times, Trump trailed Clinton by 14 points among female voters heading into 2016. Today, he's behind expected Democratic nominee Joe Biden by 25 points.
"That's a huge falloff and a big problem," said Douglas Holtz-Eakin, president of the center-right American Action Forum.
Plus, a key demographic that helped seal Trump's electoral victory is starting to erode. Recent polling shows that white working-class women are moving away from the president, which could deliver a huge blow to his campaign in key swing states like Wisconsin and Michigan.
Trump's support from white working-class women has plunged 11 percentage points, according to a report from the Brookings Institution. Clinton lost this group to Trump by 27 points in 2016. Today, Biden is trailing the president by only 6 points.
"If Biden is able to keep Trump's edge among working-class white women to 6 points, that would be a substantial step toward a general election victory," said William Galston, the author of the Brookings report and a former policy adviser to President Bill Clinton.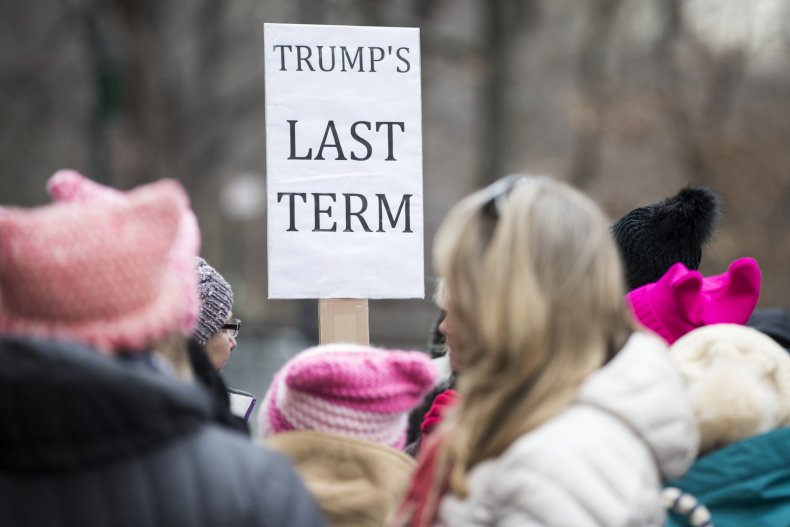 Trump's problem with female voters has been evident ever since exit polls found he lost that part of the electorate to Clinton by 13 points. But experts say 2018 really marked, in Galston's words, an "across the board shift," as a large number of women shifted their support toward the Democratic Party. The result was a record 117 women winning federal office. Data show that number could be eclipsed in 2020.
"Now, you're seeing the straw that is breaking the camel's back for a lot of these women," Milloy said. In 2018, Republican Women for Progress spent $1 million in ads across 11 different congressional districts that had lifelong GOP voters coming out and supporting Democratic female candidates.
It also doesn't help Trump that women have borne the brunt of a number of recent trends, including the economic downturn caused by the coronavirus pandemic. Female workers accounted for 55 percent of the 20.5 million Americans who lost their jobs in April, despite making up just under half of the country's workforce, according to the U.S. Bureau of Labor Statistics. A recent poll from CNN showed a majority of women continue to say the worst is ahead for the health crisis.
Polls also show that Trump's handling of protests over the Minneapolis police killing of George Floyd is not sitting well with female voters. A Reuters/Ipsos poll released last week showed that seven out of 10 suburban women expressed sympathy toward the protesters and that six out of 10 disapproved of Trump's handling of the unrest.
"There is a large gender gap right now in American politics. I'm not saying Trump invented it, but he certainly widened it. I think he'll have cause to regret that," Galston said.
The Trump campaign did not respond to Newsweek's request for comment before publication.