Saudi Arabia's Stadium Ban on Women to Be Lifted Next Year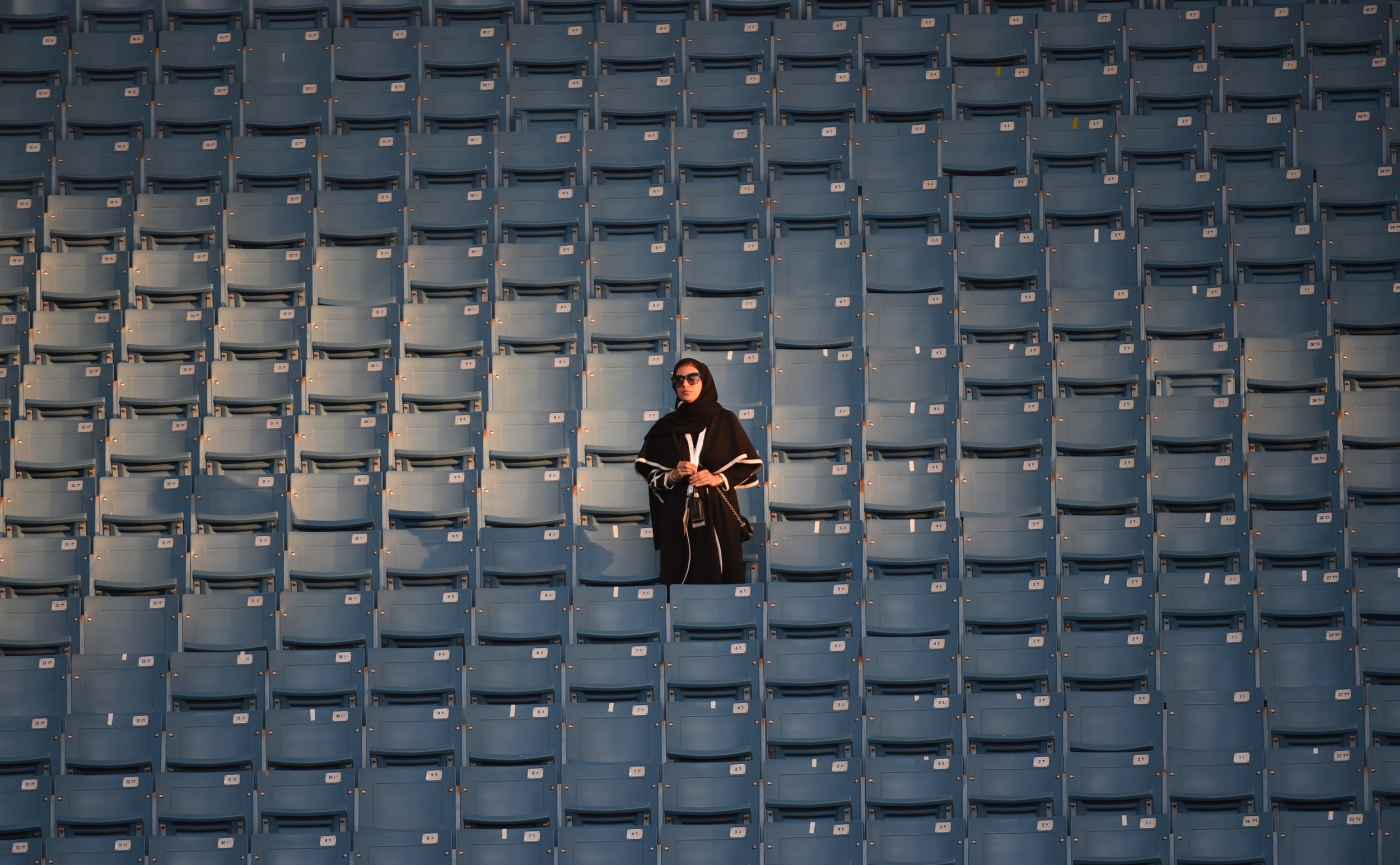 Updated | Saudi women are to be allowed into major sports stadiums for the first time as the Gulf Kingdom continues its drive to reform its economy, Riyadh said Monday.
The Ministry of Culture and Information said in a statement that the country's General Sports Authority had decided that families will be allowed to enter three stadiums early next year.
The three cities where they will be allowed to sit alongside men at sporting events include Riyadh, the capital, the Red Sea port city of Jeddah and the Arabian Gulf coastal city of Dammam.
Stadiums have always been men-only areas in the country, but now the Saudi government is funding the stadiums to be fitted with restaurants and cafes inside the arenas to facilitate families. It is unclear if women will be segregated in these areas.
"In line with the directives of our wise leadership and its interest in all sectors of society, it has been decided to start preparing three stadiums (King Fahd International Stadium in Riyadh / King Abdullah Sports City in Jeddah / Prince Mohammed Bin Fahd Stadium in Dammam) to be ready for families in accordance with the relevant regulations in early 2018," the GSA said in a statement.
The decision comes after the royal order issued by King Salman last month that lifted a ban on women driving from June next year in "accordance with Islamic law."
Women's rights have long been a major problem for Saudi Arabia's international reputation. The country's youthful Crown Prince Mohammed bin Salman has embarked on a project known as Vision 2030, which seeks to modernize the country, increase the participation of women in modern life and diversify its economy away from oil dependence.
Bin Salman pledged to return Saudi Arabia to "moderate Islam" on Wednesday, stating that more than half the country's population is under the age of 30 and desire a "lives where our religion translates to tolerance."
But gender equality remains a distant prospect in the country. Saudi Arabia is 141st out of 144 countries in the world for gender parity, according to the 2016 Global Gender Gap Report, published by the World Economic Forum. The only countries behind Saudi Arabia are Syria, Pakistan and Yemen.
Women still cannot spend time with men they are not related to in public spaces in the country without the permission of a male guardian. They cannot obtain passports or leave the house without permission.
Women must eat their food under their robes if in public. They do not receive the same inheritance as men and cannot swim at pools where men are present.
Some of the changes that bin Salman has implemented so far, such as concerts in Jeddah and mixed cinema screenings, have faced a conservative backlash from religious figures.
A previous version of this story claimed that Saudi women were not able to open a bank account without the pernission of a male guardian. The Saudi Center for International Communication stated that women can open a bank account without this permission, providing they are willing to have their I.D. documents photocopied.
Saudi Arabia's Stadium Ban on Women to Be Lifted Next Year | World