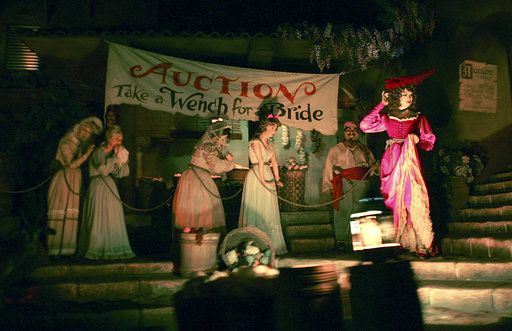 Imagine a kids' ride featuring a group of women bound together by rope, with one buxom redhead and a stout woman on the auction block. A banner reads: "AUCTION—Take a Wench for a Bride."
Since 1967, that scene has been part of the Pirates of the Caribbean ride at Disneyland in California. But Pirates of the Caribbean rides at Disney's amusement parks in California, Florida and France will soon be rid of their bride auction scenes, which have long been criticized as sexist by some while considered an integral part of a half-century-old attraction by others.
"Our team thought long and hard about how to best update this scene," Kathy Mangum, senior vice president of Walt Disney Imagineering, said in a statement. "Given the redhead has long been a fan favorite, we wanted to keep her as a pivotal part of the story, so we made her a plundering pirate!"
The blog post announcing changes to the ride did not address the sexism issue, and Disney officials reportedly declined to discuss it.
The new version of the scene will feature the wench-turned-pirate with a rifle and a feather in her hat as she presides over a scene in which townsfolk line up to hand over their art, clocks and other valuables, according to an artist's rendering. The banner hanging above will now say, "Auction, surrender yer loot."
Disney officials said on Thursday that the Paris park's ride would be the first to undergo the change, with the new version set to be in place when the ride reopens on July 24. The new scene will come to Disneyland and the Magic Kingdom Park in Florida in 2018, coinciding with scheduled refurbishments.
The ride has seen a number of updates through the years, some of which seemed to address similar concerns about sexism. In 1997, when the Disneyland ride was being refurbished, Disney changed the scene that immediately follows the auction to have pirates chasing food carried on platters by women, rather than the women themselves.
Disney also removed a part of a scene in which a woman is hiding behind a barrel while a man holding her underwear asks if anyone has seen a "bewitched maiden in your travels. Oh, she be a lively lassie, she were. Oh, I tell you true. It's all right to hoist me colors on the likes of that shy little wench!" He adds, "Favor, keep a weather eye open, mateys. I be willing to share, I be!"
But the fact that those scenes were updated while the bride auction remained intact rankled some even more. "Why is Disneyland still asking us to laugh at an overt depiction of sexual slavery in its popular Pirates of the Caribbean ride?" Caroline Heldman wrote on the Ms. magazine blog in 2010. "Disney has unparalleled power to shape young hearts and minds. If the Pirates of the Caribbean ride normalizes sexual slavery with humor, it can desensitize viewers to this heinous and very real gendered crime."
Some fans have taken issue with such changes. Back in 1997, movie critic John Simon said that "it's worse than silly, it's imbecility." More recently, a commenter on Disney's blog post about the updates wrote on Friday that "this is the saddest most frustrating news of all the Latest Disney updates. I can not believe that the Disney corporation is not preserving nostalgia and original Walt work but rather bowing down at the alter of Political correctness. At this rate I fear that the entire ride will disappear one day as pirates were not historically moral nor politically correct."
Marty Sklar, the former head of Walt Disney Imagineering who helped design many of the rides at Disneyland, said updating rides is an idea Walt Disney himself would have gotten behind.
"The Imagineers are simply reflecting what Walt started the day Disneyland opened—making changes that create exciting new experiences for our guests. I can't think of a single attraction that has not been enhanced and improved, some over and over again. Change is a 'tradition' at Disneyland that today's Imagineers practice," he explained to The Orange County Register this week. "That's what the Imagineers have done with this new auction scene—it's like a theater show with a new act."