Women's and Civil Rights Groups Hold March in Protest of Amy Coney Barrett Hearing
For the second straight day, Senate proceedings for Amy Coney Barrett's nomination to the Supreme Court will be met with protests and demonstrations.
A coalition of women's and civil rights groups marched on Tuesday in protest of what they described as "rushed hearing" to consider the judge's appointment to fill the seat vacated by Justice Ruth Bader Ginsburg. Participating organizations included the National Women's Law Center, Alliance for Justice, The Leadership Conference on Civil and Human Rights, Planned Parenthood Action Fund and People For the American Way.
The march started at 9 a.m. on the Capitol grounds, and the marchers headed to the Supreme Court. Participants carried banners displaying their priorities, including health care, abortion access, LGBTQ rights and more.
"Senators supporting Barrett's confirmation should face the stakes of this nomination," said Keith Thirion, the director of outreach at the progressive judicial advocacy group Alliance for Justice. "We're gathering to send the visible message that they must address the public's priorities—health care, reproductive rights, voting rights, racial justice, and more—not fast track a nominee who threatens our health and our rights."
Ben Jealous, the president of People for the American Way, also framed the Supreme Court battle as a fight for health care and to protect people with pre-existing conditions.
"We must march to ensure that the voices of these Americans are uplifted, and that Republicans pay a heavy price in November if they move forward with ramming through an anti-healthcare justice," Jealous said.
The groups also argued that the Senate should be spending their time providing relief for millions of Americans affected by the coronavirus pandemic instead of holding hearings for a Supreme Court nominee.
"The Supreme Court is our court. It's not Trump's court, or the Senate's court—it's the people's court," said Uma Iyer, a spokesperson with the National Women's Law Center. "And the people need relief, and they have already begun voting. We deserve more from our leaders."
The organizations said they will follow COVID-19 guidelines established by the Center for Disease Control and Prevention during the event. The amount of people able to participate will be limited, masks will be worn by all demonstrators and hand sanitizer will be provided.
Monday marked the first of several days of Senate hearings on Barrett's nomination to the Supreme Court by President Donald Trump. Barrett, a 48-year-old mother of seven who currently sits on the Seventh U.S. Circuit Court of Appeals, was picked to fill the seat vacated by the death of Justice Ginsburg who died on September 18 due to complications surrounding metastatic pancreatic cancer.
Monday's hearing was also met with demonstrations by groups supporting Barrett's nomination and those opposing it. Photos showed some Barrett protesters dressed in red robes depicting characters from Margaret Atwood's dystopian novel-turned-television show The Handmaid's Tale.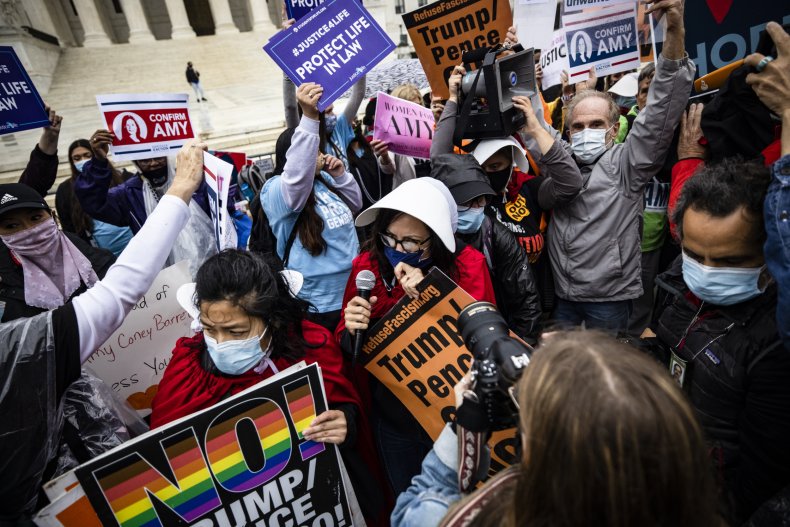 U.S. Capitol Police confirmed to The Washington Post that they arrested 21 demonstrators for crowding and obstruction outside Barrett's confirmation hearing in the Dirksen Senate Office Building on Monday morning.
Many women's groups have criticized Barrett's possible appointment to the high court, citing her conservative views would threaten Roe v. Wade and other landmark decisions on reproductive freedom, LGBTQ rights and gender discrimination.
During her opening statement on Monday, Barrett pledged to "faithfully and impartially discharge my duties to the American people."
She also gave a nod to the women who served on the Supreme Court before her, stating she was humbled by the responsibility of being selected to fill the vacancy left by Ginsburg.
"I have been nominated to fill Justice Ginsburg's seat, but no one will ever take her place," Barrett said. "I will be forever grateful for the path she marked and the life she led."