Women's March 2018: Where and When to Demonstrate in New York, Los Angeles and Other Cities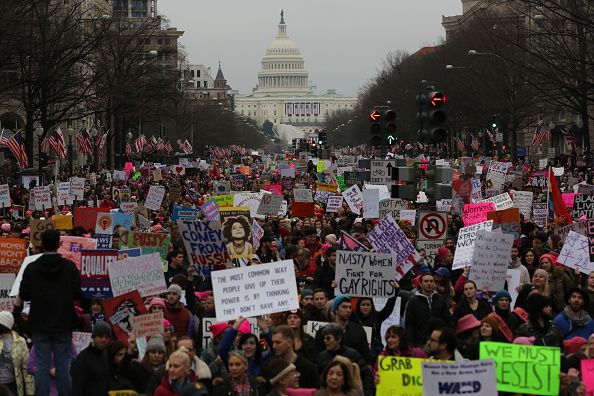 Last year's Women's March rallied 4.2 million protesters across the country in more than 600 cities, making it the largest single-day demonstration in modern U.S. history. Protesters donned pink hats and carried signs in cities all over the world to promote women's and minorities' rights and protest the inauguration of President Donald Trump.
This year, organizers are anticipating about 673 marches and around 5 million attendees. A website has compiled a list of "sister marches" taking place around the world this weekend, which can be searched to find nearby events.
Here's how to take part in the events, no matter where you are.
New York City
This city's march, which was attended by 400,000 people last year, will take place Saturday from 11 a.m. to 3 p.m., starting at 72nd Street and Central Park West. The march will start with a rally, then travel past the Trump International Hotel and Tower before turning east at Columbus Circle to continue down Sixth Avenue. The march will end at 43rd Street.
The rally will include speakers like Ashley Bennett, who unseated a New Jersey politician who mocked last year's march; singer Halsey; and MILCK, who drew attention for her Women's March anthem.
Las Vegas
Organizers of last year's march on Washington will bring protesters and leaders together in Las Vegas, because Nevada is a battleground state that they say will shape the Senate in the 2018 midterm elections. The event will commemorate the one-year anniversary of last year's march, so it will take place Sunday. The event, at Sam Boyd Stadium, will not include a march but will host speakers and performers who will call for voter registration and continued activism. The event is free, and doors open at 10 a.m.
Los Angeles
You can march in downtown Los Angeles on Saturday, along with celebrities like Viola Davis, Laverne Cox and Natalie Portman and politicians like U.S. Senator Kamala Harris. A rally will begin at 8:30 a.m. at Pershing Square. At 10 a.m., participants will march to City Hall. Speakers and performances will continue at the stage on Spring Street until 3 p.m.
Washington, D.C
Even though the anniversary event is taking place in Las Vegas, thousands of protesters will still come out on Saturday for a march on Washington. The march will start at the Reflecting Pool in front of the Lincoln Memorial at 11 a.m., where speakers will lead a rally to kick off the event. The march will then make its way to the White House. The march is anticipated to be one of the largest in the country.
There are other options for people who want to participate but can't attend one of the marches in major cities. There is programming planned in all 50 states in cities both large and small, which can be found on the Women's March website.
The Las Vegas event will be live-streamed, so activists who want to see Cecile Richards of Planned Parenthood or Alicia Garza of Black Lives Matter speak to the crowd can go to the website to watch it live from anywhere.