Women's March 2018 Isn't About Trump—It's About Upending the Entire Political System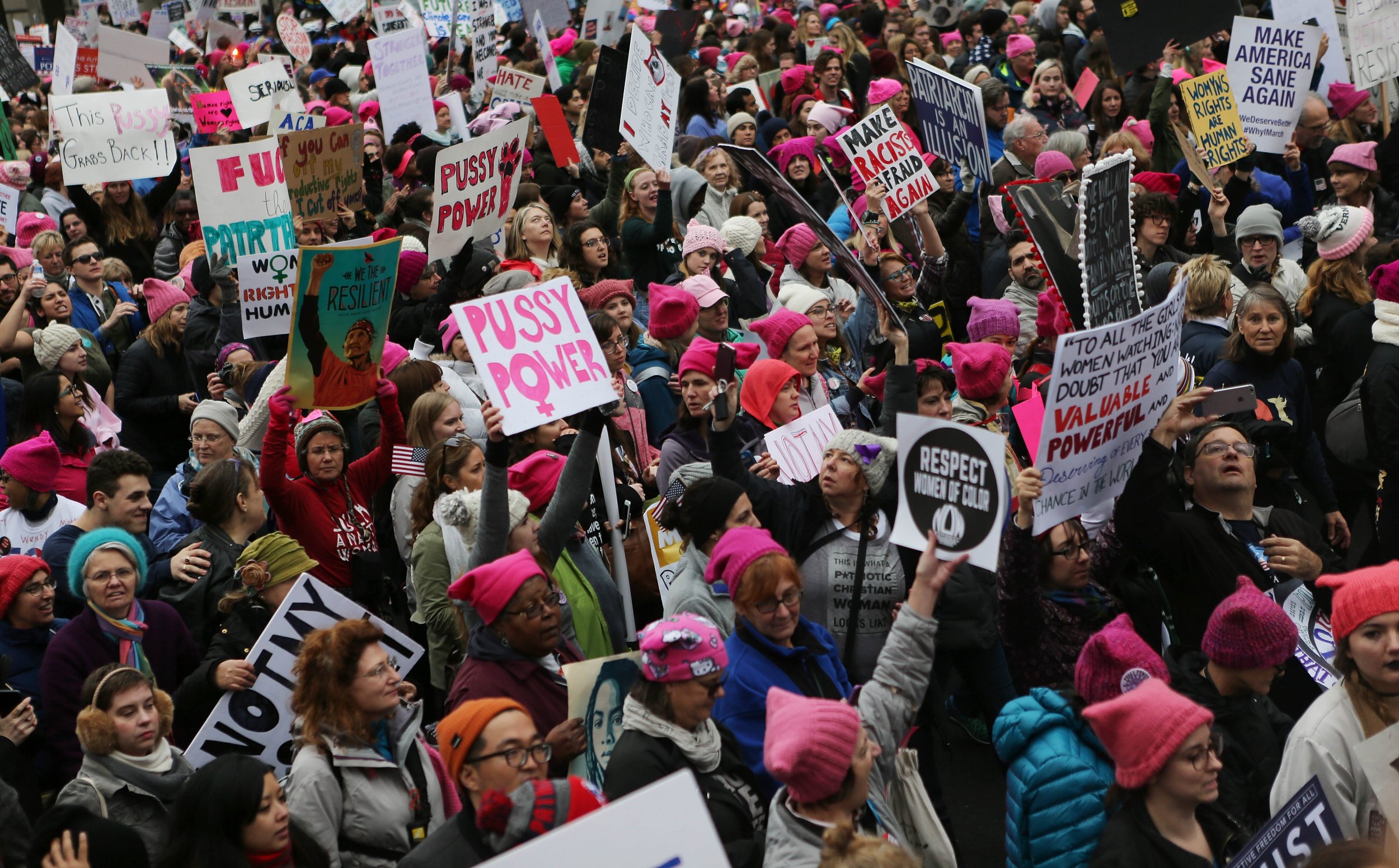 Jessica Morse has served on the front lines in Iraq. She's hiked 500 miles of the Pacific Crest Trail by herself. But until a year ago, she never felt brave enough to run for office—to put her own name on a ballot and give herself over to public scrutiny.
"After the 2016 election, I felt like I'd seen what happens when women run for office," Morse told Newsweek. "I thought, How could I run in this environment? How can I serve my community if my good record and merit don't mean anything?"
Morse and millions of other women had just watched Hillary Clinton, who some called one of the most qualified candidates to run for president, lose to Donald Trump, a reality-TV star and businessman whose campaign survived his boasting about grabbing women's genitals and more than a dozen sexual assault allegations. The day of his election was a day of mourning for many women. But the day after his inauguration was a day of action, with the Women's March rallying 4.2 million protesters across the country, making it the largest single-day demonstration in modern U.S. history.
When Morse, who attended the national march in Washington, D.C., looked into the sea of protesters, she had a simple thought: If she ran for office, all of those women would stand behind her.
"I felt a fire inside me," said Morse, now a first-time congressional candidate from California. "I felt like I was being made into steel."
Morse represents the next phase of the Women's March. On Sunday, Women's March organizers are rallying in Las Vegas to chart a course to victory in an event called "Power to the Polls," which will kick off a national voter registration tour targeting swing states, Nevada being one of them.
But this year's Women's March isn't in the Silver State simply to highlight voting rights; it's also about closer-to-home issues. Las Vegas, after all, was the site of the worst mass shooting in modern U.S. history last year. And a congressman from the state, Democratic Representative Ruben Kihuen, isn't running for re-election after sexual misconduct accusations came out against him, one of many men whose behavior has helped fuel the women's movement.
As in 2017, hundreds of other sister marches will occur in the U.S. and abroad.
Last year's Women's March set the tone for the first year of Trump's presidency and, in many ways, delivered on its own promise. Women were angry and energized to not just knit "pussy hats," decorate elaborate signs warning Trump to "Keep Your Tiny Hands Off My Rights" and march in the streets. They also flooded town hall meetings, tied up statehouse and congressional switchboards, blocked legislation and, like Morse, signed up to run for the first time in record numbers.
Many of those women have already enjoyed historic victories, like the Democratic women in Virginia who unseated 11 male Republican incumbents in the House of Delegates, including Danica Roem, the first openly transgender woman to be elected to a legislature. In perhaps the most symbolic victory of the past year, first-time candidate Ashley Bennett defeated a New Jersey politician who shared a sexist meme on Facebook that read, "Will the women's protest end in time for them to cook dinner?"
Women like Bennett were fed up.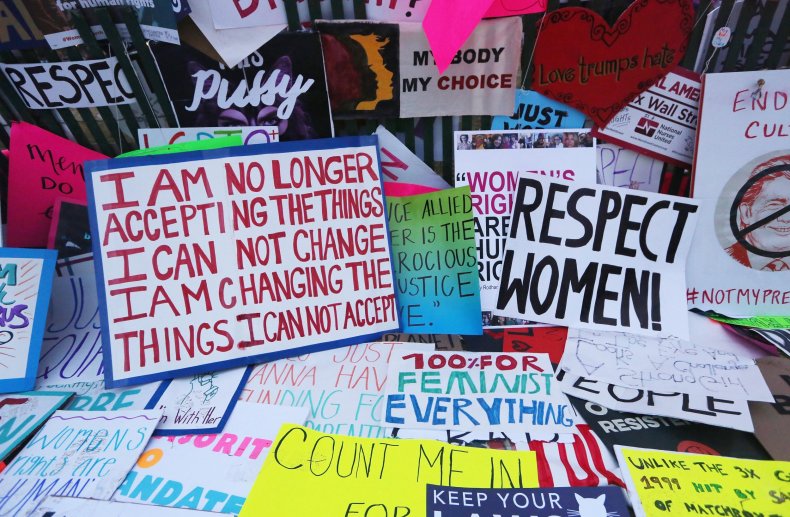 "Women are tired of men lecturing us about whether we have rights to birth control or abortion, and they're tired of all of these mean-spirited comments and restrictive laws," Eleanor Smeal, president of the Feminist Majority Foundation, told Newsweek. "They thought, Who are these men? We have a voice too. This year showed women that we can run and we can win, even against overwhelming odds. And that we should run."
Women have historically run in much lower numbers than men, likely because men are socialized to see themselves as natural leaders, while women are more likely to work on someone else's campaign. And studies show family and friends are more likely to suggest that men run for political office.
But that dynamic is changing. Groups like EMILY's List have been actively recruiting women to run for office since since the 1980s, but one crucial thing is changing: Of the more than 20,000 women who were moved to run for office after Trump's victory, the majority reached out to EMILYs List, not the other way around.
"Back in 1992, we had to beg women to run for office," said Dolores Huerta, a feminist and labor rights activist who helped elect a record number of women to Congress in 1992, which was dubbed the "Year of the Woman."
"Now you see that women are losing their fear of whatever it may be: their shyness, their being embarrassed by taking political actions," she said. "You don't have to convince them."
That's the Women's March effect.
The first year of Trump's presidency will round out with the #MeToo movement, an unintended—but some would say inevitable—side effect of the Women's March. The movement has not only outed dozens of powerful men accused of sexual harassment and assault, but has also sparked a national conversation about the treatment of women and what can be done, materially, to change it.
"I don't think there's any way someone could deny the direct connection between the Women's March's leadership and what we see with women running for office and speaking out against sexual abuse and assault," Tamika Mallory, national Women's March co-chair, told Newsweek. "We were able to do that because women took control."
Of course, it's not all smooth sailing. In the days approaching the march's reprise, organizers encountered a familiar problem: allegations of division. Women's March organizers—who belong to Women's March Inc., the national brand—reportedly told members of a group called March On that they couldn't advertise their latest event, "Women's March Action," according to The New York Times. Bob Bland, a Women's March Inc. co-president, told the Times that March On was "welcome in the resistance" but said its members had created "confusion" with its name.
In 2017, the threats to unity and solidarity that preceded the Women's March were more existential in nature. A number of women of color charged that the inaugural event was not inclusive enough for more marginalized women, while transgender activist Janet Mock found a guideline she wrote about being inclusive of sex workers had been written out of the march's policy platform.
Several white women then responded by accusing those women of "dividing" and even "hijacking" the march, implying that they threatened a vision of female solidarity. Earlier this month, Black Lives Matter: Cincinnati announced it would not participate in its local women's march, insisting its focus on voting excludes marginalized populations.
But the divisions may also reveal a larger truth: that this movement is big enough to reflect multiple agendas and activists. It's tempting to say that the Women's March has already achieved its ends, emboldening generations of women who will never turn back. But now that Women's March organizers know what's achievable, they have ambitious plans not just to fight Trump and his agenda but to upend the entire political system.
"We don't want to accept voter disenfranchisement as the law of the land," Mallory said. "We want to elect people who will fight against laws that put people at a disadvantage. We want to ensure people are engaged in their local politics and the races that are coming up."
She added, "We always said that the real work would begin after the march."