Trump Praises Women's March, But Many Are Marching Against Him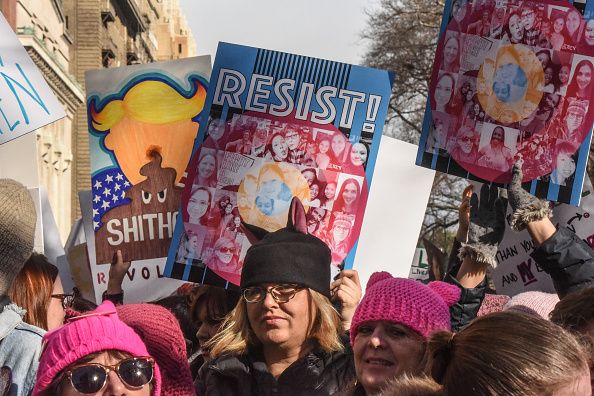 President Donald Trump took to Twitter on Saturday to praise participants in the 2018 Women's March, but many women marching today are also protesting against him.
Trump took to Twitter to offer support to the women and all that were participating in women across the country.
"Beautiful weather all over our great country, a perfect day for all Women to March. Get out there now to celebrate the historic milestones and unprecedented economic success and wealth creation that has taken place over the last 12 months. Lowest female unemployment in 18 years!" tweeted Trump.
Despite Trump's positive response, as many women are marching in protest against him. Throughout the country, women and participants are marching with signs against the president, citing his disrespect and mistreatment of women, immigrants, and people of color.
The first Women's March took place a day after Trump's inauguration when millions of people took to the streets to protest his presidential agenda.
In his first year, Trump attempted to block necessary healthcare for women, allowing states to block the women's health organization from receiving any Medicaid funding, which can defund Planned Parenthood. He also reversed an Obama-age policy that would have required large companies to close the wage gap.
He also reinstated and expanded the Global Gag Rule, which restricts $8.8 billion in U.S. foreign aid funding for international health programs that provide or even mention abortion.
Trump's record with women has also been a problem even before he was president. During his campaign, the Washington Post obtained an extremely crude recording of Trump and Billy Bush in an Access Hollywood tape that caught Trump bragging about grabbing women "by the pussy."
"You know I'm automatically attracted to beautiful — I just start kissing them," Trump said on a hot mic. "It's like a magnet. Just kiss. I don't even wait. And when you're a star, they let you do it. You can do anything. Grab them by the pussy. You can do anything."
Trump had dismissed the comments, calling them "locker-room banter" and apologized "if anyone was offended."
The 2018 Women's March is going on in cities like New York, Denver, Washington D.C, Las Vegas, California, and many others throughout the country.