Women's March 2019: DNC, Southern Poverty Law Center Appear to Pull Support Amid Anti-Semitism Controversy
The Democratic National Committee appears to have joined a number of organizations, including the Southern Poverty Law Center, that have distanced themselves from the 2019 Women's March.
The move comes amid controversy over organizers' ties to Nation of Islam leader Louis Farrakhan, who has been widely condemned for his anti-Semitic remarks. In an interview on Monday with ABC's The View, one of the Women's March leaders failed to denounce Farrakhan, and this week the DNC disappeared from the list of the march's sponsors just days before the event on Saturday.
A cached version of the march's official website shows the DNC was listed as a sponsor as recently as Monday, but its name was gone as of Wednesday morning.
In a statement to Newsweek, DNC Deputy Communications Director Sabrina Singh declined to comment on whether the DNC had signed on as a sponsor of this year's march or whether it has since cut ties.
"The DNC stands in solidarity with all those fighting for women's rights and holding the Trump administration and Republican lawmakers across the country accountable," Singh said in the statement. "Women are on the front lines of fighting back against this administration and are the core of our Democratic Party."
Read more: Chicago's Women's March called off amid controversy
Organizers of the 2019 Women's March have faced strong backlash over their association with Farrakhan. The Southern Poverty Law Center has described Farrakhan as an "extremist" and an "anti-Semite." He made headlines in October for tweeting, "I'm not an anti-Semite. I'm anti-termite." His remarks also include "the powerful Jews are my enemy" last February.
March organizers Tamika Mallory and Carmen Perez have posted photos of themselves on Instagram with Farrakhan, who has led the black nationalist group since 1977, and organizer Linda Sarsour spoke at a 2015 rally featuring him as a headliner. Mallory did not denounce Farrakhan on The View this week.
"As a leader, as a black leader in a country that is still dealing with some very serious unresolved issues as it relates to the black experience in this country, I go into a lot of difficult spaces," Mallory told the co-hosts of The View. "Wherever my people are, there that's where I must also be."
The Women's March launched in January 2017 in response to the inauguration of President Donald Trump, but accusations of anti-Semitism have dogged its leadership over the past year. In November, the founder of the Women's March, lawyer and educator Teresa Shook, condemned current leaders Bob Bland, Mallory, Sarsour and Perez.
They "have steered the Movement away from its true course," Shook wrote on Facebook. "They have allowed anti-Semitism, anti-LBGTQIA sentiment and hateful, racist rhetoric to become a part of the platform by their refusal to separate themselves from groups that espouse these hateful, racist beliefs."
In response to the controversy, Sarsour released a statement of apology in November. "We should have been faster and clearer in helping people understand our values and our commitment to fighting anti-Semitism. We regret that," she wrote. "We are deeply invested in building better and deeper relationships with the Jewish community. And we're committed to deepening relationship with any community who has felt left out of this movement."
Apologizing for "the harm we have caused," Sarsour maintained that "every member of our movement matters to us—including our incredible Jewish and LGBTQ members." The statement was published on the Women's March website.
The DNC is not the only organization noticeably absent on the event's list of sponsors.
In a statement to Newsweek Southern Poverty Law Center spokesperson Jeff Migliozzi confirmed that the SPLC will not be an official sponsor of the 2019 Women's March.
"We did not renew our sponsorship when asked a few weeks ago," Migliozzi said, adding: "We have other priorities at the moment."
However, the SPLC spokesperson said the organization would continue to support local marches "through participation in the communities around us in the Deep South."
The SPLC's decision not to sponsor the event represents a significant departure from its stance when the Women's March first started in 2017.
At the time, the SPLC celebrated being "an official partner of the march," saying it "stands in solidarity with its organizers' vision—that 'women's rights are human rights'—and with the march's mission to bring together communities 'insulted, demonized and threatened by the rhetoric of the past election cycle.'"
The DNC and SPLC's absence from the Women's March's list of sponsors comes as a number of celebrities, including Alyssa Milano and Debra Messing, have said that they will not support the upcoming march over its leadership's failure to denounce Farrakhan.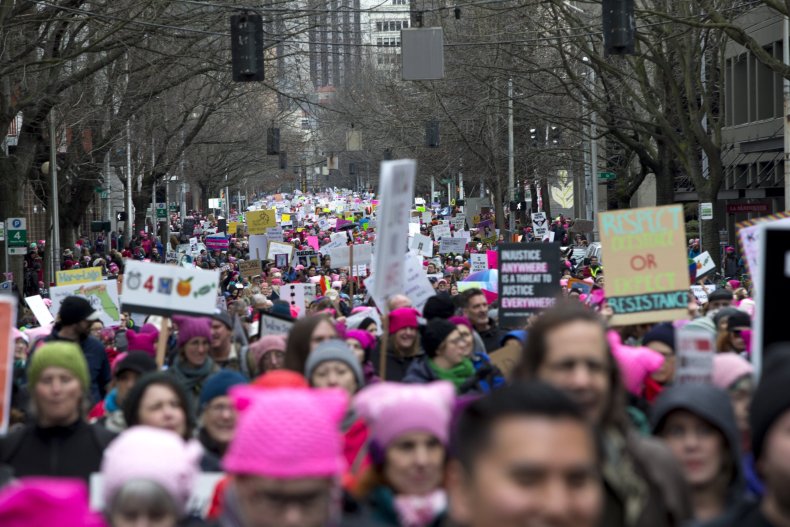 This article has been updated with a statement from Democratic National Committee Deputy Communications Director Sabrina Singh and Southern Poverty Law Center Communications Assistant Jeff Migliozzi.