Political Figures Distance Themselves from Women's March Amid Accusations of Anti-Semitism
The third annual Women's March on Washington and in cities across the world will take place on Saturday, but this year crowds are expected to be much smaller amid charges that the event's organizers have been non-inclusive and in some cases, anti-Semitic.
The controversy largely surrounds Women's March co-founder Tamika Mallory, who attended the Nation of Islam's annual Saviour's Day event last year where co-founder Louis Farrakhan called Jewish people "the mother and father of apartheid," said that "the Jews have control over ...agencies of government," and claimed that they make black men homosexual by giving them marijuana. Farrakhan has called for the extermination of Jewish people. Yet Mallory has repeatedly refused to condemn his actions and words.
Mallory, who is a Christian, said in a statement that she has been going to Nation of Islam events since she was a child and told The Atlantic that "The Nation of Islam was the place where most of the black men and women that I knew had been there and really had been reformed." But the organization's troubling opinions about towards Jewish people and Mallory's subtle dance around those troubles has largely ended mainstream political support of the Women's March.
On The View last week, Mallory said that she did not "agree with many of Minister Farrakhan's statements," but would not condemn the man who has called Jewish people "termites."
As a result, Florida Representative Debbie Wasserman Schultz published an op-ed in USA Today explaining that "while I still firmly believe in its values and mission, I cannot associate with the national march's leaders and principles, which refuse to completely repudiate anti-Semitism and all forms of bigotry. I cannot walk shoulder to shoulder with leaders who lock arms with outspoken peddlers of hate."
The Southern Poverty Law Center, EMILY's List and the Democratic National Committee have all moved to distance themselves from the march, and California Senator and possible 2020 Democratic candidate Kamala Harris has said she will not march this year, despite having done so in previous years.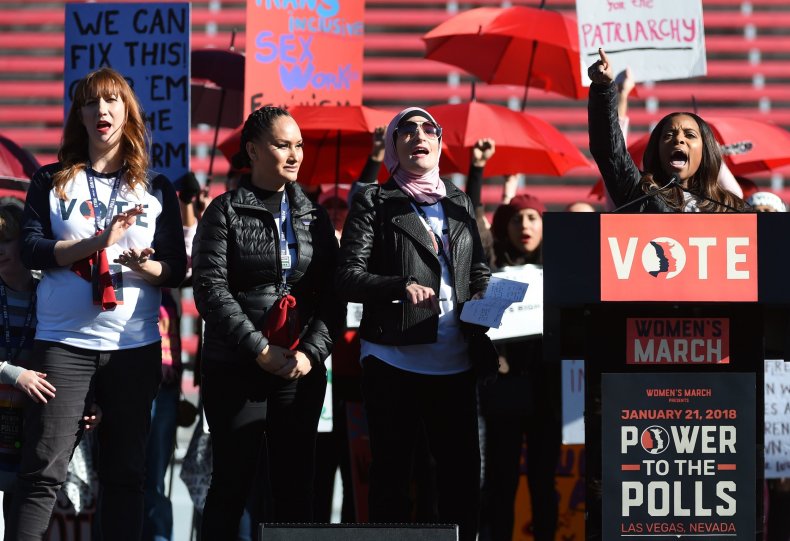 Teresa Shook, who founded the original event, has called for Mallory and other leaders of the march including Bob Bland, Linda Sarsour and Carmen Perez to resign because, she wrote in a Facebook post, they "have steered the Movement away from its true course" and instead "they have allowed anti-Semitism, anti-LBGTQIA sentiment and hateful, racist rhetoric to become a part of the platform by their refusal to separate themselves from groups that espouse these racist, hateful beliefs."
Vanessa Wruble, another of the March's original organizers alleged to the New York Times that both Perez and Mallory had attempted to tell her about the "dark side" of Jewish history and blame the religion for the suppression of African Americans. Mallory responded to the Times by saying that "since that conversation, we've all learned a lot about how while white Jews, as white people, uphold white supremacy, ALL Jews are targeted by it."
One presidential candidate, Kirsten Gillibrand, has plans to attend the march but released a statement condemning anti-Semitism.
"Senator Gillibrand strongly condemns anti-Semitism from anyone, in all forms, and believes it has no place in a movement for women's empowerment or anywhere else," her campaign said in a statement.
Tens of thousands are expected to attend the marches on Saturday, far fewer than in previous years.