Women's March Calls Jeff Flake 'Rape Apologist' After Senator Announces He'll Vote 'Yes' on Brett Kavanaugh
After Senator Jeff Flake announced he would vote "yes" on Brett Kavanaugh's confirmation to the Supreme Court, the Women's March called the Republican lawmaker a "rape apologist."
"Meet @JeffFlake," the organization wrote on their Twitter account, along with a headshot photograph of the senator marked with the words "rape apologist."
The post was made in response to Flake's statement made early Friday morning, just minutes before the Senate Judiciary Committee met to give closing statements and hold a vote, in which he said he would support Kavanaugh's nomination.
On Thursday, Christine Blasey Ford gave a four-hour testimony accusing Kavanaugh of sexually assaulting her when they were in high school. She told the committee that she was "100 percent" certain that the judge was her attacker.
"Yesterday, we heard compelling testimony from Dr. Ford, as well as a persuasive response from Judge Kavanaugh. I wish that I could express the confidence that some of my colleagues have conveyed about what either did or did not happen in the early 1980s, but I left the hearing yesterday with as much doubt as certainty," Flake wrote.
"What I do know is that our system of justice affords a presumption of innocence to the accused, absent corroborating evidence," the senator added. "That is what binds us to the rule of law. While some may argue that a different standard should apply regarding the Senate's advice and consent responsibilities, I believe that the constitution's provisions of fairness and due process apply here as well."
Immediately after Flake's office released the statement, the senator was questioned by two women who said they had been sexually assaulted. The two stopped him as he was in the elevator on the way to the committee's hearing.
"Don't look away from me! Look at me and tell me that it doesn't matter what happened to me, that you will let people like that go into the highest court of the land," one woman said.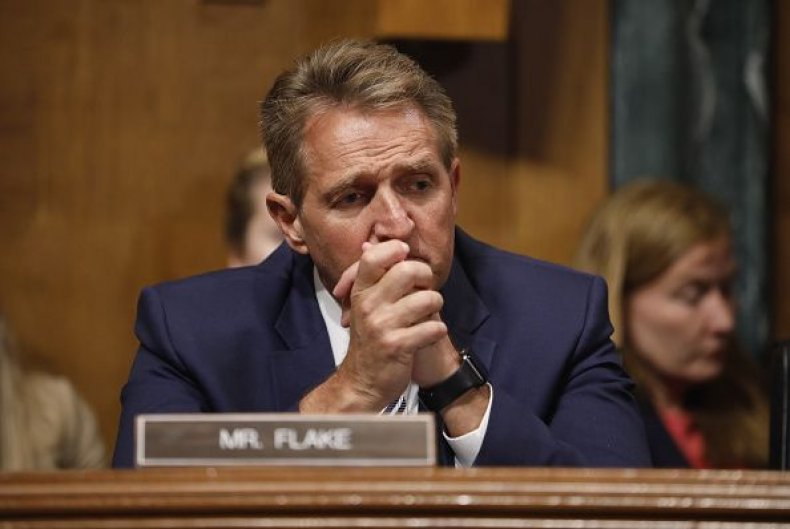 When asked by reporters if he'd like to respond to the women, the senator declined to comment.
"No, I need to go to the hearing. I just issued a statement," he said.
Flake was considered the most likely Republican lawmaker to vote against Kavanaugh, along with the 10 Democrats on the committee, and halt his confirmation. Flake has frequently criticized Trump and is not running for re-election. Now it seems likely that Kavanaugh will be confirmed through the committee's vote on Friday and that his confirmation process will move to the Senate floor.