NYC Women's March Brings Protest to Donald Trump's Front Door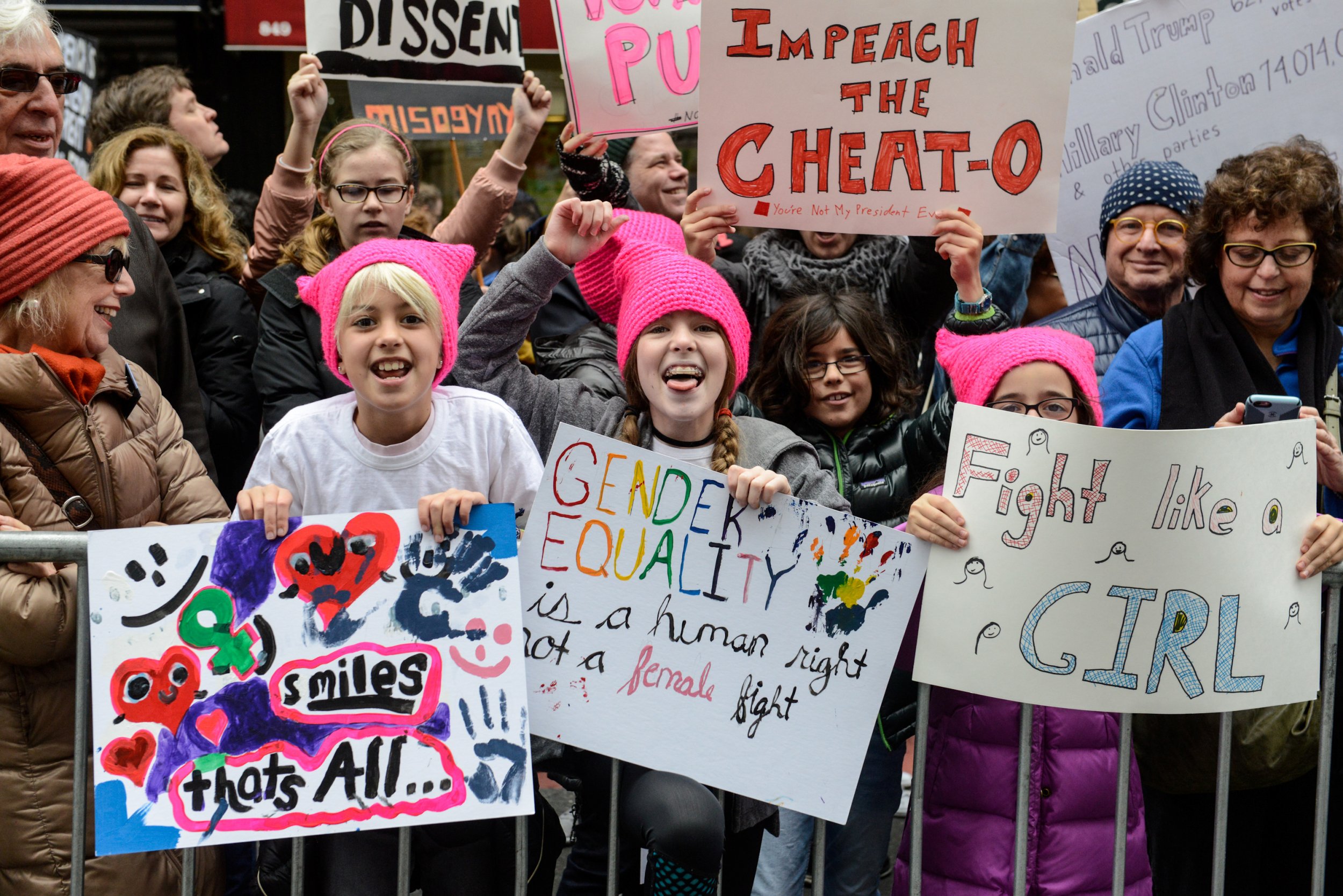 Thousands of women and men marched to President Donald Trump's New York City home on Saturday in protest of his inauguration and the policies his administration has said it may enact, on his first full day in office.
Related: Women's March draws hundreds of thousands to D.C.
Families, couples, friends, children, co-workers, and mothers and daughters marched together in the president's home city, where first lady Melania Trump and the couple's 10-year-old son, Barron, reportedly will remain until he's finished at his private school. The 45th U.S. commander in chief wasn't in his signature Manhattan Trump Tower at the time. But the skyscraper is where he conducted most of his post-election meetings.
Nicole Sanfilippo, of Long Beach, New York, says she brought her two daughters to the march "to teach them that they can be and do anything they want." "It's one thing to see something on TV; it's another thing to feel it," she says. One of her daughters, Reilly, tells Newsweek she is most excited about the energy surrounding the event.
The Women's March on Washington started as a Facebook post in the wake of the November presidential election. Within months, it became the largest event in defiance of Trump's presidency, and cities across the country and the world planned similar marches to take place simultaneously the day after his inauguration. As of Saturday afternoon, the hundreds of marches had remained mostly peaceful.
New York City participants first met at Dag Hammarskjold Plaza on 47th Street between First and Second avenues. As church bells rang to the tune of the "Star-Spangled Banner" on Fifth Avenue, approaching demonstrators quickly drowned out the sound with the chant, "We are women, hear us roar!" The first marchers in line arrived at 55th Street at Fifth Avenue, just a block from Trump Tower around 1 p.m. Eastern time. New York City Police Department officers had blocked off the road directly in front of the building.
Near the start of the march, they chanted "My body, my choice!" "Equal day, equal pay!" and "When they go low, we go high," drawing on former first lady Michelle Obama's speech at the Democratic National Convention last July. Some slogans, like "Dump Trump," were reminiscent of chants at protests that took place leading up to the primary and general elections. This time, with the now-President Trump, some carried pink balloons, others carried signs that said, "Trump's Cabinet is the swamp," "My pussy, my choice, my body, my voice," "Keep your laws off my body" and "A woman's place is in the revolution." Many wore pink knitted hats with cat ears, one of the many uniting symbols for the day.
Others, like friends Conya Gilmore and Corinne Cappelletti, made complimentary "nourishing love" and "cozy de-stress" herbal teas to give out to fellow marchers near Dag Hammarskjold Plaza. To maintain crowd control, the organizers encouraged staggered starts alphabetically for all marchers. The first demonstrators left the area at 11:55 a.m, and the last were scheduled to leave the plaza at 4:15 p.m.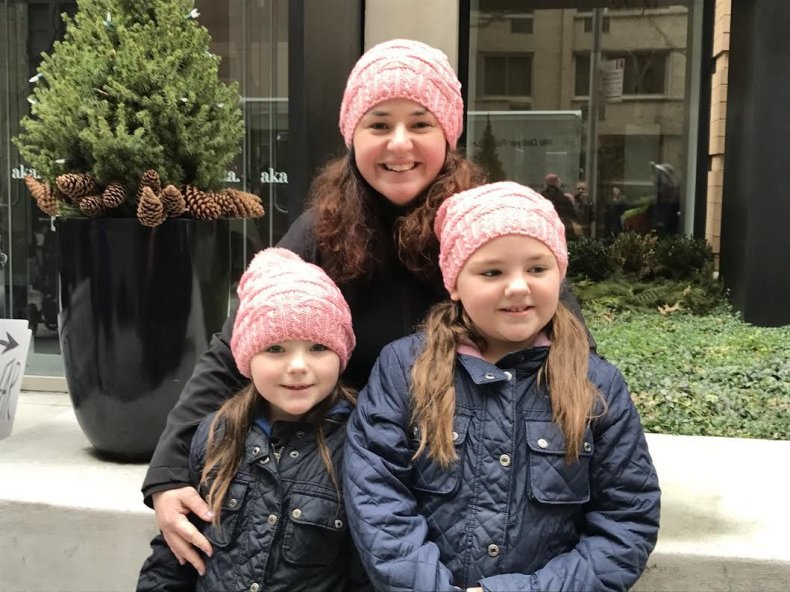 As candidates, Trump and Democratic presidential nominee Hillary Clinton each called New York home. At the ballot box, Clinton triumphed over her opponent in both the city and entire state. She won the country's popular vote by almost 2.9 million ballots.
Aaron Rodriguez says he chose to march "because Donald Trump wants to take the rights away from women, the gay community, pretty much anyone who isn't a straight, wealthy guy like he is."
Yvonne Cech, a survivor of the 2012 Sandy Hook Elementary School shooting in Newtown, Connecticut, descended on the city with her daughter, Ashley, and other family members. She says, "It's important for some people to protect the unborn, but I think it's critically important to protect the born as well," by passing universal criminal background checks on all gun sales, including at shows and on the internet.
Related: Patriots' fans throw a flag on Brady, Belichick's support for Trump
Ashley Cech, a program associate for Everytown for Gun Safety, adds: "Don't expect we will go quiet until we feel all communities are safe and free from gun violence."
All-day sister marches were underway across the country—from Boston to Seattle—and worldwide in places such as London, Paris and Barcelona, Spain. The crowds were larger than expected in some places, including in Chicago, where the organizers were forced to halt the scheduled march through the city's downtown.
In D.C., political activist Gloria Steinem, Madonna, actress Scarlett Johansson and Planned Parenthood President Cecile Richards were among the celebrities and public figures who addressed the crowd. Marchers in the capital planned to end the event outside of the White House. Celebrities showed up in New York, too, including actresses Cynthia Nixon, Whoopi Goldberg and Taylor Schilling.
Earlier Saturday morning, a group of Harlem women who ran from New York City to D.C. ended their more than 240-mile journey at the U.S. Capitol, in time for the country's signature march. Their goal was to raise awareness of the Trump administration's plan to eliminate federal funding for Planned Parenthood. So far, the women have raised more than $94,000—more than double their initial goal.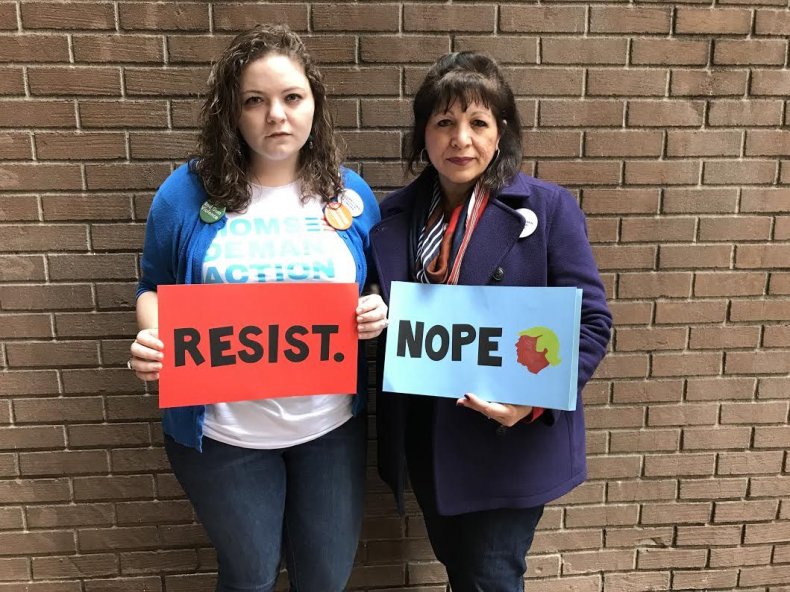 It remains to be seen what effect the global marches will have on the new president. He has not yet commented publicly. On his way from the White House to Langley, Virginia, where he spoke to employees at the CIA headquarters, he had an opportunity to see some of the crowds gathered in the country's capital, according to press pool reporters. He was expected to encounter the marchers again upon his return home later in the day.