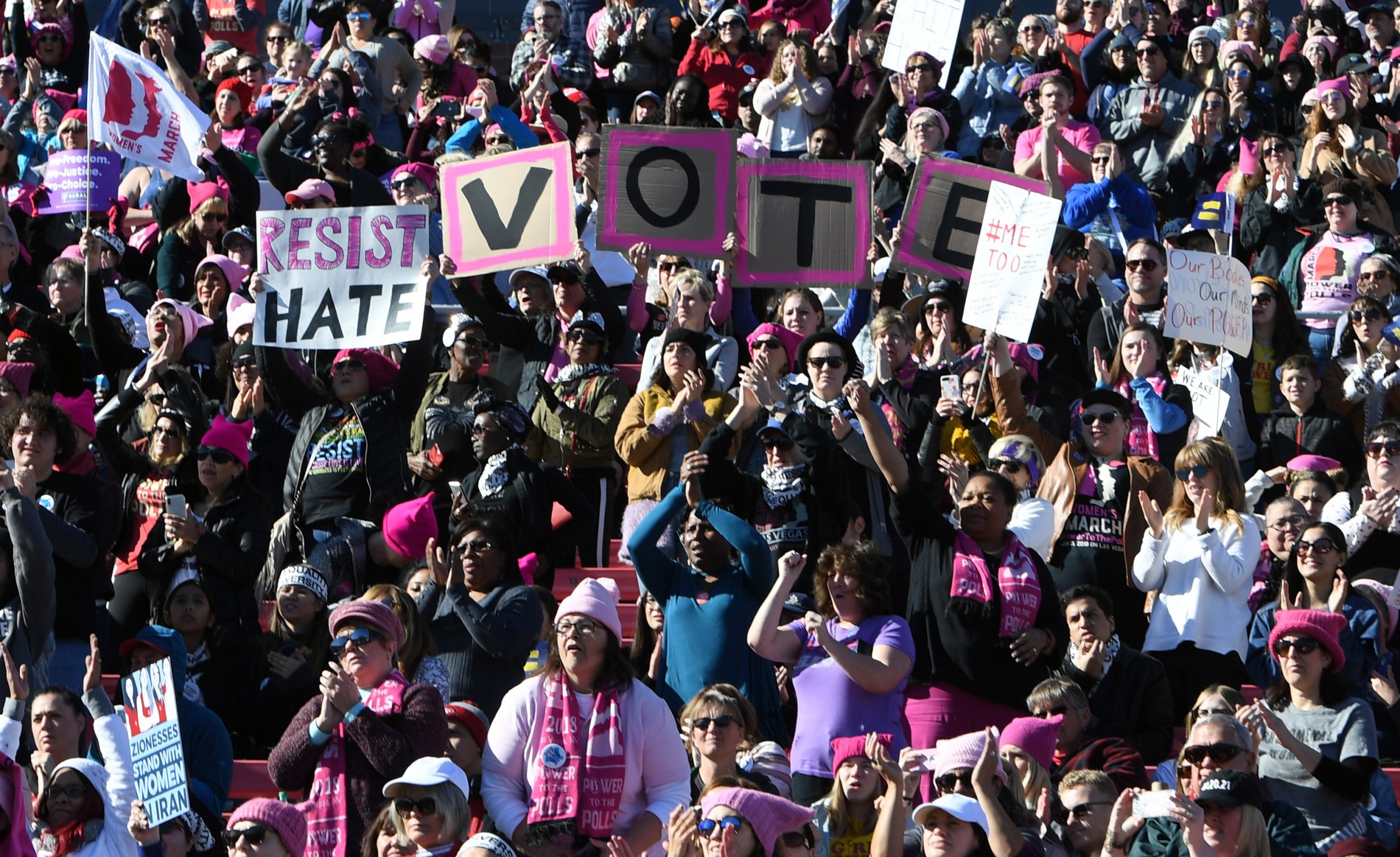 LAS VEGAS—Women traveled from all over the country on Sunday to rally for a feminist cause in a city whose reputation for sexism and objectification shows just how much farther there is to go.
It was barely 10 a.m. local time and Susie Lee had already been campaigning for three hours from a small patch of grass in the parking lot of Las Vegas's Sam Boyd Stadium, the somewhat unusual site of this year's national Women's March.
With Fleetwood Mac's Rumours playing from a small portable speaker somewhere nearby, Lee, the Democratic candidate hoping to win Representative Jacky Rosen's seat in November, was rushing around, shaking hands and taking photos with some of the more than 40 volunteers who came out to tell people about her bid for office. Rosen, meanwhile, is trying to unseat Republican incumbent Senator Dean Heller, a Nevada powerhouse.
"We've learned that it's much more important to stand for something than to stand against something," Gillian Griffith, 28, one of the campaign volunteers, told Newsweek. "It's not enough just to be anti-Trump or anti-GOP. We need to talk about what we do stand for instead of just what we don't stand for."
Griffith's story is familiar by now: She'd had an awakening on November 9, 2016 that inspired her to become active in her community and get involved in political organizing. In the immediate aftermath of the election, she and her mother, Shawn Cardinal, hosted "resistance" workshops in their home, which Lee attended, having just lost the House primaries in her district to Representative Ruben Kihuen. When Lee announced she'd be running again in 2018, Griffith and Cardinal both decided to lend a hand to her campaign.
"I'm so proud to see how smart and engaged my daughter is, and it inspired me to get off my butt and do something, too, because it makes me want to be worthy of being her mom," Cardinal told Newsweek. "So I'm like, 'Dammit, if she's volunteering, I have to, too.'"
Candidates like Lee have been able to harness the energy of women like Griffith and Cardinal to rally support behind their campaigns, which is why, on Sunday at least, a parking lot outside a sports stadium was exactly the right place to be. Over the course of the day, they signed up more than 100 new volunteers, all sourced from the tens of thousands of people who turned out to the Women's March "Power to the Polls" event.
It had been hard to imagine how the Women's March could replicate—let alone exceed—the success of last year's D.C. march, which broke the record for the largest single-day demonstration in United States history. And it may have been even more difficult to imagine Las Vegas, a city whose billboards are plastered with ads portraying women as mere objects, as the site of female empowerment.
But Women's March organizers had good reason to use Nevada as the backdrop for the next phase of their movement, the most crucial part of which has to do with the potential for the Silver State to become solidly blue.
Nevada's 2018 Senate race is already among the country's most competitive, and, to make matters worse, Rosen, the race's Democratic frontrunner, had to cancel her trip to Las Vegas not 24 hours before the Women's March because of the government shutdown, keeping her in D.C. While her primary opponent Jesse Sbaih mingled with voters in the stands, Rosen had to settle for a pre-recorded video to get her message out to the crowd of women filling Sam Boyd Stadium, which was dotted with the pink pussy hats that have become a symbol of the march.
"No time is more important than right now, and I don't need to remind you all what's at stake in 2018," Rosen said on a jumbotron. "Nothing is more precious than your right to vote. March on."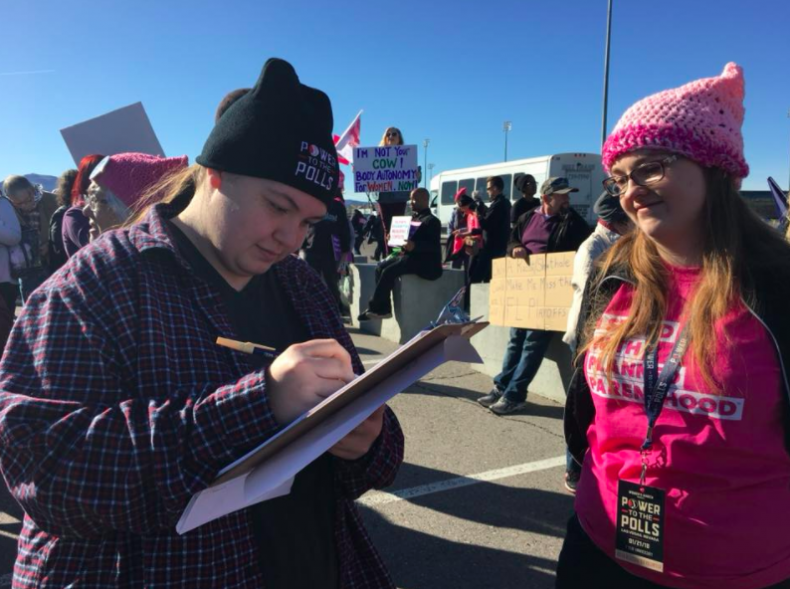 Messages like Rosen's—focusing on the broad strokes of electoral politics—aren't as sexy or incendiary as, say, Madonna's daydreams of "blowing up the White House" at last year's Women's March, but the women who came out on Sunday were ready to hear and heed them.
In between speeches from the likes of Planned Parenthood President Cecile Richards and Cher, women milled around the stadium, registering to vote with different organizations that were tabling between the concession stands selling the hot dogs and soft pretzels typical to a sporting event.
Women at hundreds of marches that took place across the country on Saturday appeared to be focused on the events of Trump's first year in office and the #MeToo movement, but the Las Vegas "Power to the Polls" event focused predominantly on the nitty gritty work of voter registration: The Women's March's goal is to register one million new voters come Election Day.
By around 4 p.m., though there were still some speakers and performances left, most women—not having anywhere to march to—had begun to peter out, leaving just a couple hundred or so demonstrators remaining of the thousands who'd flooded the stadium that morning. As a singing group performed "Oh Happy Day!" for the meager crowd, there was one cluster of women that appeared to be having a better time than most anyone else, dancing and clapping to the music.
"She's going to vote for the first time in November," Shirley Cunningham, a 46-year-old special education teacher from Vegas, told Newsweek proudly of her 17-year-old daughter, Abbey. "She just signed up today."
"It's going to be exciting," Abbey added.
"I didn't get to register to vote," Abbey's younger sister, Emmie, lamented. "I'm only 15."
There was one silver lining for Emmie though, her mom pointed out: She'd be old enough to vote in 2020.