Women's March 2018 Calls On White Women To Give Black Women A Seat At The Table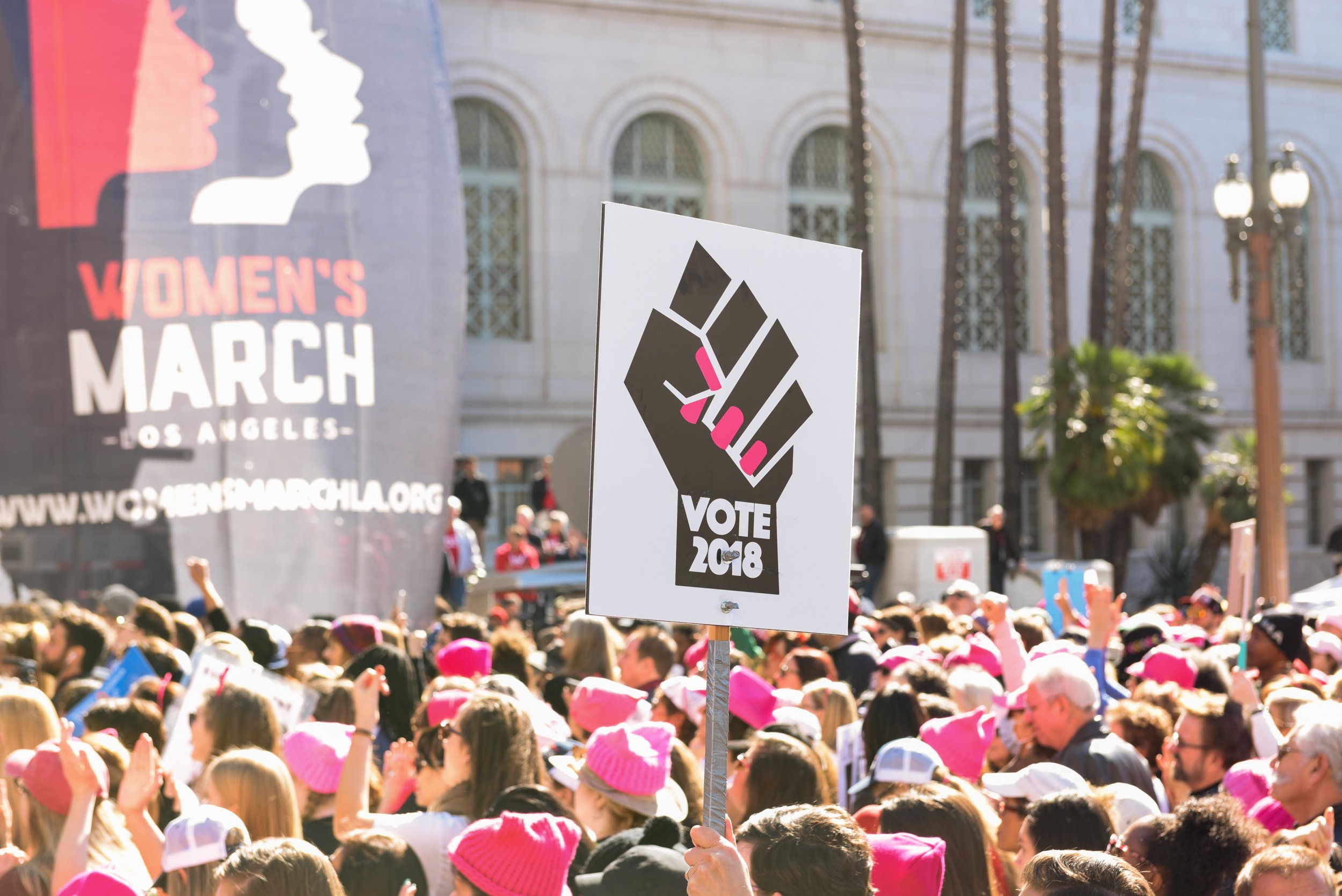 LAS VEGAS—Black women are the next powerhouse force in American politics—and the Women's March wants to help them be front and center in 2018 and beyond.
Speakers at this year's "Power to the Polls" event on Sunday in Las Vegas gave special attention to women of color and black women especially, whose contributions to the feminist movement they said have been ignored and pushed to the side for too long.
"This march is being led by women of color," Nina Turner, the president of Our Revolution, a Democratic political action organization, told a roaring crowd. "But...let me put a special message out to black women: Don't let anyone make you feel marginalized. If you feel you aren't getting the respect you deserve, do what [Congresswoman] Shirley Chisholm did—don't just bring your own seat, kick down the door."
Women's March co-chair Carmen Perez put out a similar call to action, focusing on white women's responsibility to create space for people of color within the movement and in the political arena.
"If you don't see your community at the table, make sure to pull up a chair," Perez said. "And if you're white, scootch your chair over a little. Make room for us."
This emphasis on black women arrives amid ongoing conversations about the inclusiveness of the Women's March, which some have charged with centering whiteness.
Members of Black Lives Matter: Cincinnati announced ahead of the weekend's "Power to the Polls" events that many would not attend their local Women's March because they found the call to get out and vote excluding of black communities. They'd asked the march to change its slogan from "Hear our vote!" to "Hear our voice!" When the local march's organizers refused, the Black Lives Matter chapter announced it would hold its own event on Saturday, in lieu of the march.
Black women who attended Sunday's Las Vegas event expressed a certain wariness of white women, but felt strongly about coming to the Women's March and being part of the growing movement it's inspired.
"You have to inject yourself into the process and be there in order to be heard," Denise Jackson, a 66-year-old clad in a pink pussy hat, told Newsweek while she was waiting in line for a hot chocolate at a concession stand. "We have to show up and be there. I don't want to say, 'No one included me.' I want to stand next to you and raise my hand."
Still, others said it's crucial for white women to catch up to black women, who have shown time and time again that they're at the forefront of progressive movements.
In the last year, black women have been praised for "saving America" with their progressive votes. In 2016, 94 percent of black women voted for Hillary Clinton, compared to 53 percent of white women for Trump. And last year, 98 percent of the bloc helped Senator Doug Jones (D-Ala.) win a special election in one of the most reliably Republican states in the country.
"It's about what most of these ladies said today," Renee Lewis who traveled from Eastvale, Calif., for the rally, told Newsweek, referencing Turner's and Perez's speeches. "Caucasian women need to get on board. If they're not on board, they're for what's going on in the world today."
The women's movement suffered from overt racist at its very founding. Susan B. Anthony, who led the charge for women to get the right to vote, opposed the same right for blacks, once saying, "I will cut off this right arm of mine before I will ever work or demand the ballot for the Negro and not the woman."
To this day, the modern feminist movement is still trying to recover from that history, which some say still resurfaces in ugly ways.
"I'd had enough before it even began," Black Lives Matter co-founder Alicia Garza said in an essay last year about plans for this year's women's march. "Fifty-three percent of white women who voted in the 2016 presidential election did so for a man who aims to move society backward. Where were all of these white people while our people are being killed in the streets, jobless, homeless, over-incarcerated, undereducated?"
But this year's "Power to the Polls" events explicitly aimed to combat voter suppression and gerrymandering, two issues that affect black communities most. Black women in Las Vegas were fired up and ready to fight the systematic inequalities that have pushed them to the sidelines of electoral politics—or excluded them outright—for centuries.
"Once you get people registered to vote they change the districting, or they make it so far you can't register to vote, or you have to have three forms of ID to vote," Tyndal Lindler, a woman in her 50s who attended the rally with Lewis, told Newsweek. "Until we fix these issues, we're always going to be fighting an uphill battle."