Women's March on Washington: What You Need to Know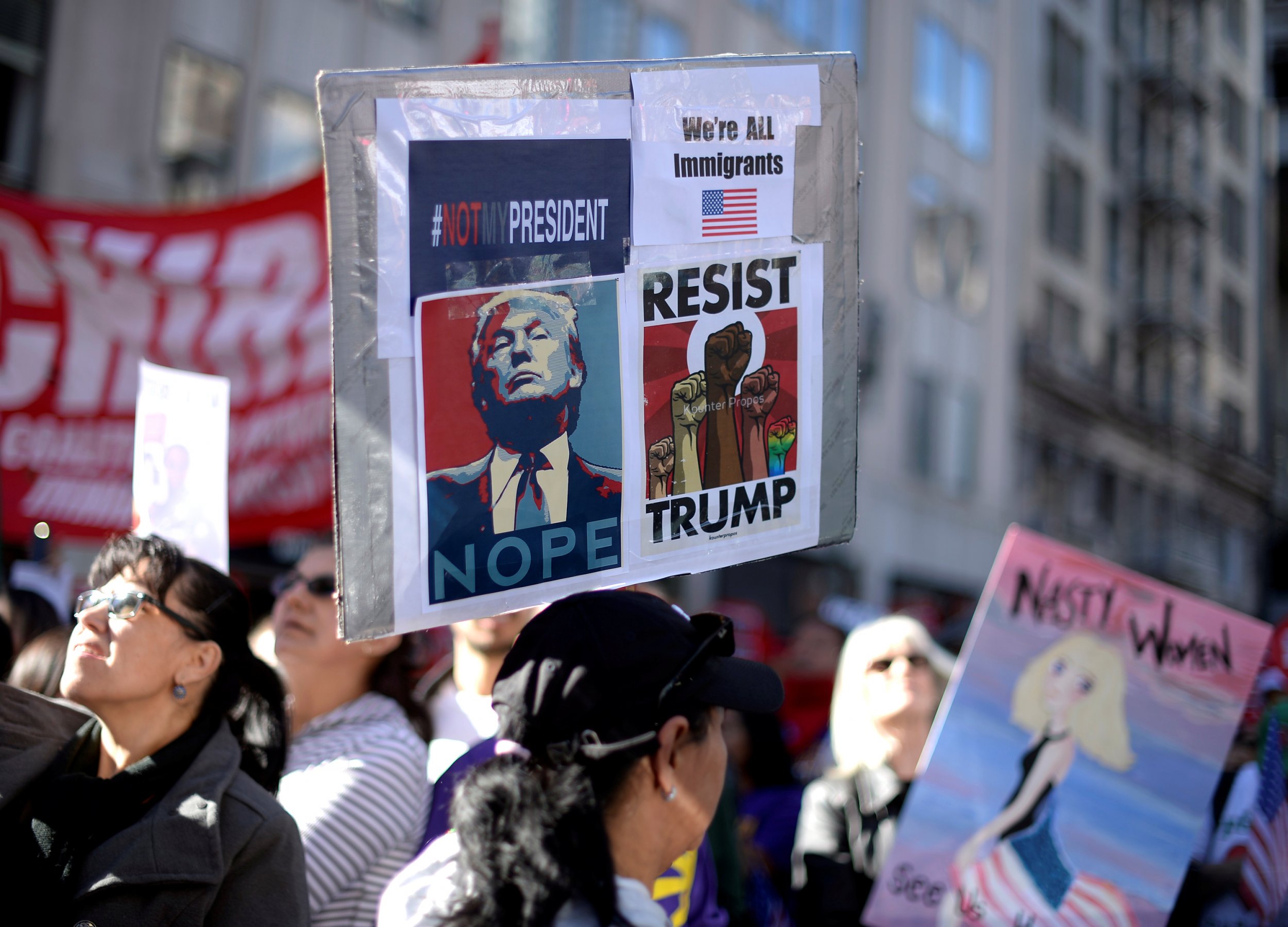 On January 21, the day after the inauguration of President-elect Donald Trump, tens of thousands of people will descend on the National Mall for the Women's March on Washington. Here's what you need to know about what could be the biggest demonstration against the incoming administration.
What is it?
What started as a Facebook page calling for women to show up in D.C. to protest Trump's inauguration has morphed into a mass movement in the space of two months. The event's organizers say the march will allow people to "stand together in solidarity with our partners and children for the protection of our rights, our safety, our health, and our families" while "recognizing that our vibrant and diverse communities are the strength of our country."
A quarter of a million people say they are interested in attending the march, while 177,000 people have marked themselves as "going" on the group's official Facebook page. The march is intended to be a stand against the "rhetoric of the past election cycle [which] has insulted, demonized, and threatened many of us," including women, immigrants, Muslims and LGBTQ people.
On Inauguration Day, there is a call for women to hold a national strike for equal pay, freedom from sexual violence and reproductive justice. While the planned strike action hasn't received nearly as much attention as the Women's March, it mirrors action taken by millions of women in Poland last year over a proposed anti-abortion law.
In the lead-up to the march, people are using the hashtag #WhyIMarch to explain their reasons for protesting on January 21.
Where is it?
In the capital, the march begins at 10 a.m. at Independence Avenue and Third Street, S.W., close to the National Museum of the American Indian on the National Mall and the U.S. Capitol. (Here's a map.) The march is scheduled to run until 5 p.m. Last week, the 2017 Presidential Inaugural Subcommittee announced its Joint Transportation Plan, which goes into greater detail about specific street closures.
Related: 2017 Trump Inauguration: Schedule of Events
If you can't make it to Washington, or even the U.S., don't despair: Sister marches are being held in all 50 U.S. states, from Montana and the Bay Area to New York City. International sister marches are planned in more than 25 countries, including Kenya, Greece, Australia, New Zealand, Iraq and Israel.
Who is organizing the march?
The march has four organizers: Tamika Mallory, Linda Sarsour, Bob Bland and Carmen Perez. Gloria Steinem and Harry Belafonte were recently named as honorary co-chairs of the march. Dozens of human rights organizations are partnering with the march, including Black Girls Rock, Equality Now, the Arab American Association of New York and EMILY's List, a major resource for women in politics.
One day after the march, EMILY's List plans to hold training in downtown Washington for 500 women looking to break into politics and run for office. Interested women can sign up for "Getting Ready to Run" training here.
On Monday, march organizers announced a celebrity lineup of participants and named actress America Ferrera as the Artist Table Chair. She will be joined by artists including Cher, Uzo Aduba, Cristela Alonzo, Patricia Arquette, Lea DeLaria, Diane Guerrero, Danai Gurira, Scarlett Johansson, Angelique Kidjo, Padma Lakshmi, Stephanie March, Shantell Martin, Debra Messing, Frances McDormand, Julianne Moore, Hari Nef, Katy Perry, Amy Schumer, Olivia Wilde, Constance Wu and Zendaya.
How many people are going?
While on Facebook an estimated 177,000 have marked themselves as "going" to the Women's March, organizers are currently involved in Operation Headcount, which involves people answering a simple attendee questionnaire. If you're going to the march, consider filling it out.
Prelimary Operation Headcount data released by Women's March organizers on Friday show that one quarter of participants are taking a flight or train to the march, 23 percent are taking a charted bus, and another quarter are taking public transport.
Are there other marches or events on Inauguration Weekend?
There are. If you're in Washington on Inauguration Day, consider visiting the Politics & Prose bookshop for a "teach-in on women's rights" led by Fatima Goss Graves, senior vice president for program at the National Women's Law Center; Jennifer Klein, an adjunct professor at Georgetown Law Center who worked for Hillary Clinton as an adviser on women's issues; and Rebecca Traister, writer-at-large for New York magazine. The event is free of charge and begins at 4 p.m.
On January 21, Jews United For Justice is hosting the Gathering Strength Shabbat at the Sixth & I Historic Synagogue on Inauguration Weekend. Doors will open at 7:45 a.m for a pre-Women's March program, which will run from 8:45 a.m. to 9:30 a.m. Activities including meditation, yoga and study sessions will be held throughout the day. RSVP here.
If you don't have to immediately board a bus home after the march, partner organizations See Jane Do and Take The Lead are hosting Women Rise Up: A Post-March Action Party from 4 p.m. to 7 p.m. on the day of the march. The party is being held at Impact Hub DC, 419 7th St. N.W. For tickets and more information, go here.
A new group, Lawyers for Good Government, says it will hold a "counter-inauguration" conference in Washington on January 21-22. More than 120,000 lawyers, paralegals, law students and activists will attend the Rise Above conference to "coordiante the new movement and plan legal resistance to the incoming Trump administration and Republican controlled congress," the organizers say in an email.
On January 21, the conference will be held at the Lincoln Theatre from 2:30 p.m. until 8 p.m. On January 22, it will be held at the Mayflower Hotel from 7:30 a.m. until 3:30 p.m. More details can be found here. Lawyers for Good Government is an official partner of the Women's March.
Here is a more detailed list of Inauguration Weekend events.
Newsweek will be attending the Women's March on Washington. If you have any questions about the march, or if there's something you'd like to see covered, please contact l.westcott@newsweek.com. This article will be updated as more details about the march are announced.