Women's Marches Spark Accusations of COVID Hypocrisy From All Directions
As thousands of women gathered to participate in Women's March events held throughout the U.S. on Saturday, critics raised questions about the safety of holding the marches at a time when COVID-19 cases were spiking in several states.
According to event organizers, more than 425 Women's March events were expected to be held either in person or virtually on Saturday. Organizers said on the Women's March Facebook page that the in-person events would be socially distanced.
Video shared online of the march in Washington, D.C., appeared to show participants packed together as they marched and hoisted signs, many of which called for an end to President Donald Trump's time in office. The very first Women's March was held the day after Trump's inauguration in 2017.
Organizers of Saturday's flagship event in Washington, D.C., were permitted to have 10,000 participants, according to NPR—far below the hundreds of thousands who participated in the very first march nearly four years ago.
"But then again, there's a pandemic," NPR reporter Sarah McCammon said of the crowd size on Twitter.
The event webpage outlined safety precautions from organizers that included a mask requirement, an encouragement to practice social distancing, hand sanitizer provisions and proddings for would-be participants to stay home if they were experiencing possible COVID-19 symptoms. Organizers also distributed masks to participants who needed them and projected social distancing reminders on LED screens in the area.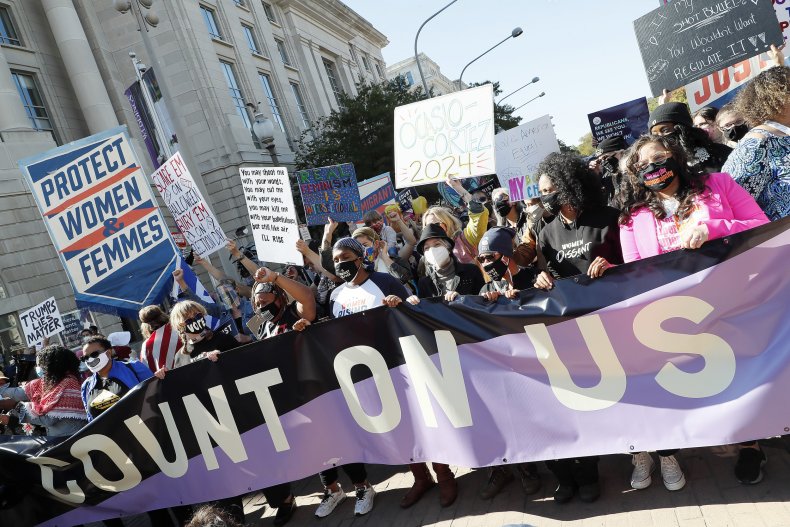 "Why no media outrage about the crowd size," Ohio Rep. Jim Jordan, a Republican, said as he retweeted a post of the crowd gathered in the nation's capital. "Or do #COVIDー19 rules only apply when you go to church, college football games, and Trump rallies?"
One Twitter user addressed the crowd size in Washington, D.C., and referenced a recommendation that Dr. Anthony Fauci, director of the National Institute of Allergy and Infectious Diseases and member of the White House coronavirus task force, made earlier this week about avoiding large family gatherings this Thanksgiving.
"I'd like Dr. Fauci to weigh in on what he thinks about this #WomensMarch2020 event during a pandemic after his canceling Thanksgiving remarks," @ChuckRichter70 wrote. Another Twitter user wrote, "Corona Virus for Trump Rallies and football games bad actually called super spreaders. #WomensMarch2020 nothing to see move on."
After local media outlets in Minnesota reported that one Women's March planned to take place near the state capitol was cancelled after the Minnesota attorney general said organizers would face a $25,000 fine for not keeping attendance below 300 people, critics also questioned the decision and said it was hypocritical.
Just days before testing positive for COVID-19 earlier this month, Trump held an in-person campaign rally in Minnesota, and he held a similar event in the state just a few weeks earlier. At least nine infections were identified in connection with the earlier rally by October 9, according to local health officials.
"Wondering why a bunch of trump loving cousin kissers get to hold a rally with no covid restrictions in place but the women's march gets targeted and shut down by your office," user @ClaireRightHere said in a tweet addressed to Minnesota Attorney General Keith Ellison.
In a statement shared with Newsweek, a spokesperson for the Women's March said organizers prioritized safety in planning Saturday's in-person events.
"Our mandate was to make the march as safe as possible and provide a safe infrastructure for people who are mobilizing ahead of the most important election in our lifetimes," the spokesperson said. "We encouraged women to take action close to home by attending one of the more than 400 sister marches in their local communities, and offered remote options so people could participate virtually."
The Centers for Disease Control and Prevention recommends that event organizers determine attendance limits and virus precautions in collaboration with local government and health officials. In addition to following local protocols, the agency recommends event attendees wear face coverings to reduce the risk of possible virus transmission, wash their hands regularly, maintain six feet of distance from other attendees whenever possible and keep activities outdoors where the risk of virus transmission is lower.