Florida Women's Prison Corrections Officer Promoted Despite Accusations of Abusing Inmates and Trading Cigarettes for Sex
A Florida prison guard in the state's biggest facility for women was promoted to the rank of lieutenant despite facing numerous accusations of physically abusing inmates and exploiting them for sex, a new report said.
Keith Turner was accused of trading cigarettes for sex, stealing inmates' food, and dousing prisoners with noxious chemicals among a handful of other allegations in documents seen by the Miami Herald.
Despite the array of incidents at Lowell Correctional Institution, Turner was never fired and it appeared that he was never reprimanded—instead, he was promoted to the rank of lieutenant in 2017.
Ryan Andrews, a lawyer for inmate Cheryl Weimar, is now demanding answers as to why Turner was ever promoted after his client was allegedly beaten by the corrections alongside three other men on August 21.
Weimar, who reportedly from suffers from mental illness, was slammed to the floor, elbowed in the neck, and then dragged through the facility "like a rag doll" before the four officers took her outside and beat her until she was near death, according to a federal lawsuit that was seen by the Miami Herald.
She is now paralyzed from the neck down and breathes through a tube.
Andrews told the newspaper that the Florida Department of Corrections had plenty of warning that Turner was a threat, adding that it was incomprehensible he was not fired following the long string of troubling allegations.
"No one can reasonably say it's not that big of a deal that guards are trading oral sex for cigarettes," Andrews said.
"There shouldn't be any allegations of guards sleeping with inmates," he added. "It's a completely avoidable problem."
The earliest known instance of Turner's alleged abuse dates back to 2009 when an inmate said she was harassed by the officer for her religious beliefs and was at one point tackled by Turner for no reason.
In 2014, an inmate reported that numerous corrections officers, including Turner, routinely exchanged cigarettes for oral sex and said that she witnessed Turner receive oral sex "three or four times" in a hallway. He was also accused of depriving inmates of their meals.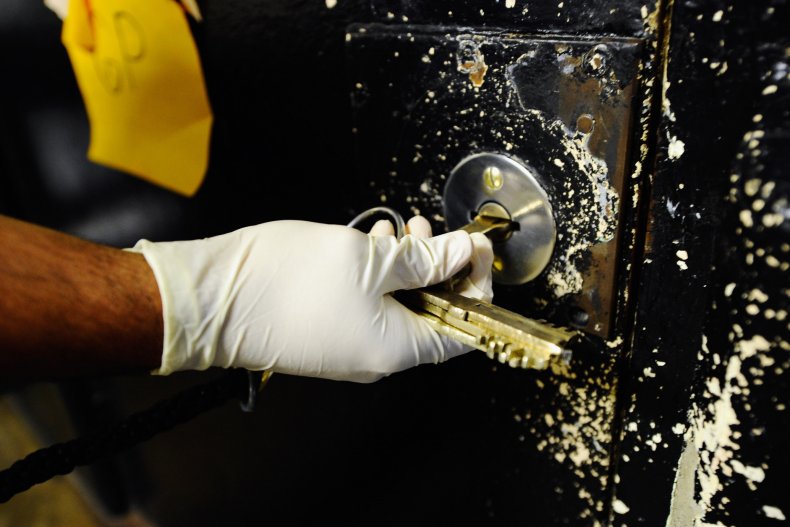 The following year, one inmate had reported having sex with Turner on numerous occasions, fearing what may happen if she became pregnant. It was said that Turner stole canteen items from some inmates and handed them to others, presumably those who had consented to his advances.
In 2017, he faced two allegations of making sexually inappropriate comments to inmates, allegedly groping one of them while doing so.
In 2018, Turner allegedly threatened to kill an inmate, allegedly body-slammed another into a chair and allegedly dragged a third across the compound in separate reports. Two other inmates alleged Turner sprayed chemicals on them.
The Florida Department of Law Enforcement (FDLE) is now investigating Turner and the three other officers after the alleged attack that left 51-year-old Weimar as a quadriplegic.
According to the Miami Herald, 13 other pages of allegations contained within the legal records they obtained were redacted because they were the subject of investigations.
Commenting on the case, Florida Department of Corrections (FDC) Secretary Mark Inch said: "The FDC has processes in place to identify, report, investigate, terminate and arrest, as applicable, those who violate our standards of professional conduct.
"I have made it very clear that we have zero tolerance for abuse and have taken swift action to hold correctional officers accountable, when we have substantiated evidence against a staff member for misconduct.
"We will continue to fully cooperate in FDLE's open and active case and will exercise the patience necessary to get all of facts. If any individual is found to have acted outside their authorities, we will take action against them."
Newsweek has contacted the Federal Bureau of Prisons, the Florida Department of Corrections, and the Lowell Correctional Institution for further comment.