'Disney Magical Holiday Celebration' Line-Up: All the Performers This Year
The Wonderful World of Disney: Magical Holiday Celebration is airing this year on ABC on Thursday, November 26 at 9 p.m. ET / 8 p.m. CT. The Disney special is the fifth annual TV special, but COVID-19 means that they have not been able to put up the full show they have in the past. Instead, the special will be a celebration of previous years, featuring the best performances from 2016 to 2019 from everyone from Idina Menzel to Shaggy.
There will, however, be one new performance courtesy of Dancing with the Stars power couple Derek and Julianne Hough, who are hosting the show and will perform a medley of holiday classics together.
Alongside this new performance, the Magical Holiday Celebration will include a line-up of archive performances from the following: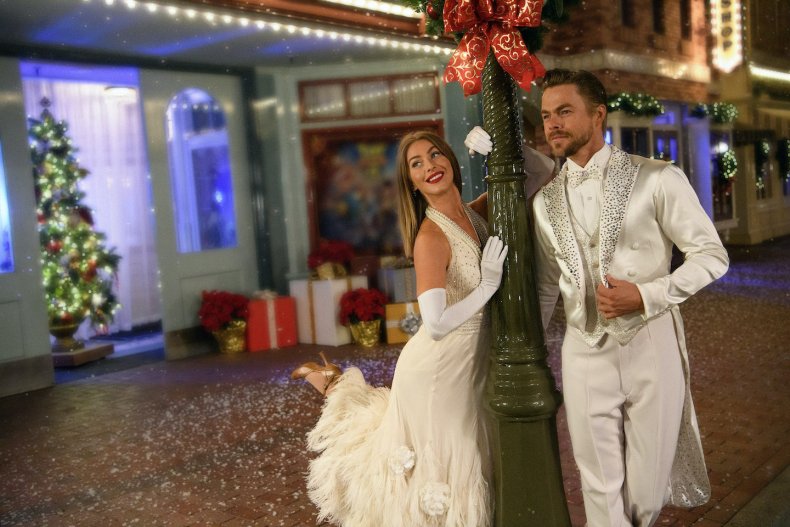 Ciara – "Jingle Bells/Jingle Bell Rock" (from 2017)
Kelly Clarkson – "Underneath The Tree" (from 2016)
Jason DeRulo – "Silent Night" (from 2017)
OneRepublic – "What a Wonderful World" (2016)
Meghan Trainor and Brett Eldridge – "Baby It's Cold Outside" (2018)
Pentatonix – "Deck the Halls" (2019)
Idina Menzel and Kristen Bell – "When We're Together" from "Olaf's Frozen Adventure" (from 2017)
Boyz II Men and JoJo – "Let It Snow" (from 2016)
Andrea Bocelli – "White Christmas" (from 2018)
Aloe Blacc – "I Got Your Christmas Right Here" (from 2018)
Becky G – "Santa Baby" (from 2018)
Shaggy – "Jamaican Drummer Boy" (from 2019)
Though The Wonderful World of Disney special will be mostly old footage, this year does include some new things for fans of the world of the Mouse House to look forward to. The special will offer a sneak peek of the upcoming Pixar movie Soul, before it comes to Disney+ on December 25. Featuring the voices of Jamie Foxx and Tina Fey, the movie sees a teacher and aspiring jazz musician's soul enter a new realm where he discovers what makes life worth living.
In a neat piece of brand synergy, viewers will also get a glimpse of a new Disney World ride in the form of the upcoming EPCOT ride Remy's Ratatouille Adventure.
Alongside the Houghs, grown-ish star Trevor Jackson will offer additional hosting from Florida's Walt Disney World Resort, where that ride is set to open in 2021.
After airing, the special is expected to be available to watch online on the ABC website and app. Last year, the special was added to Disney+ in December, so this year's edition is expected to follow suit.
The Wonderful World of Disney: Magical Holiday Celebration airs on Thursday, November 26 at 9 p.m. ET / 8 p.m. CT on ABC.