Wonders, Whimsy of America's Themed Amusement Parks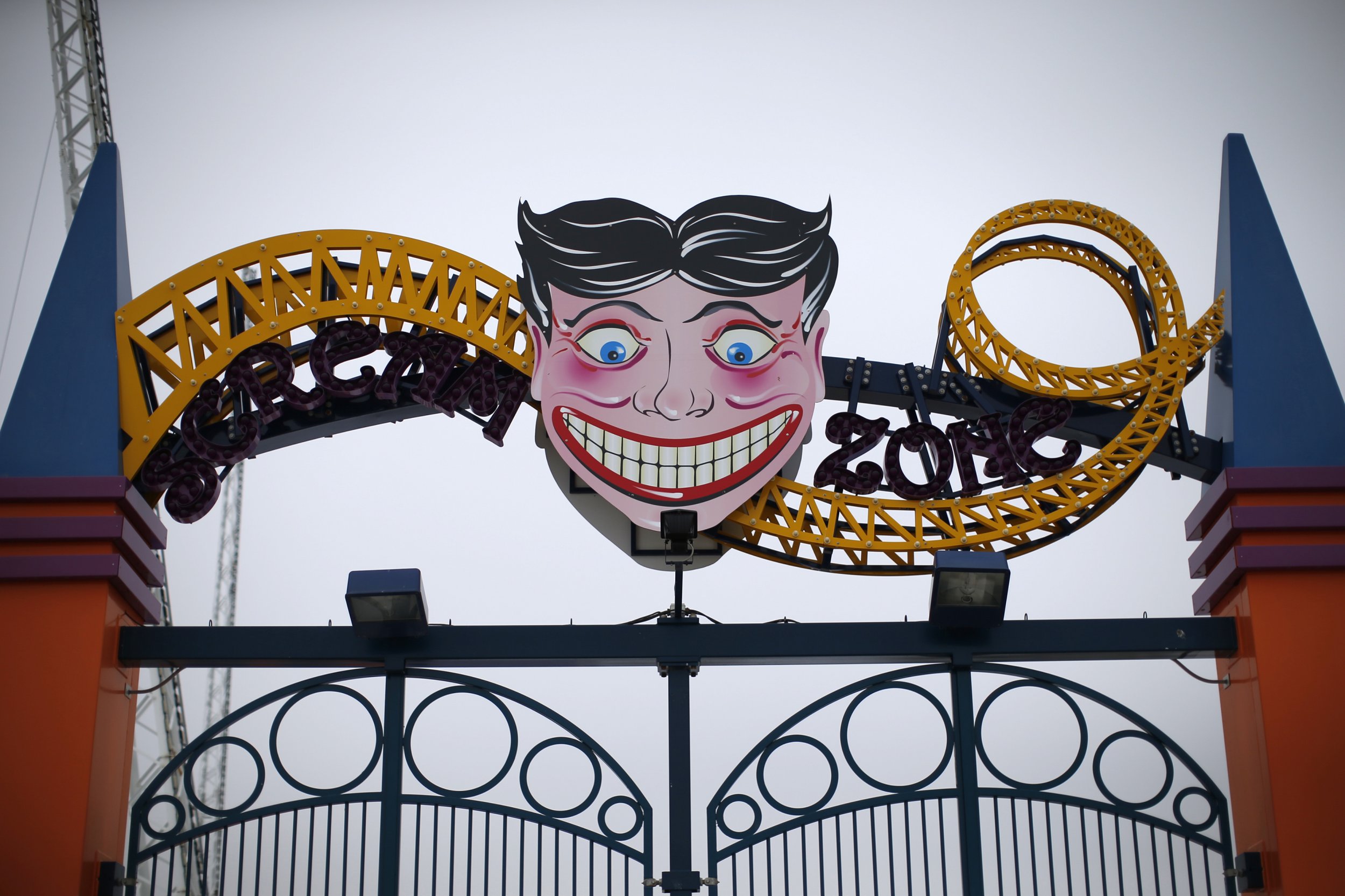 America's glorious centers of carousels, carelessness and cotton candy—its amusement parks—experience fever pitch popularity during the summer months. Even beyond the Schlitterbahns and Six Flags there exists a wealth of niche, quirky themed parks drawing inspiration from video games and fictitious worlds alike. But these outriders of the amusement park world, often independently owned mom-and-pop ventures, are an endangered species.
Take Bedrock City, the country's premiere Flintstones-themed amusement park. On Thursday, ABC News reported it's up for sale. Owned and operated by the same family since 1972, the park's 30 acres in Williams, Arizona, just 30 miles south of the Grand Canyon, will likely be stripped of their Stone Age decor to make way for timeshares, employee housing, a mall or even a desert casino. Poor Pebbles.
The Flintstones theme park is not the only one that's been hammered by the yabba dabba doom of capitalism, though. In the past 10 years, some truly strange gems—including Missouri's 20th-century America-themed Celebration City and North Carolina's Land of Oz—have shuttered.
Happily, a handful of batty themed amusement parks continue to keep our nation colorful.
Spring Hill, Florida's Weeki Wachee Springs, which rests upon a hot spring, boasts a white-sand beach and boat rides. Normal enough, except that the joint markets itself as a "City of Live Mermaids." It has featured a wealth of live underwater choreographed shows with "mermaids" since the 1940s. Aspiring mermaids are welcome, too, to participate in the park's boot camps to learn what's up with this world.
Also in Florida is The Holy Land Experience, an evangelical themed park that takes attendees through the prayer gardens, Great Temples and tombs writ large in the Bible. Oh, and the children even get the chance to say hello to Jonah, who's still resting in a whale's stomach.
Taking after the U.K.'s Diggerland, a park in West Berlin, New Jersey of the same name lets kids operate cranes and other construction equipment for fun in a controlled environment. Hey, to each his or her own. The park promises "buckets of fun for everyone," so even those who don't want to flex their manual labor muscles over the weekend can catch a ride on the Sky Shuttle.
Those hungry for more experiential parks (and who don't have kids) can head to San Francisco's Dungeon, which is exactly as it sounds. Actors recount gruesome tales of Alcatraz and gangs, and guests are taken on a creepy boat ride to learn about the city's criminal history.
For people seeking more pastoral parks, Paul Bunyan Land in Minnesota is bound to be a jolly good time, complete with a petting barn. Be sure to visit the big, creepy statue of Bunyan himself that addresses guests by name! Meanwhile, Oregon's Enchanted Forest is a conglomeration of fable lores, complete with witches, fairies and a Storybook Lane on which to stroll and daydream. For those who want to see nature in action, Fair Oaks Farms Dairy Adventure treats park-goers to live cow births and the intricacies of milking. Got cookies?
It's difficult to say what the future holds for theme parks, but that hasn't stopped some ambitious people from having projects in the works. Roswell, New Mexico is promising interplanetary times with the planned Alien Apex Resort, and Nintendo will be bringing 8-bit fun to Universal Studios in the near future, reports Kotaku. It won't be a fantastical land, but rather a series of "spectacular, dedicated experiences based on Nintendo's wildly popular games, characters and worlds," according to a press release. So get ready to step right up, and come one, come all, weirdos.