Wood Bison, North America's Largest Animal, to Be Reintroduced Into Alaska
Wood bison, the largest animal in the Americas, once roamed throughout present-day Alaska and western Canada. But unregulated hunting in the 1800s nearly wiped them out, and by the middle of the 20th century some thought the animals were extinct. But then, in 1957, a small herd was found in a remote part of Alberta by the crew of a plane flying overhead.
Since then, their numbers have rebounded to around 11,000 in Canada, as governmental organizations have helped breed and repatriate them to a few parts of their former range. But they have never been released back in the Alaskan wilds, where they once provided food, clothing and shelter for indigenous peoples for thousands of years.
But that's about to change. In March 2015, officials will release 50 to 100 wood bison to the wild in western Alaska, said Doug Vincent-Lang, with the Alaska Department of Fish and Game.
Currently, staff at the Alaska Wildlife Conservation Center outside Anchorage are facilitating the breeding of the bison, says operations director Tom Yeager.
"The boys and the girls are getting together now," Yeager tells Newsweek, with a wry smile. In the spring, the pregnant cows will then be flown to Shageluk, a village of about 80. This is apparently the easiest way to transport them; even so, moving animals that can weigh more than a Volkswagen bug is a "logistical nightmare," Yeager adds. The bison will be loaded into containers and packed onto C-135 aircraft, and then flown to Shageluk, where the runway can accommodate such larger aircraft.
The pregnant cows will then give birth, and they and their young (and the bulls) will be released to the wild; it will be the first time wood bison have roamed these lands in more than a century, says Yeager, who has peppery white hair and a "just folks" demeanor.
For those keeping score at home, wood bison can grow to over 2,000 pounds, and fossil and bone remains suggest the largest bulls could even approach the 3,000-pound mark. Wood bison weigh on average several hundred pounds more than plains bison, also known in the states as "buffalo" (or Bison bison bison, high in the running for the best scientific name). The two are separate subspecies and can breed—but this hybridization is undesirable, as it destroys the important genetic purity of each, Yeager says.
As far as other physical differences, wood bison also have a taller hump which is farther forward on their body, and their beards are pointier than the buffalo's. ZZ Top would probably approve.
In any case, the fact that the project will soon go forward comes as a relief to Yeager and his younger, slightly more-buttoned-up colleague Scott Michaelis, in charge of the group's sales and marketing.
"We've had to deal with so much red tape," says Michaelis, who has a trace of a Montana accent.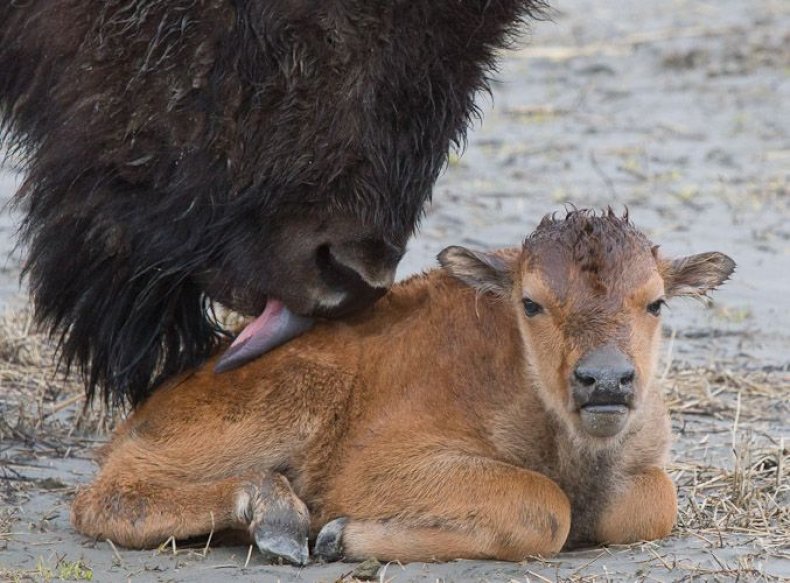 The center first received 13 bison in 2003, and has been caring for and breeding them ever since, preparing for reintroduction. But the effort to return them to the wild raised many hackles in a state where resource development, such as mining, is politically paramount.
One major concern was that the animals were listed as "endangered," meaning they carry certain protections. In some cases, if an endangered animal is found in a given land area, federal law curtails activities like mining in that area; some Alaskans worried that putting "endangered" animals back onto the land would interfere with resource development.
Years of compromise between conservationists, local and state politicians and the federal government led to wood bison being listed as a "nonessential experimental" population, Yeager says. This means that they don't carry the kind of protections an endangered animal does and thus their presence on land shouldn't interfere with mining or oil drilling or anything like that. And, in any case, there isn't mining or the like being done around Shageluk, and the native people want their wood bison back. The Athabascan people, who live in the area, are heavily in favor of the reintroduction, Yeager says. Prior the animals' extirpation, the beast was an intrinsic part of their way of life. In fact, wood bison are scientifically known as Bison bison athabascae, after the Athabascans.
The U.S. Fish and Wildlife Service approved the bison's "nonessential experimental" designation in May 2013, which will allow for the animals to be reintroduced to the Innoko River area near Shageluk.
The bison at the center are currently divided into five breeding herds, each consisting of a couple males and 12 to 15 females. Staff chose only the most fierce males to breed, which they determined by watching the animals fight and seeing who won. Normally more docile, the males are not to be approached in the fall, because they become quite territorial and ornery.
"You wouldn't want to be nose-to-nose with one of these guys this time of year," Yeager says. But in the spring, watching them run free should be quite a sight.
Correction September 29, 2014: An earlier version of this article incorrectly stated that the bison would be introduced in the Yukon and Minto Flats, in central Alaska.