Woodruff Challenges Pence Over Ukraine Call: Did Trump's Mention of Biden to Zelensky 'Raise a Red Flag With You?'
American broadcast journalist Judy Woodruff pressed Vice President Mike Pence in a PBS NewsHour interview on Monday about President Donald Trump's July phone call with Ukrainian leader Volodymyr Zelensky.
During Pence's appearance on the show, Woodruff asked the vice president to comment on reports about how the White House was alerted as early as May about a "pressure campaign" in Ukraine by Rudy Giuliani.
"That's not what President Zelensky has said, he actually said there was no pressure. He said that in discussions that I had with him," Pence responded. "I think any American who takes time to read the transcription of President Trump's call with President Zelensky will see the president did nothing wrong. There was no quid pro quo."
When asked by Woodruff whether he thinks it was "appropriate" for Trump to ask Zelensky to probe Biden during the call, Pence replied: "The president's made clear that his discussion in that matter was all about looking to the past."
The call was "greatly distorted" by the whistleblower, Pence added.
Woodruff, who appeared unsatisfied with Pence's answer, reiterated the question. "To bring up Joe Biden, the man who may well be the Democratic nominee for president next year, did it raise a red flag with you?" she asked.
"By the way, it's not just the whistleblower," she continued, "it's William Taylor, longtime respected diplomat appointed by President Bush, reappointed by President Trump, who said based on everything he was told by people who talked to the president, the president was withholding military aid for Ukraine in the promise of the White House meeting because they weren't committed to investigating the Bidens. This was in the transcript."
"We can't really count on that because all we have from the committee are leaks," Pence responded, before Woodruff fired back: "We have his statement."
Two unnamed sources with knowledge of the matter told NBC News that Fiona Hill, a top White House Europe official, was notified that Giuliani was pressing Ukraine to alter the leadership of Naftogaz, a state-owned energy company, as early as May. After learning the news, Hill disclosed the information to then-national security adviser John Bolton, according to the sources.
In the same interview with Woodruff, Pence also critcized congressional Democrats over their handling of the formal impeachment inquiry into Trump and said House Speaker Nancy Pelosi "unilaterally" opened the probe.
Trump has repeatedly dismissed the inquiry and claimed there was no quid pro quo during his exchange with Zelensky.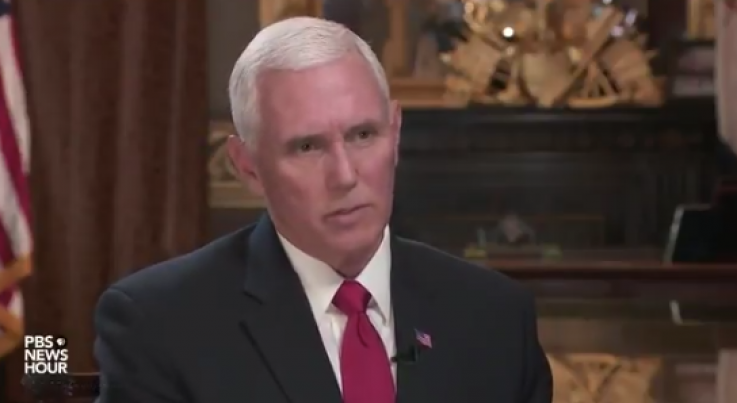 Woodruff Challenges Pence Over Ukraine Call: Did Trump's Mention of Biden to Zelensky 'Raise a Red Flag With You?' | U.S.