Is Woodstock 50 Happening? Organizers Rejected Again By City Officials
Woodstock 50 has taken another blow: A second proposal from organizers of the three-day concert was rejected late Thursday by city officials in Vernon, New York, who claimed it was incomplete and came far too late. An earlier application filed on Tuesday was dismissed on similar grounds.
Producers of the 50th anniversary concert say they will appeal.
"We also have submitted a comprehensive new application that is nearly 500 pages in length that spells out in great detail our plans for security, traffic and medical emergencies," read a statement from the group. "We believe there was no legal reason for the Town to turn down the original permit application."
The backers promise the event will be a boon to the local economy, especially Vernon Downs, their proposed site and the town's largest employer.
A representative for the festival indicated Vernon officials agreed to another meeting "once they have had sufficient time to review our exhaustive plan."
"[We hope] officials will grant the requested permit on an expedited basis and agree to host what will be a safe, world-class and historic event."
They also took their appeal to social media, tweeting, ""Will the Town of Vernon allow peace, love & music to prevail so we can celebrate Woodstock50 with you?"
The festival has been plagued with problems: In April, Dentsu Aegis, the principle financer, pulled out, citing "misrepresentations, incompetence and contractual breaches."
In a statement to Billboard the company said, "We don't believe the production of the festival can be executed as an event worthy of the Woodstock Brand name while also ensuring the health and safety of the artists, partners and attendees,"
Deitsu also announced the festival was canceled, calling it "the most prudent decision for all parties involved."
Michael Lang, a co-creator of the original Woodstock and organizer of the new festival, insisted the show was still on. "We don't give up and Woodstock 50 will take place and will be a blast!"
Lang also tried to sue Dentsu into returning its $18 million investment but was rebuffed.
That was April: In June, Watkins Glen International racetrack, the proposed site for the concert, withdrew.
So did event producer CID Entertainment, brought in to handle transportation and camping. CID Entertainment head Dan Berkowitz told Billboard. "Given developments, we can confirm that CID is no longer involved in Woodstock 50 in any capacity."
At a town hall on Monday, Oneida County Sheriff Rob Maciol says Woodstock 50 should take place in August 2020, not 2019. "No matter how good the plan looks on paper, to implement this plan in 39 days, is impossible to ensure the safety of the public."
As it is, the three-day music festival is little more than a month away. Tickets have yet to go on sale and details about parking, food, bathrooms, medical care and other major issues have yet to be cemented or approved.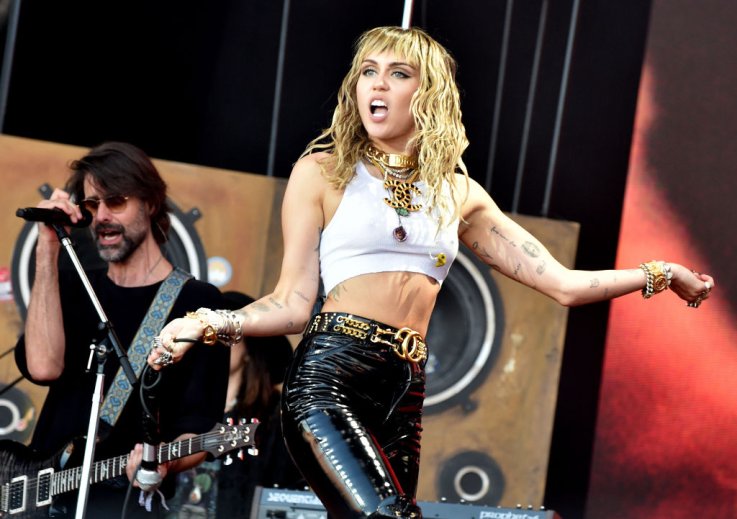 And the artists were contracted with Dentsu, leading some believe their contracts were voided as soon as the company pulled out.
"Time does not permit me to cite all the deficiencies," wrote Vernon building inspector Reay Walker in his rejection notice, adding that any application for a temporary event permit must filed at least 120 days bin advance.
"Of course, since this application is filed only 35 days before the event, it is untimely and rejected for that reason, as well as all the other deficiencies."
Projected attendance has shifted from more than 110,000 down to 75,000—and now 65,000—according to Variety. But even that number would tax Vernon, whose yearround population is barely 1,175.
The lineup announced in March is one of the most ambitious of the season and includes Jay-Z, Miley Cyrus, Janelle Monae, Imagine Dragons and Halsey, as well as acts that played at the original Woodstock, including Santana, Canned Heat, David Cross, Melanie and John Fogerty. Organizers say the talent has already been paid, but whether any of them will take the stage is still up in the air: .
"Common sense will tell you we're running out of time," Vernon Downs' owner, Jeff Gural, told Syracuse.com
Is Woodstock 50 Happening? Organizers Rejected Again By City Officials | News