Following the publication of Rage, the book that details conversations in which President Donald Trump admitted to downplaying the severity of the coronavirus, author and Washington Post associate editor Bob Woodward said on Tuesday that Trump is a "bulldozer to the staff" and accused the Trump administration of being in denial over the virus' impact.
In a Washington Post Live interview with the Post's Philip Rucker, Woodward said that Trump is "a one-man band" who is going to do "what he wants to do on impulse or on information he has," adding that he thinks there was a denial across the board for White House staffers.
"He's a bulldozer to the staff and, quite frankly, to the country," Woodward said. "And he just says what he wants, and so there's no control. And this is one of the problems of the Trump presidency, that he doesn't build a team. He doesn't plan."
Days ahead of Tuesday's publication of Rage, Woodward released excerpts of 18 on-the-record interviews with the president, which took place between December 2019 and June 2020. In early February, Trump had a private conversation with Woodward about the new coronavirus, saying it was "more deadly" than the flu. In another conversation in March, as the pandemic was growing extremely severe in New York City and gaining traction in some areas across the United States, Trump told Woodward he wanted to "play it down."
The latest excerpt, released by CNN on Monday, gives an even grimmer look into the president's thoughts on the virus. In a conversation between Trump and Woodward on April 13, Trump says the virus is a "killer if it gets you" and describes it "like a plague."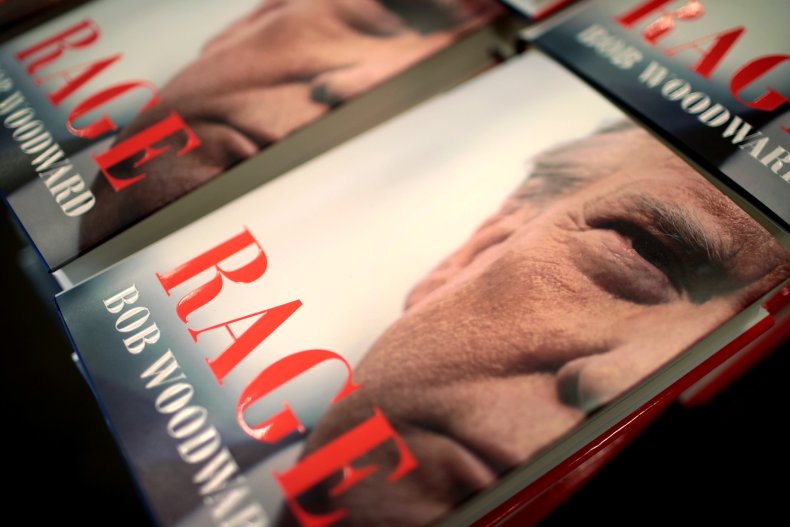 Trump has previously called Woodward's book as a "political hit job" and defended his actions during an afternoon event at the Diplomatic Room of the White House last week, saying he could not "show a sense of panic" while handling the coronavirus pandemic.
In a Tuesday interview with Fox & Friends, Trump criticized the book: "I read it very quickly. And it was very boring."
In a Tuesday morning interview with NBC's Today, White House senior adviser and the president's son-in-law Jared Kushner defended the Trump administration's response to the virus when asked about Woodward's interviews with the president.
"The president was very forthcoming with the American people about what he knew and when he knew it," he told NBC News' Savannah Guthrie.
Kushner also mentioned that Woodward "mischaracterized" who he was referring to when he was quoted in the book as saying, "The most dangerous people around the president are overconfident idiots."
Kushner denied that the remarks were in reference to former Defense Secretary Jim Mattis, former Secretary of State Rex Tillerson and former National Economic Council Director Gary Cohn.
"He's [Woodward's] got tapes of everything. I have tapes of everything. So, that was never implied in that regard," he said.
As a response to Kushner's comments, Woodward told Rucker that it was clear Kushner was talking about specific members of the Trump administration. He adds that he finds Kushner's saying that he has tapes "interesting."
"I taped him with his permission. I suspect that he was taping me," Woodward said on Washington Post Live. "He did not extend the courtesy to me that he was taping the conversation. That's fine, and I report accurately what he said in the book, and there are some much more important quotes from him, quite frankly."
Newsweek reached out to the White House for comment but did not receive a response in time for publication.