Ranked: Woody Allen's 20 Best Movies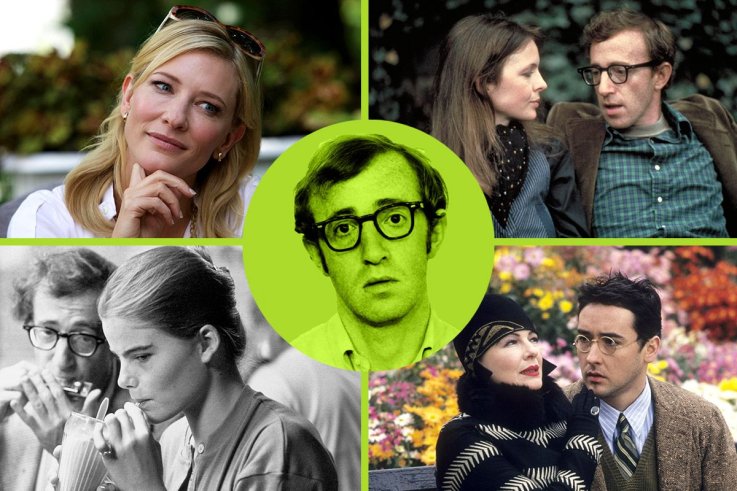 Whenever the question arises as to whether it's possible to separate an artist from their work, Woody Allen's name almost always comes up. Few directors are at once so iconic and so controversial, so admired and so condemned.
Allen is behind some of Hollywood's most famous movies—from Manhattan (1979), to Match Point (2005) to Midnight in Paris (2011), with a vast canon in between—but he also stands, in the eyes of many, as a disgraced symbol of Hollywood's darker side: the dubious morals, the sleaze and the privileged self-denial.
The question of separating art and artist is asked with new urgency in the age of #MeToo, with all the shameful behavior that it has unveiled. While the charges laid against Woody Allen—especially regarding whether he molested his adopted daughter Dylan Farrow, from 1992—predate the recent wave of allegations, they too have taken on new relevance. Farrow's account is being treated more seriously despite Allen's steadfast denials, and actors and audiences alike have taken to boycotting the director.
There is no doubting Woody Allen's artistic credentials: Over the course of his career, he has proven himself to be a stand-out comedian, author, playwright and director. He is the winner of four Academy Awards, including one for best director, and nine British Academy Film Awards; in 2004, Comedy Central placed him fourth in their list of the 100 greatest stand-up comedians; in 2015, the Writers Guild of America voted his 1977 movie Annie Hall the funniest screenplay of all time.
But there are deep doubts regarding his denials of misconduct. After the allegations resurfaced recently, Allen accused Farrow of "cynically" aligning her allegations with the #MeToo movement. Farrow's response, as quoted by The New York Times, was scathing: "If Woody Allen and his surrogates' response to this is that I'm capitalizing on a moment in which it is in vogue to carefully look at the facts, rather than rely on thin defenses from powerful men without question—a moment in which the truth is in fashion—I'd say they're right."
So then: Is what matters the work, or the man or woman behind it? Or is it impossible to draw a line between the two? In Manhattan, for example, Allen's love-letter to the city of his birth, a twice-divorced middle-aged man—played by Allen himself—starts dating a 17-year-old girl. It's a romantic comedy, and it stands as Allen's second biggest box-office hit (prices adjusted for inflation), but it now also seems like a foreboding clue to Allen's own life. Much of Allen's back-catalogue is now open to such scrutiny.
Irrespective of the controversy, however, Allen's time as an influential director is surely up—he is 82, and his recent movies have mostly flopped. His credentials as a role-model are also in tatters. And yet the influence of his greatest movies is simply impossible to escape. Even if you decided to boycott Allen's movies, as many have, you couldn't boycott all the movies and artists that have been inspired by them.
Newsweek has collected review data from Rotten Tomatoes, Metacritic and IMDb users, to find out which of the films Allen directed have been most highly-rated. In this slideshow, we look at his 20 best movies, according to public and critical opinion.