Ancient Skeleton Of Largest Woolly Mammoth In Private Hands On Sale In France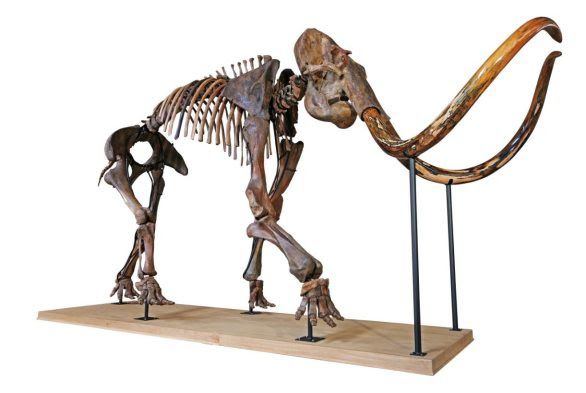 Updated | Once it strode the paleolithic Siberian wastes, so vast and imposing that its very name has become synonymous with overwhelming size tens of thousands of years later.
Now, it could be yours for about the price of a small apartment in Brooklyn.
That's right: at a French auction on December 16, the world's largest privately-owned woolly mammoth skeleton is going on sale.
Buyers at the auction in the Lyon-Brotteaux railway station in the eastern French city of Lyon will be able to view and bid for the fossilized beast, which stands at 3.4 metres (11 feet) high and 5.3 metres (over 17 feet) metres long.
The Aguttes auction house, which is handling the sale, estimates it will change hands for about £400,000-£440,000 ($528,000-$581,000.) Thanks to its size, the estimated price is a little higher than some similar specimens.
The first such full mammoth skeleton to be sold in an auction changed hands in 2006, fetching €150,000 ($176,000). It was picked up by the Cave des Vignerons de Montfrin in the Gard region of Southern France.
Christie's Paris then played host to a sale featuring a range of items related to natural history.
"This immediately sparked off a debate between scientists, who wanted to retain control of the fossil market, and modern art collectors, who were beginning to take an interest and pushing prices up," read a press release promoting Thursday's sale.
"A mammoth skeleton was finally bought for €312,000 ($367,000) by a young contemporary art collector."
Mammoths walked the earth at the same time as both Neanderthal man and the early Homo Sapiens, during the Middle and Upper Paleolithic periods, stretching from 300,000 to 10,000 years ago.
The Aguttes auction house previously secured €1,128,000 ($133,000) for a dinosaur skeleton, which it sold in Lyon on December 10, 2016.
This piece was updated to correct the date of the sale.