Camp, Hill, Woolsey Wildfires Forecast News: When Will Fires Be Contained?
Within days of being sparked, recent multiple wildfires in California ravaged the state, destroying homes and claiming lives. As residents anxiously await the day they can return to their residences, thousands of firefighters work to contain the blaze.
The Woolsey Fire, Camp Fire and Hill Fire all began on Thursday in various parts of the Golden State, quickly growing and forcing evacuations. Firefighters were making headway, and for two of the fires, containment could come as soon as Thursday, while it could be weeks for another.
The Camp Fire
The Camp Fire began on Thursday, November 8, at 6:29 a.m. PST, in Butte County, California. Since then, it's grown to 117,000 acres and killed 42 people as of Monday night, according to the California Department of Forestry and Fire Protection (Cal Fire). The Camp Fire surpassed the 1933 Griffith Park Fire, which claimed 29 lives to become the deadliest fire in California's history. An additional three firefighters were injured and 227 people remain unaccounted for, according to Butte County Sheriff Kory Honea.
Due to the Camp Fire's strength and size, evacuations were ordered for whole towns and communities including Paradise, Magalia, Concow, Butte Creek Canyon and Butte Valley. Since it ignited, the fire has destroyed 6,453 residences and 260 commercial buildings. Another 36 residences and 22 commercial buildings were damaged.
A massive effort is underway to control the fire, including 622 engines, 71 water tenders, 21 helicopters, 96 hand crews and 107 bulldozers. More than 5,000 people are fighting the blaze. Along with ground efforts, firefighting air tankers are flying fire suppression missions when conditions permit.
As of Monday evening, the fire was only 30 percent contained and Cal Fire predicted full containment would be reached on November 30.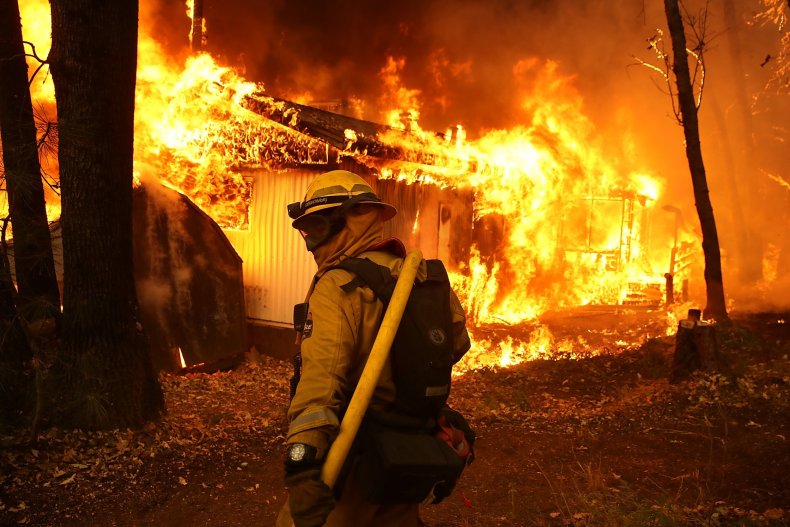 The Hill Fire
The Hill Fire, which also began on Thursday, November 8, has since grown to 4,531 acres, according to Cal Fire. It broke out south of the Camp Fire in Ventura County. Fortunately, the flames didn't cause any fatalities as of Monday evening, but it did destroy two structures. A far smaller crew is fighting this blaze, and only five engines, three water tenders and 40 people are assigned to the Hill Fire.
Four days after the fire began, firefighters had it 85 percent contained and are expecting it to be fully contained on Thursday.
The Woolsey Fire
Another large blaze that's burning its way through Los Angeles County and Ventura County is the Woolsey Fire. Similar to the Camp Fire, the flames in Southern California flames ignited on Thursday, November 8, claiming lives and destroying buildings.
The Woolsey Fire burned 93,662 acres as of Monday evening, including 83 percent of all National Parks Service land in the Santa Monica Mountains National Recreation Area, according to Cal Fire. Two people lost their lives and an additional three firefighters were injured. Along with a loss of life, an estimated 435 structures were destroyed and another 24 were damaged. Among the people who lost homes in the fire were actor Gerard Butler and singers Miley Cyrus and Neil Young.
"Due to extreme fire behavior, firefighting efforts have been focused, and will remain focused, on the protection of life, and structures," Cal Fire said. "Crews will continue to reinforce containment lines throughout the evening. Steep terrain, limited access, and extreme fire behavior will continue to challenge crews."
As of Monday evening, the fire was only 30 percent contained, but Cal Fire forecasted full containment would be reached on Thursday.
The president previously threatened to withhold federal payments if California didn't fix the "gross mismanagement" of forests. However, on Monday, President Donald Trump approved a major disaster declaration for California to "alleviate some of the incredible suffering going on." The disaster declaration allows federal funds to be made available for relief efforts.
"I am with you all the way," the president tweeted. "God bless all of the victims and families affected."