Woolsey Fire: Surfers Deliver Supplies from Billionaire Howard Leight's Yacht to Malibu, California, Shore
To help aid Californians as wildfires ravage the state, billionaire Howard Leight offered his yacht to help deliver supplies, which were then brought to shore by surfers and small boats.
On Tuesday, Leight's yacht, appropriately named the Leight Star, was loaded up with supplies destined for Paradise Cove in Malibu, California. Among the items aboard were bicycles, water bottles, food, diapers and even dog food.
Benjamin Oreskes, a reporter for the Los Angeles Times, was aboard the yacht during the supplies drop and documented it in a thread on Twitter. During the trip, Bill Kerbox, a friend of Leight's, explained to volunteers that they needed to get the word out on social media that supplies were being dropped off. To lessen confusion, Kerbox requested people use the hashtag "Malibuhope."
Along with the supplies that were aboard the yacht, a video posted by Oreskes showed three smaller boats being pulled. Once the yacht reached its destination, it wouldn't be able to pull into shore because of its size so the smaller boats were there to ferry the supplies to shore.
When the yacht arrived, it wasn't just smaller boats that came out to help. Surfers grabbed their boards and paddled out into the waves. Their boards were loaded up with cases of water, which wouldn't get ruined if they came in contact with the ocean. Other dry goods were stuffed into trash bags, which were double bagged for added protection.
"You're heroes," people aboard the boat yelled to the surfers. "Thank you, guys."
Small boats brought bicycles, leaf blowers, shovels and other bigger supplies that residents might need. A video posted on Facebook by Matt Diamond showed a jet ski acting as a pseudo tugboat for a surfer whose board was stocked with supplies. As the surfers arrived on shore, another wave of volunteers grabbed the supplies and brought it onto the beach.
Matt Pearce, a national correspondent for the Los Angeles Times, related the civilian supply drop to a Dunkirk of sorts. Given that surfers were involved, which is an iconic staple of California, Pearce explained that during times of distress, just like Florida, the Golden State is "inexorably itself."
Leight told Oreskes that he spent Friday night saving two of his homes and decided he had to help others, which is how he decided to utilize his yacht.
The billionaire wasn't the only one to deliver supplies by sea and Kevin Michaels, a California resident, made several trips to Paradise Cove with his boat.
"I've only ever used it for party pleasure," he told the San Gabriel Valley Tribune. "But this is stuff we needed 48 hours ago."
The Woolsey Fire began on Thursday in Los Angeles County and Ventura County and quickly spread, burning 97,620 acres as of Wednesday morning. An estimated 483 structures were destroyed and an additional 86 were damaged. Two people were killed in the fire and another three were injured.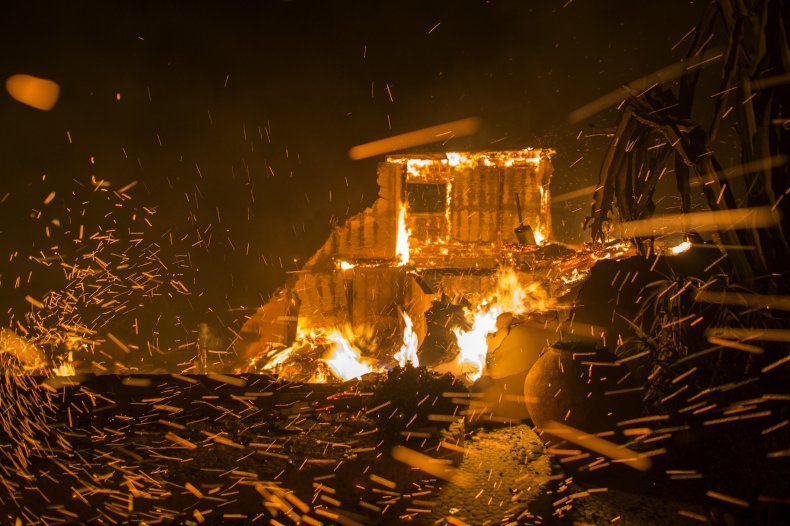 Evacuations were ordered and the mandatory evacuation order remained in place for Malibu residents on Tuesday. Since people were not being allowed back into their homes, Oreskes tweeted that the sheriff's boat allowed surfers to deliver the supplies to shore on the condition that they went no further.
The fire is currently 47 percent contained and the California Department of Forestry and Fire Protection estimated full containment would be reached on Sunday.