'Wordle' #235 Answer: Today's Word of The Day Clues To Solve February 9 Crossword Puzzle
Wordle #235 might pose a challenge for a lot of players, especially if your go-to starting word doesn't reveal many yellow or green tiles. To help you find the answer for this latest puzzle, Newsweek has prepared the following guide with useful hints and tips.
When it comes to solving the word of the day, there is no right or wrong strategy in Wordle. The game's developer, Josh Wardle, has even suggested that it might be worth using up your first few attempts trying to guess the maximum number of letter combinations, so that you can eliminate as much of the alphabet as possible. In his own words: "It's often just as important to learn what letters aren't in a word. That information can actually be more powerful in a lot of ways."
That being said, there is obviously a competitive element to Wordle, with the aim being to share the best results grid on social media (impressing all of your friends and family). As such, you'll probably want to prioritize getting those satisfying green tiles in your opening guess.
Doing so is particularly tricky with the February 9 puzzle, however, as your starting word is unlikely to have much overlap with the solution here.
Before we continue, it's worth reflecting on the immense popularity of Wordle and how it has flourished in such a short space of time. At the start of November, the webpage (hosted on powerlanguage.co.uk) had an average of just 90 visitors and now it is attracting millions of people every single day. This extraordinary growth is illustrated in the below graphic from Statista.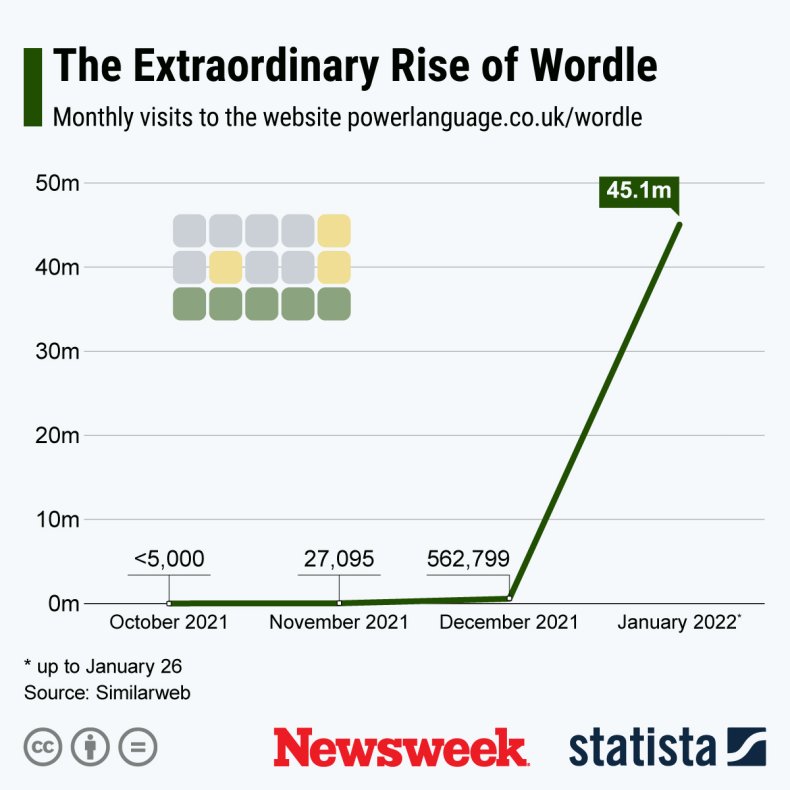 Wordle #235 Tips for February 9
As per usual, we will save the answer to Wordle #235 until after this clues section, so that those just looking for a little help can avoid spoilers. The following tips get progressively easier, with the final entry providing a dictionary definition of the word of the day.
Hint #1: First off, if you live outside of the United States, it is worth noting that today's Wordle uses an American spelling that might throw you off.
Hint #2: There are two vowels in today's Wordle. You can use "Audio" as a starting word to figure out what they are. You'll also get a green tile from this.
Hint #3: It rhymes with "Boomer", "Tumor" and "Rumor".
Hint #4: The only anagram for Wordle #235 is "Mohur", which is an archaic coin that is no longer minted.
Hint #5: Merriam-Webster defines Wordle #235 as "that quality which appeals to a sense of the ludicrous or absurdly incongruous: a funny or amusing quality".
Wordle #235 Answer
The answer for Wordle #235 on February 9 is "Humor". The starting word "Audio" hopefully gave you a solid head start.
The next Wordle puzzle will be available at 7 p.m. ET, when the daily refresh occurs. If you cannot wait until then, Newsweek has scoured the internet for similar word games that you might want to try.