Today's 'Wordle' Word of the Day: #236 Answer and Hints—February 10
Wordle #236 is not as hard as some of the game's more recent puzzles, but that doesn't mean you won't need clues to give you some inspiration.
Everybody has their own strategy for completing these daily brainteasers, whether they have a go-to starting word or if they just like to improvise on the spot. The game's developer, Josh Wardle, has suggested that it is often beneficial to devote your first few guesses to just eliminating letters that aren't in the word, so that you can narrow things down a bit.
Regardless of how you choose to play, the fun derives from knowing that you will have got to the answer in a totally different way to everyone else. Of course, this means that there is also an element of friendly competition, as you will naturally want to show off the best results grid on social media.
With that in mind, Newsweek has prepared the following guide to help you blitz through Wordle #236 on Thursday, February 10.
Before we go any further, it's worth reflecting on the incredible success that Wardle's puzzle game has experienced over the last couple of months. When the website (which was initially just a personal project) first opened to the public in October 2021, it attracted only 90 visitors. Now, it is consistently pulling in over a million users each and every day. This phenomenal growth is depicted in the below chart from Statista.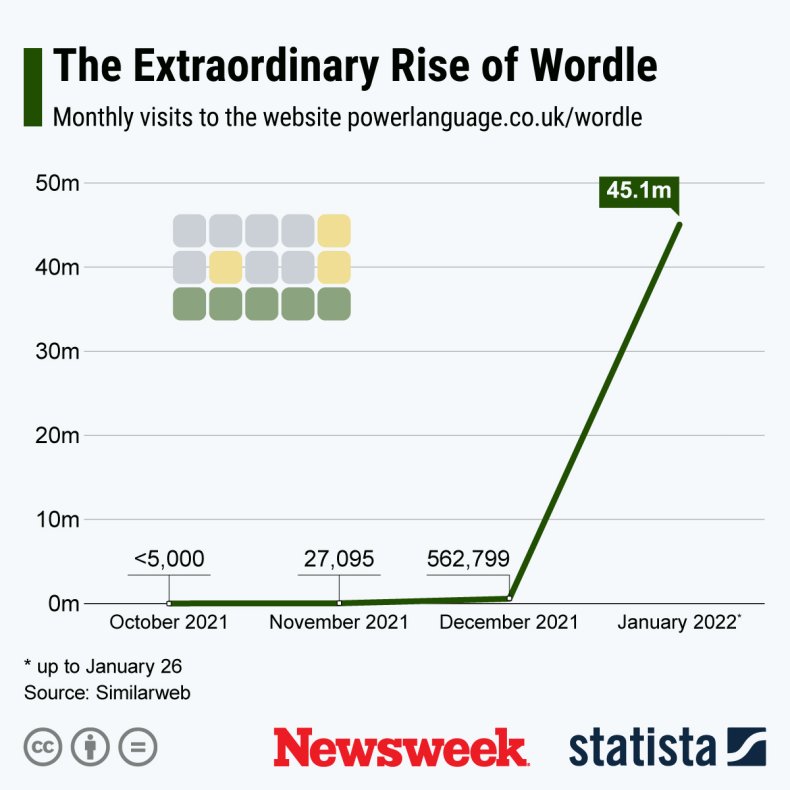 Wordle #236 Hints for February 10
The final answer to Wordle #236 can be found at the very bottom of this article. First, here are a few tips that will give you a gentle nudge in the right direction.
Hint #1: Wordle #236 is a verb comprised of three vowels and two consonants
Hint #2: To figure out those vowels, a good starting word would be "Adieu"
Hint #3: The word of the day rhymes with "Jaws," "Claws" and "Applause." In terms of spelling, the latter is closest
Hint #4: The answer begins with the letter "P" and the other featured consonant is an "S"
Hint #5: Merriam-Webster defines Wordle #236 as "a temporary stop." You might also think of it as one of the functions on a TV remote, alongside rewind, play and fast forward.
Wordle #236 Answer for February 10
The word for February 10 is "Pause." Given how many vowels it has, it is easy enough to reveal yellow tiles, but you might have struggled to find the exact placement for each letter.
The Wordle puzzle refreshes every day at 7 p.m. ET. While you wait for that, Newsweek has found some alternative word games that you might want to try.