'Wordle' #241: Answer and Clues for the Word of the Day on February 15
The answer to Wordle #241 is easier than the recent Valentine's Day puzzle, but you might still struggle to figure out a couple of its letters.
The game's developer, Josh Wardle, previously told Newsweek that a viable strategy for solving his daily brainteasers is to guess as many characters as possible in your first couple of tries. His logic here is that — even if you've already uncovered the placement of some green tiles — you ought to try guessing different letter combinations in your next go anyway, just so that you whittle down the remaining possibilities even further.
After all, it's entirely possible to have an almost full board in Wordle and still end up losing because you can't figure out that elusive last tile. Yet by resorting to Wardle's tactic, you can eliminate five letters in a single guess instead of just one or two.
This method won't be of much use for Wordle #241, however, for reasons that we will get into later. Speaking of which, Newsweek has prepared a quick guide for solving the latest puzzle on Tuesday, February 15.
Wordle is now hosted on The New York Times website, but used to be featured at powerlanguage.co.uk. The below graphic from Statista charts the extraordinary influx of visitors to the latter since Wardle's game debuted.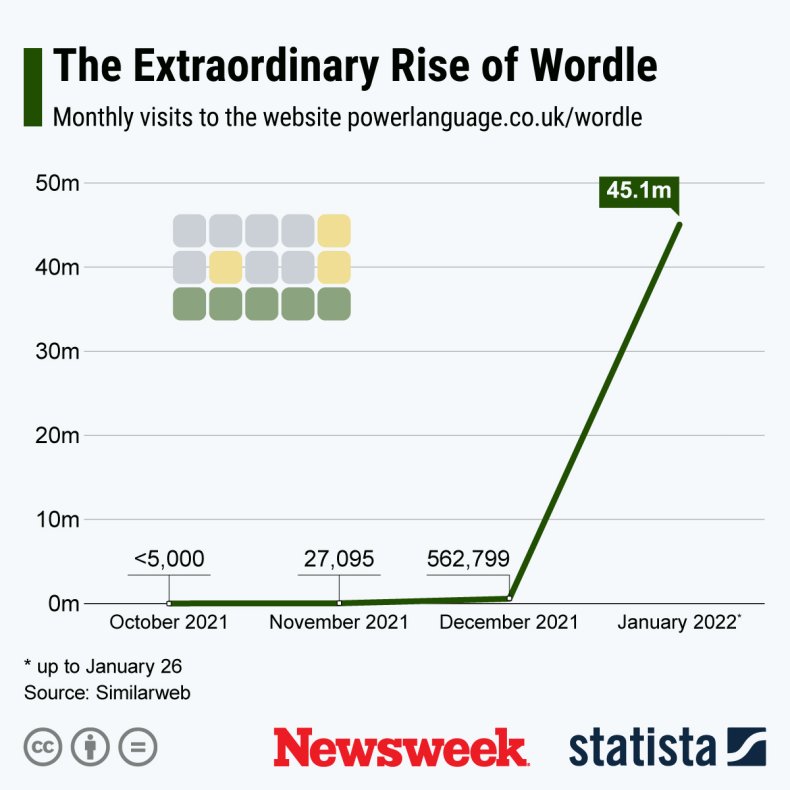 Wordle #241 Clues for February 15
If you want to skip ahead to the Wordle #241 answer, it can be found at the very bottom of this article. Before we get there, here are some useful hints and tips.
Hint #1: Much like Monday's puzzle, Wordle #241 begins and ends with the same letter. This is why it would be difficult to use Wardle's method to reveal all the tiles.
Hint #2: The word of the day consists of two different vowels (one of which is also that repeating letter)
Hint #3: A good starting word for today would be "drama," as this gives you three green tiles and a yellow one.
Hint #4: Possible synonyms for Wordle #241 include "Smell", "Odour" and "Scent"
Hint #5: More specifically, the word is often used to describe the scent of wine.
Wordle #241 Answer for February 15
The answer to Wordle #241 is "Aroma." It can always be a little tricky when one of these puzzles has a repeating letter, as the game has no color-coded way of telling you this and you might not even think to try it.
The next Wordle will be available at 7 p.m. ET, which is when the daily refresh occurs. If you are eager to solve more puzzles right now (without having to wait 24 hours between them), then you might want to consider trying some alternative word games.