'Wordle' 249 Word of the Day: Check Out Wednesday's Puzzle Clues and Answer
The answer to Wordle #249 is not immediately obvious, given that it's unlikely to be a term you use on an everyday basis. To help you solve the latest brainteaser, Newsweek has prepared a few hints and tips.
Wordle got off to an unassuming start back in October, launching with just 90 active users. Now, the game consistently ropes in over a million players each day and has inspired a craze for online puzzles.
In addition to the more blatant clones and imitators, there's also the math guessing game Nerdle and a geography-themed variant called Worldle (not to mention a separate crossword for Swifties that is clunkily entitled Taylordle).
It's really become a whole new genre over the past couple of months and the appetite for it doesn't appear to be waning. In fact, Wordle has been such a smash hit that The New York Times Company purchased it for an undisclosed seven-figure sum at the very end of January.
The graphic below from Statista charts the game's incredible growth since October 2021.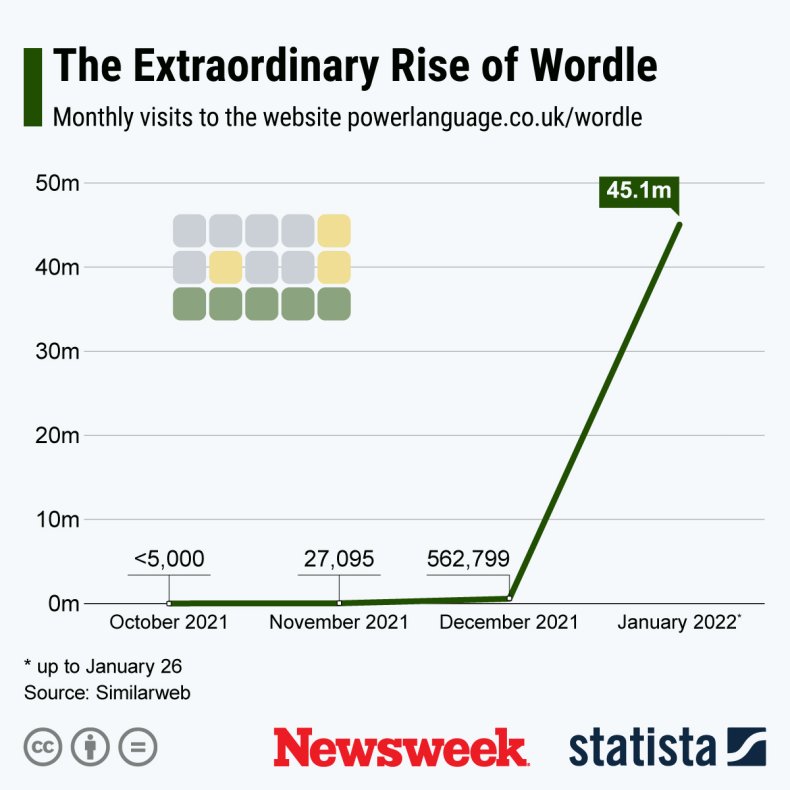 Wordle #249 Clues for February 23
If you are struggling with the latest Wordle (#249), then Newsweek has prepared a quick guide to give you a gentle push in the right direction.
The final answer for today's puzzle has been saved for the very end of the article, so that you can try and solve it on your own using our tips first.
Hint #1: There are a couple of vowels in Wordle #249, which you can identify using the starting word "Above." This will also reveal a total of three green tiles, but no yellow ones.
Hint #2: The word of the day rhymes with "Clove", "Drove", "Stove" and "Grove."
Hint #3: It's an anagram of both "Overt" and "Voter" as well.
Hint #4: Wordle #249 is synonymous with "Haul," "Stash," "Stockpile," "Horde" and "Collection."
Hint #5: It is often proceeded by the word "Treasure."
Wordle #249 Answer for February 23
The answer to Wordle #249 on Wednesday, February 23 is "Trove." If you used our suggested starting word of "above," then you will only have needed to work out the first two letters here.
Wordle refreshes every day at 7 p.m. ET. Developer Josh Wardle has curated a list of over 2,500 puzzles (which are randomly chosen from a database), meaning that there are enough to last for almost seven years.
If you're still hankering for more, then Newsweek has found some alternative word games that might tide you over until the next daily refresh.