Today's 'Wordle' Guide: #280 Answer and Clues for 03/26/22 Puzzle
Wordle is kicking off this weekend with the trickiest of words.
The brainteaser game, which was created by Josh Wardle, involves players from around the world—all trying to solve the puzzle by choosing the correct five-letter word in six tries or fewer.
The game refreshes each day, with a new mystery word that needs to be guessed from scratch. Wordle tries to help users stumble across the correct word by using a color-coded system; each correct letter turns green, or yellow if it's in the word but currently in the wrong place, or grey when it is incorrect.
But for players who are worried about breaking a winning streak, Newsweek has created some helpful hints to help nudge them in the right direction. Failing that, the answer is provided at the end of this article.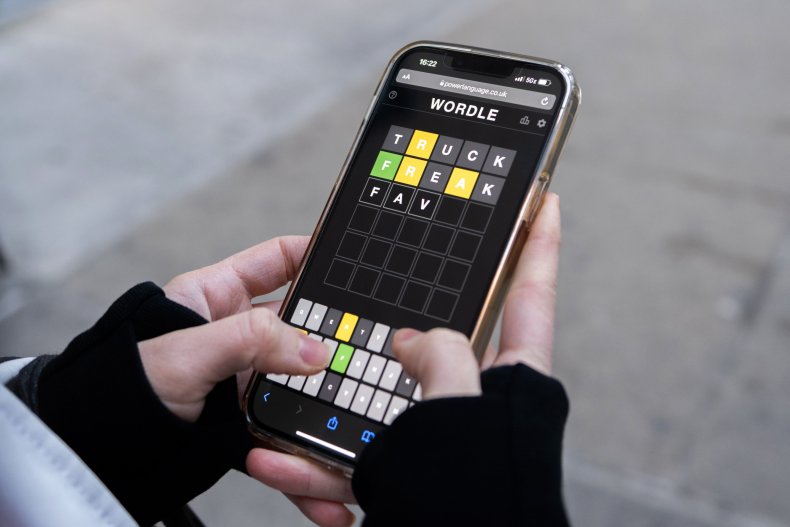 Game inventor Wardle made the game public in October 2021 and it quickly became a global phenomenon thanks to its fun premise as a daily brain exercise, gaining more than 45 million users after starting out with just 90 active players.
The software engineer sold his game to The New York Times Company in January 2022 and the puzzle moved over to the publication in February. The word game has become so popular that it has inspired a number of other daily games, such as the music-based Heardle, and the math-based Nerdle.
Each hint for the word on Saturday, March 26, is more revealing than the last, so stop reading at the point you feel most confident you have guessed the right answer.
Hint #1: The solution contains two vowels.
Hint #2: The word has a sticky meaning.
Hint #3: Today's Wordle contains one of the lesser-used letters towards the end of the alphabet.
Hint #4: Synonyms for today's word include "glue."
Hint #5: Dictionary.com defines this word as "any of a class of resins derived by polymerization from epoxides: used chiefly in adhesives, coatings, electrical insulation, solder mix, and castings."
Wordle #278 Answer for Saturday, March 26
The answer to Wordle on Saturday, March 26, is "epoxy."
The word is not commonly used—apart from those in the building trade and hardcore DIY enthusiasts—and the letter X is not usually a helpful guess in Wordle. So many players are expected to struggle with today's word.
There is always tomorrow though. Wordle updates every day at 7 p.m. ET, at which point the next word will become available for players to try and solve.
For players who need to find something else to fill their time while they wait, they need look no further than these similar word puzzles.