'Wordle' #321 Answer and Clues: How To Solve Today's Puzzle for May 6
Wordle remains as popular as ever after going viral in the past few months and is still free to play on the website of The New York Times.
If you need a little help solving Wordle #321 for May 6, please scroll to the bottom of this article for a selection of hints and clues.
Wordle works by indicating a chosen letter is correct and in the allotted cell when a cell turns green. Yellow indicates the letter features in the answer but in the wrong place, while a gray square means the chosen letter is incorrect altogether.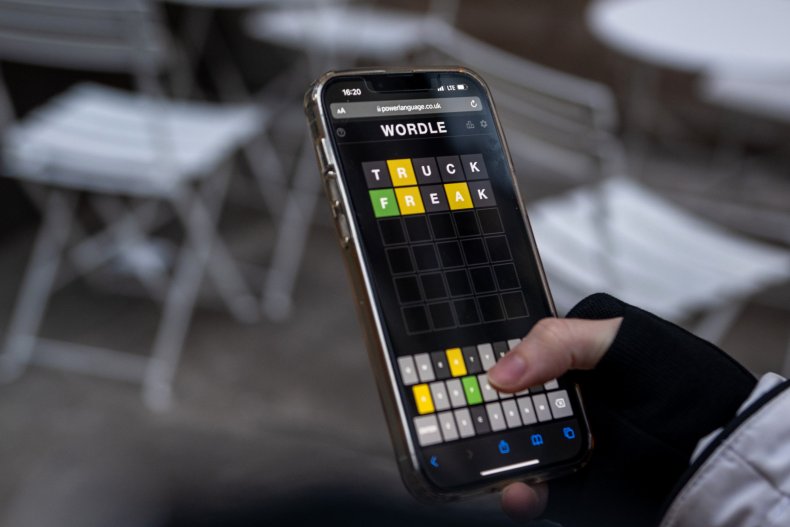 May 6's Wordle #321 is thought to be a hard one to tackle, but Newsweek has helpfully supplied some advice to assist word fans in the right way.
Spoiler alert: the answer to May 6's Wordle #321 sits at the end of this piece, so scroll down carefully.
Corienne Kilgannon, of PR firm Corienne Kilgannon, plays with her sons every morning before school. We love it.
She told Newsweek: "We normally get the word in four attempts but today we got it in three, so we were really pleased with that! There have been two times we got it in two attempts!
"We always debate what word to start off with—I prefer STEAM as I think it contains the most popular letters, but they sometimes use BREAD.
"I like that there's only one a day—there's a greater sense of achievement when you get the word right.
"I don't share on social media but will message friends who play when there is a particularly difficult one—not so long ago the answer was NYMPH—I think the lack of vowels threw a lot of people."
'Wordle' Origins
Puzzle fan Josh Wardle came up with Wordle in partnership with his partner Palak Shah.
The East Coast-based puzzlers began work on Wordle almost a decade ago and returned to the project in their spare time during lockdown wrought by the pandemic.
Wardle late in 2021 released the game punning on his surname to the public, and Wordle quickly became part of people's daily life around the world.
Wordle was at one point played by more than 45 million people every day, and inspired similar daily puzzles, from the geographical Worldle to the mathematically-minded Nerdle.
Statista's graph below indicates how popular the game has become over time, particularly in the last few months.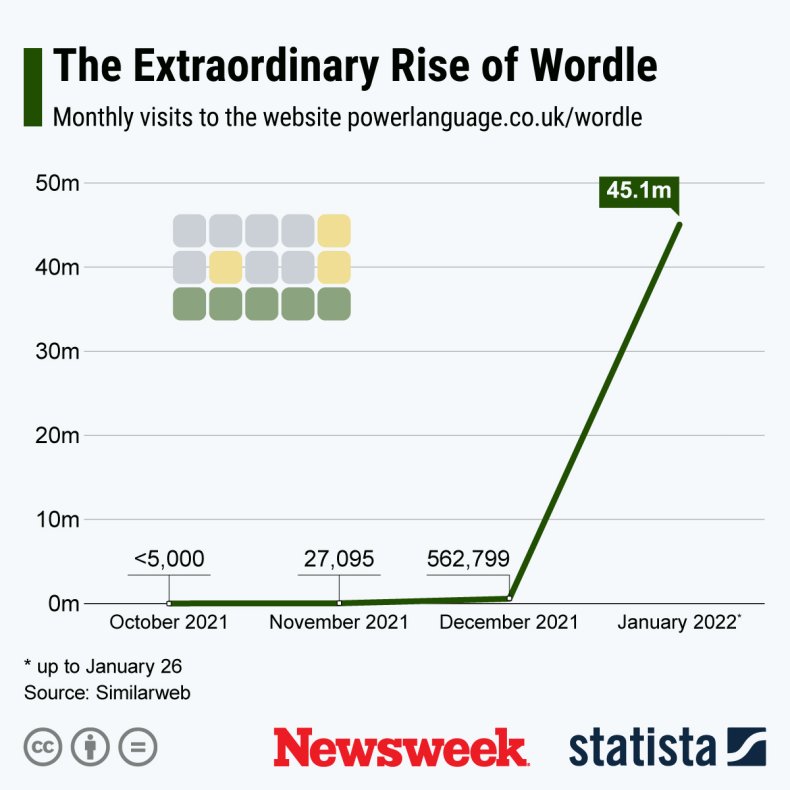 'Wordle' #321 — Four Hints for Friday, May 6, 2022
Players can approach solving May 6's Wordle #321 answer in several circuitous ways.
Hint #1: Should you include an "r" at the end, you will end up with the name of a black and white animal.
Hint #2: Merriam-Webster dictionary defines this Wordle #321 as a "coat of arms," "cognizance," "crest," "insignia," and "monogram."
Hint #3: The Thesaurus also terms this word as "identification," "insignia," "marker," "medallion," "pin," "ribbon" and "stamp."
Hint #4: Synonyms for Wordle #321 also include "laurels," "device," "marker," "insignia" and "kudos."
'Wordle' #321 Answer for Friday, May 6, 2022
The answer to Wordle on Friday, May 6, is "Badge."
Wordle will refresh each and every day at 7 p.m. ET (4 p.m. PT), with another new puzzle available for puzzlers to solve.
Wordle fans wanting something more while they wait for another daily brainteaser can try some of these similar word-based puzzles found HERE.