Today's Wordle Word of the Day: #335 Answer and Hints - Friday, May 20
Wordle is the viral word game now free to solve for the next 24 hours only on The New York Times website.
The aim of the game is deceptively simple, with Wordle asking participants to work out a five-letter word in a maximum of six guesses.
Understanding how to give yourself an edge in Wordle is easy; as players need to simply focus fully on the tiles' color after every attempt at guessing the five-letter solution.
When a tile turns gray following a guess, this particular letter will not feature at all in the answer.
Should the specific letter be included in the word, but only in another position, the tile will turn yellow.
And when tile turns green, players have hit the jackpot, with the letter both included in the word and in the correct position.
Wordle players have every right to feel pleased with themselves when arriving at the right answer, and the game caters to this sense of achievement by tracking their statistics.
The puzzle not only notes the number of correct answers, but also the length of winning streaks.
Corienne Kilgannon, of PR firm Come Together, says she plays the game with her family.
She told Newsweek: "My sons (nine and 11) and I play Wordle every morning before we go to school and work. We love it.
"We normally get the word in four attempts but today we got it in three, so we were really pleased with that! There have been two times we got it in two attempts!
"We always debate what word to start off with – I prefer 'Steam' as I think it contains the most popular letters, but they sometimes use 'Bread'.
"I like that there's only one a day – there's a greater sense of achievement when you get the word right.
"I don't share on social media but will message friends who play when there is a particularly difficult one – not so long ago the answer was NYMPH – I think the lack of vowels threw a lot of people."
Spoiler alert: the answer to May 20's Wordle #335 sits right at the bottom of this article, so scroll down with care.
'Wordle' Origins
East Coast-based software engineer Josh Wardle and his partner brought Wordle into the world as a cerebral exercise to enjoy during lockdown.
When it first went live to the public in October 2021, Wordle swiftly went from having just 90 people among its active player base to becoming a worldwide phenomenon, boasting 45 million daily users.
Wordle's deceptively straightforward gameplay is likely the obvious explanation for how it became a viral sensation in weeks.
Since its release, Wordle has inspired several other daily word games, most recently including the fiendishly adversarial punning version of the puzzle, Absurdle.
The Statista graphic below chart Wordle's almost exponential rise among puzzle fans the world over.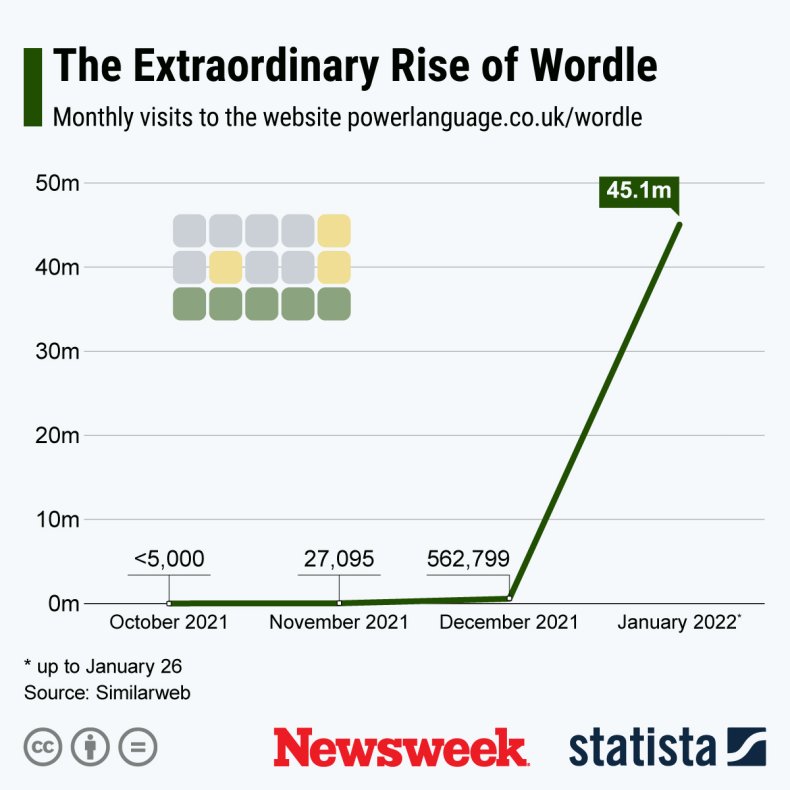 'Wordle' #335 — Four Hints for Friday, May 20, 2022
The Wordle answer for the end of the working week is surprisingly tricky, as there are many potential answers, so chose your guesses carefully.
Hint #1: This five-letter answer includes two of the most popular vowels found in the English alphabet.
Hint #2: The usage of today's Wordle answer has grown in popularity in recent decades and will most likely be more familiar to young players than the older generations.
Hint #3: Dictionary Merriam-Webster has Wordle #335's primary definition as a comparative adjective meaning: "Eager or willing to do something new or challenging."
Hint #4: Fans of Super Mario, the PlayStation 4, Fortnite and Minecraft should be able to figure out the answer to Wordle #335.
'Wordle' #335 Answer for Friday, May 20, 2022
The answer to Wordle on Friday, May 20, is "Gamer."
Wordle will refresh each and every day at 7 p.m. ET (4 p.m. PT), with another new brainteaser available for puzzle enthusiasts to attempt.
Wordle fans wishing to keep their brains busy while waiting for another daily puzzle can give some of the following word-based puzzles a try HERE.