The digital word game was created by Josh Wardle, for his partner, and as it became popular it was bought by The New York Times Company.
Around 90 people played the digital puzzle in November 2021, but just a few weeks later that figure skyrocketed to 300,000. It is reported that today, over a million people play Wordle daily.
Whether it's because the game refreshes every day, or because you navigate a color-coded system to get the answer, plenty of people play it religiously. In fact, it became so popular that it inspired several other similar online puzzle games, including Quordle, Squabble and Herdle.
The online puzzle game gives players six attempts to figure out a single five-letter word, while Quordle users must figure out four five-letter words in nine attempts.
The daily word game is free to access here.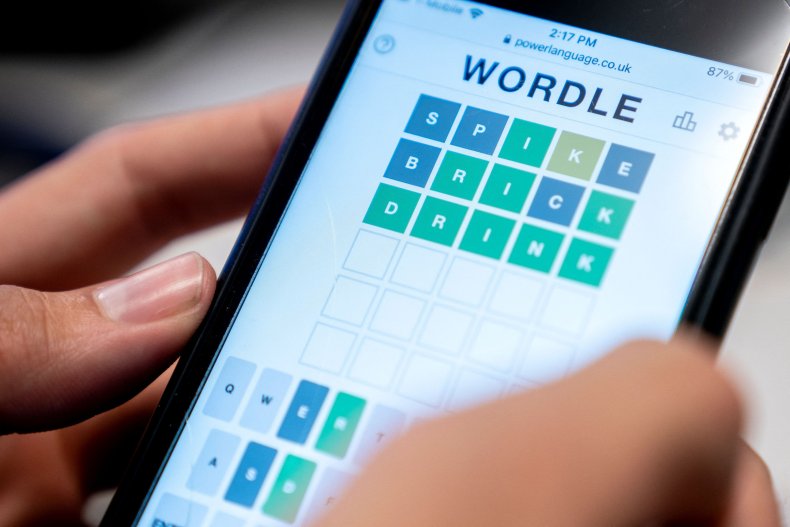 Part of the fun is that it's a brain teaser, meaning we often find ourselves stumped on what the answer actually is. And while the online puzzle does tell you which letters are in the correct position (based on the accuracy of your guesses) it doesn't actually give you any concrete tips or tricks.
For those who don't want to break their winning streak, Newsweek has created some hints to help nudge them in the right direction. Failing that, the answer is provided at the end of this article.
General Tips and Advice
If you've just started out playing Wordle, we have some tips and tricks for you.
Generally, your first word should have plenty of vowels, to cross out any that are or aren't present, a good word is "audio." You should also avoid certain letters such as X, Z and Q until later on, when you have a better grasp on what the word is.
'Wordle' #374 June 28 Hints And Tips
Hint #1: One of the letters appears twice
Hint #2: The word starts with a "D"
Hint #3: The word describes someone who is entertaining or funny
Still stuck? We've got the answer for today's Wordle for you below:
'Wordle' #374 Answer for June 28, 2022
The Wordle 374 answer for Tuesday 28th of June 2022 is "Droll."
For those players who found today's puzzle a little tricky, remember that the puzzle will reset at 7:00 p.m. ET, so you can always wait to do the next one then.
And if you're a true Wordle fan through and through, there are plenty of different challenges and games you can try next, including these similar games.