Today's 'Wordle' Word #320 Answer: How To Solve Thursday, May 5 Puzzle
Wordle is live for only 24 hours, meaning puzzle fans have only a short window to make the most of the colored square clues to continue their winning streak this Thursday.
Wordle remains as popular as ever after going viral in the past few months, and is still free to play on the website of The New York Times.
If you need a little help solving Wordle #320 for May 5, please scroll to the bottom of this article for a selection of hints and clues.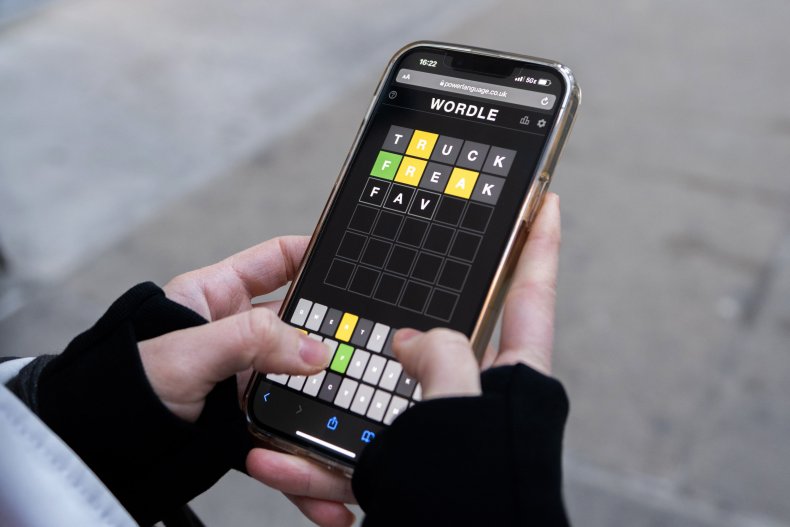 Wordle works by indicating a chosen letter is correct and in the allotted cell when a cell turns green. Yellow indicates the letter features in the answer but in the wrong place, while a gray square means the chosen letter is incorrect altogether.
Wordle #320 is a tough puzzle to crack, but Newsweek has kindly curated clues to help nudge word game enthusiasts in the right direction.
Spoiler alert: the answer to May 5's Wordle is revealed at the end of this article, so scroll down with care.
Sally Learmouth, of PR firm Gloss Communications, finds Wordle helps "connect across the generations of our family."
She told Newsweek: "My 12-year-old son who is high functioning autistic, and my mom, who is in her 70s and retired, message each other nearly daily about it, especially if we've got a flukey win in two or it's especially hard, or a word that resonates for whatever meaning.
"My son's behavior is particularly challenging as he has Pathological Demand Avoidance. Wordle has been a rare opportunity to connect daily with him without conflict.
"We have specific starter words that do well and if we get really stuck we cheat using a crossword finder and our best guesses at the missing letters."
'Wordle' Origins
Software engineer Josh Wardle invented Wordle in partnership with his partner Palak Shah.
The New York-based puzzlers actually began work on Wordle almost a decade ago and returned to the project in their spare time during lockdown wrought by the pandemic as it swept the world.
In October 2021, Wardle released the game punning on his surname to the public, and Wordle quickly became part of people's daily life around the world.
At the height of its popularity, Wordle was used by more than 45 million users every day, and inspired similar daily puzzles, from the country-centric Worldle to the number-crunching Nerdle.
Statista's graph below indicates how popular the game has become over time, particularly in the last few months.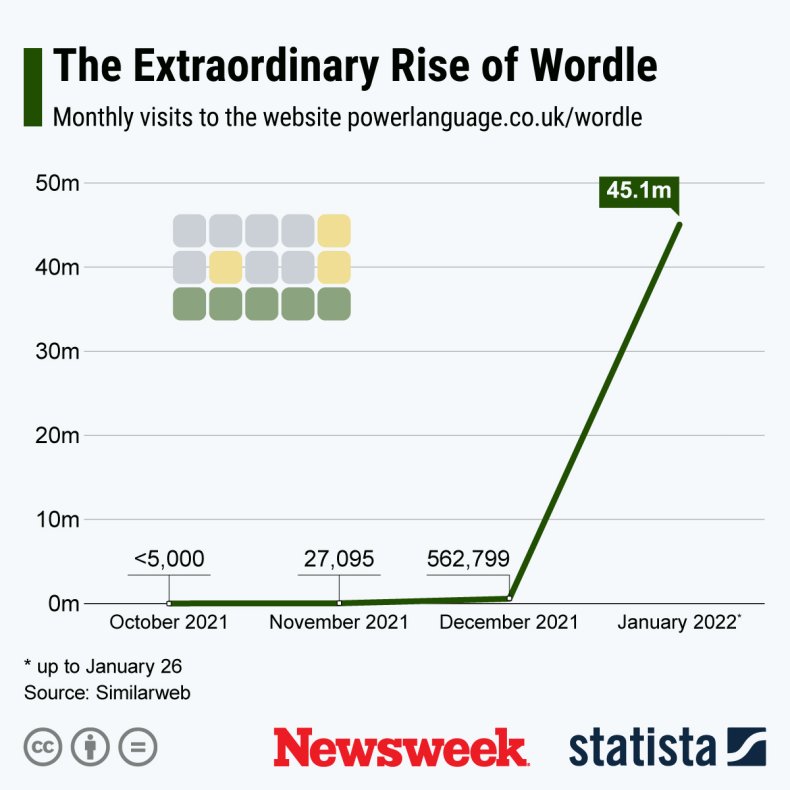 'Wordle' #320 — Five Hints for Thursday, May 5, 2022
Players can approach solving May 5's Wordle #320 answer in several circuitous ways.
Each hint has been designed to be a little more revealing than the previous one, allowing those stuck on Wordle #320 to stop reading once they recognize the correct answer.
Hint #1: The Cambridge Dictionary defines this word primarily as an informal American English term for a notable event in baseball.
Hint #2: Wordle #320 incorporates two vowels.
Hint #3: The answer today's Wordle #320 is also heavily associated with the name of Bart and Lisa's father in The Simpsons.
Hint #4: Today's answer is also linked with the person responsible for Ancient Greek epic poems "The Odyssey" and "The Iliad."
Hint #5: The letters involved are relatively common, so canceling out some possibles in your early stages, and working out which vowels are in the answer, should ensure you get there eventually.
'Wordle' #320 Answer for Thursday, May 5, 2022
The answer to Wordle on Thursday, May 5 is "Homer."
Wordle will refresh each and every day at 7 p.m. ET (4 p.m. PT), with another new puzzle available for brainiacs to solve.
Wordle fans wanting something more while they wait for another daily brainteaser can try some of these similar word-based puzzles found HERE.