Today's 'Wordle' Word #334 Answer: How to Solve Thursday, May 19 Puzzle
Wordle is the viral word game now free to play on The New York Times website.
The aim of the game is deceptively simple, with Wordle forcing players to figure out a five-letter word in six guesses or less.
Getting to grips with Wordle involves paying close attention to the color of the tiles after every attempt at guessing the answer.
Should a tile turn gray, the corresponding letter doesn't appear in the word being guessed.
But if the chosen letter is included in the word and not in the correct position, the tile turns yellow.
And should the tile turn a green color, the letter is both in the word and in exactly the right position.
The site also tracks every player's performance, storing the number of attempts used for each puzzle and the correct answers achieved, including the winning streak.
Rebecca Nicholson, a senior digital PR executive for digital marketing agency The Audit Lab, believes the game helps with her work.
She told Newsweek: "I work in content and PR, so word games are my thing. Add to that, my competitive personality, and you've got yourself a big fan of Wordle here.
"It's great to come into work and see who's got the daily word, and find out if you've beaten them with the number of goes it took to get it. I love quizzes, puzzles and word games as you're learning quickly in a fun way.
"Word games are great for expanding the vocabulary and in copywriting/content, this helps a great deal, so there is a method to the fun madness!"
Spoiler alert: the answer to May 19's Wordle #334 is found at the end of this article, so please take care when scrolling down.
'Wordle' Origins
Enthusiast of all things puzzle-related, Josh Wardle invented online game Wordle with his partner Palak Shah.
Wordle is a labor of love, as its development began approximately 10 years ago, with the pair completing the project in their spare time during lockdown.
The game, a pun on Wardle's surname, was released to the public only last year, and it didn't take long for Wordle to become integrated into many people's daily lives around the world.
Wordle was at one point played every day by more than 45 million people, and inspired a slew of other puzzles, from the game based on countries' outlines, Worldle, to its mathematical cousin Nerdle.
Statista's graph below charts just how popular the game has become in such a short space of time, particularly in the last few months.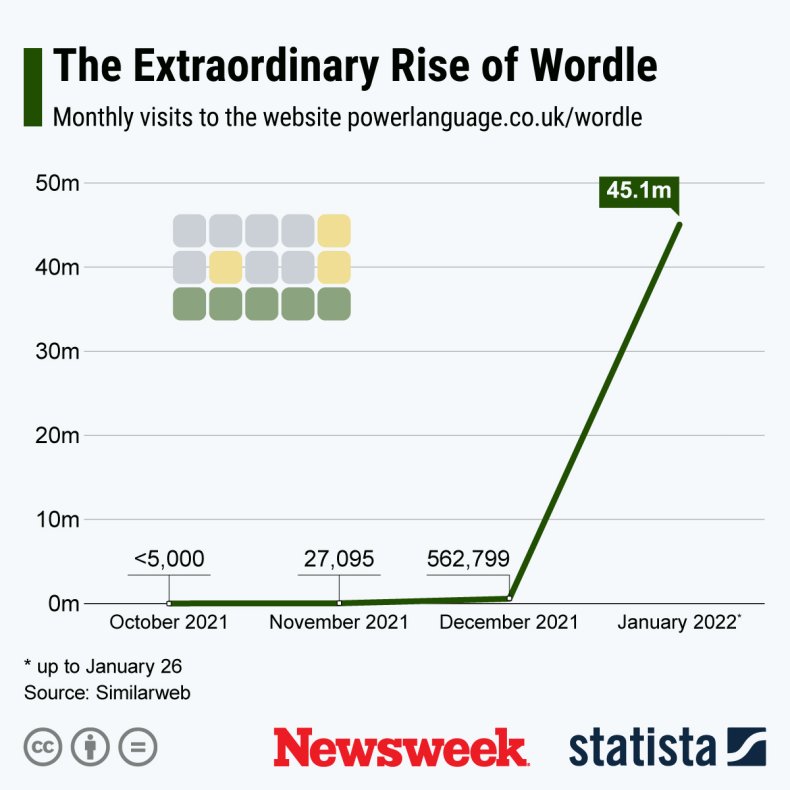 'Wordle' #334 — Four Hints for Thursday, May 19, 2022
Players can approach solving May 19's Wordle #334 answer the using following roundabout hints and tips.
Hint #1: This five-letter answer includes just a single vowel sitting on or near the center.
Hint #2: Today's Wordle word boasts two identical letters, sitting side-by-side, a feature which can notoriously sometimes throw even the most experienced fan of the puzzle.
Hint #3: Dictionary Merriam-Webster has Wordle #334's primary definition as: "A pair of lenses set in a frame that is held in place with ear supports and which are usually worn to correct vision."
Hint #4: The U.S. dictionary also defines the answer to Wordle #334 as: "A smooth or polished surface that forms images by reflection."
'Wordle' #334 Answer for Thursday, May 19, 2022
The answer to Wordle on Thursday, May 19, is "Glass."
Wordle will refresh each and every day at 7 p.m. ET (4 p.m. PT), with another new puzzle available for puzzle enthusiasts to crack.
Wordle fans wanting something more while they wait for another daily brainteaser can attempt some of the following word-based puzzles HERE.