'Wordle' Word #346 Answer and Clues for Tuesday, May 31
Wordle is the genius daily word game, giving super sleuths the chance at guessing the answer in just six stabs.
Given the solution changes every day, Wordle's difficulty can consequently range from easy-peasy to borderline impossible.
But the good news is, Newsweek can help guide players towards working out the answer, while the nuclear option of seeing the actual solution is also available by scrolling to the bottom of this article. But first, let's first recap the Wordle rules.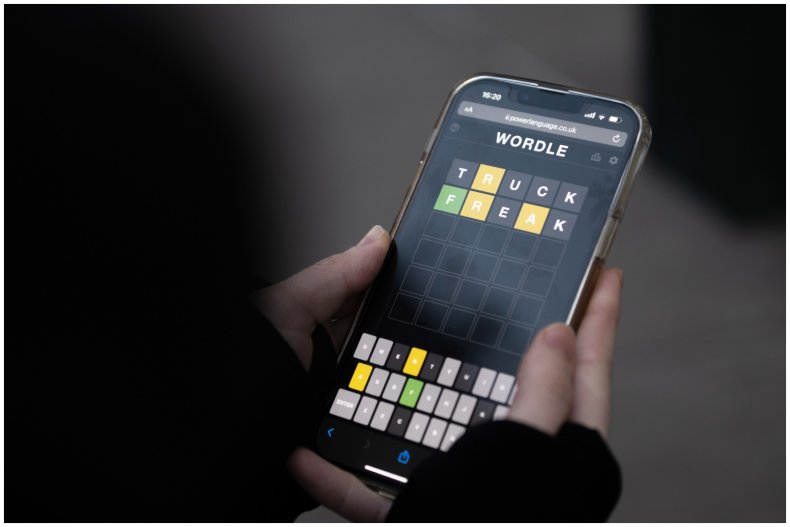 The best way to solve the solution in six guesses or fewer is to allow the color of the squares to inform you.
Green squares tell people the good news they have selected the correct letter and it is perfectly positioned in the word.
Yellow squares tell players the letter features in the Wordle answer, but in the wrong place. And gray squares are the bearer of bad news, as the letter appears nowhere in the answer.
While Wordle is a word game, numbers are all-important and the puzzle retains records of everyone's all-important stats, tracking how many guesses have been previously been required, and the duration of people's winning streaks.
Matthew Robinson, junior client service director at Definition Agency, claims to have had a "100 percent win record since starting to play the game in January."
He told Newsweek: "I never, ever use a 'starter' word. There are lots of good 'starter' word options, but I always try to start with a new word everyday to help keep up the challenge.
"I sometimes like to play 'reverse' Wordle with friends, where we share our results of that day's game, then try to guess what each other's starter word was.
"One tip that I have is to try, where possible, to cover as many vowels as possible in your first two words, as it really helps to narrow down the options and puts you in a good position to get a 3/6.
"Another tip is to always be aware of potential double letters in words (e.g., 'sweet' or 'messy') as this can trip some people up."
Spoiler alert: the answer to May 31's Wordle #346 is found at the bottom of this article, so take care when scrolling down, and return tomorrow for more advice if you are again stuck.
'Wordle' Origins
The game was created by a Welsh software engineer living on the East Coast for his puzzles-loving partner during lockdown.
Josh Wardle created the guessing game punning on his surname for just the pair of them. But Wordle quickly took off and became an addiction among friends and family and was shared via a WhatsApp group, so he introduced it to even more people.
Approximately 90 people are believed to have played the game in November 2021, but just weeks later more than 300,000 played, according to The New York Times, which now owns the puzzle game.
Today, more than a million people are reported to play Wordle as part of their daily routine.
The Statista graph below tracks Wordle's popularity among puzzle fans around the world.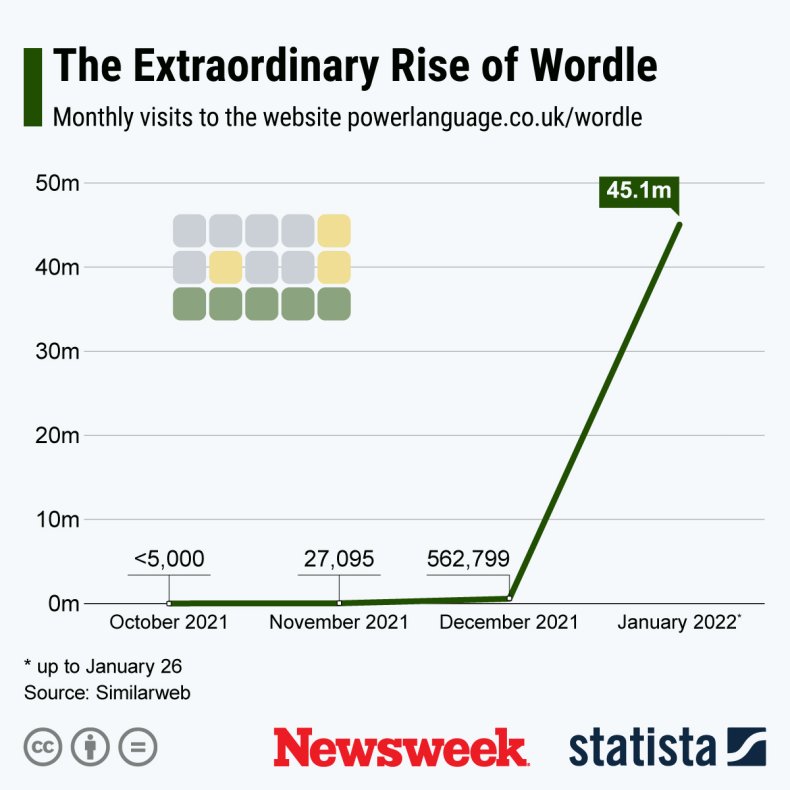 'Wordle' #346 — Hints for Tuesday, May 31, 2022
The best Wordle starting word is the one you calculate is a good fit. However, continue reading for helpful hints if you require some assistance.
Hint #1: The answer to today's Wordle features two vowels, found sandwiching a central consonant.
Hint #2: The final letter of this five-letter word is ranked as one of the most popular in the English language, which should help with early guesses.
Hint #3: U.S. dictionary Merriam-Webster defines the Wordle #346 answer as "a large country house with lands."
Hint #4: Synonyms for the Wordle #346 answer include: "castle," "château," "estate," "hacienda," and "hall."
Good luck with working out the answer for this Tuesday, and remember to return on Wednesday for another set of Wordle hints and tips as June arrives.
'Wordle' #346 Answer for Tuesday, May 31, 2022
Still having trouble even after these four hints found above? The answer to Wordle #346 on Tuesday, May 31, is "Manor."
Wordle refreshes daily at 7 p.m. ET (4 p.m. PT), with another new puzzle available for puzzle enthusiasts to tackle.
Wordle fans wanting something more while they wait for another daily brainteaser can attempt some more word-based puzzles right HERE.