We Asked Twitter For Tips To Help Co-Working Romantic Partners Not Kill Each Other During Lockdown
Being stuck at home while self-isolating has tested many people's ability to work from home, but the coronavirus has thrown a new obstacle to couples that are working from home together. Newsweek asked Twitter how people are making their relationships work from home, while working from home.
Social-distancing and staying home trying to flatten the COVID-19 curve could be enough to put a strain on a relationship on its own, but bringing the regular stresses and challenges of a job could add another hurtle, but people on Twitter have found that even more distancing, internal-social distancing if you will, seems to be the most useful in separating life and work and keeping relationships in tact in the time of coronavirus.
While so many people wrote that working in separate rooms or giving each other space was key, many people also tweeted that open communication was also important to keep relationships strong during COVID-induced WFH.
Audio Engineer Seth Metoyer wrote that he's worked from home with his partner for nearly a decade, and the couple go to separate offices, while coordinating dinner and "sleepovers," where they've recently been watching Downton Abbey. He also wrote that they check in on each other via DM during the day. The Debt author Tyler King also wrote that her partner and her embrace the separate rooms, but meet for lunch and check-in from time-to-time.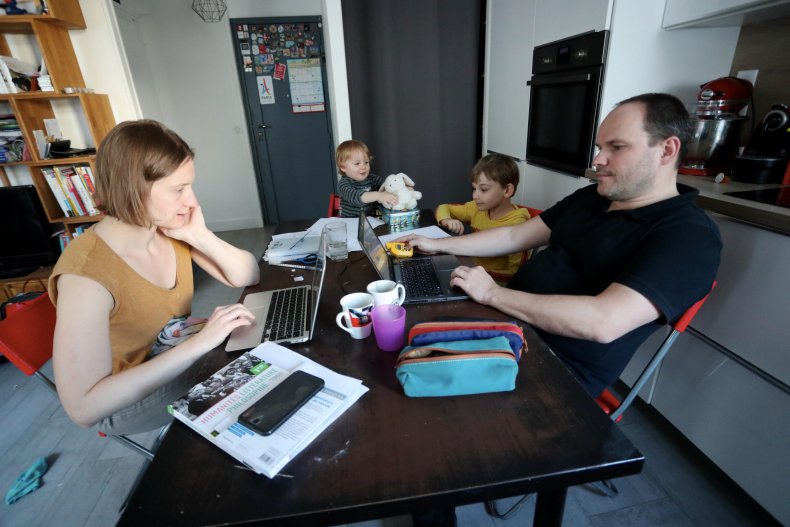 Open communication was a running theme of the suggestions that Twitter users had. Writer Genie Leslie wrote that her partner and her give each other notice, when they have to take calls, especially video conferences, so no one walks by a camera fresh out of the shower. Comedian Gus Constantellis wrote that updating each other on moods and metal states was important "so as to not take things personally." He also wrote that he and his partner were going to bed early and taking alone time. One user, who is a stay at home mom, wrote that her husband keeps her updated on call schedules so she can "make sure the kids don't go bonkers."
Relationship coach Keith Dent said he has "White Table Talk" with his wife where they "talk about stuff [they] will do during the day and [they] make sure to laugh."
Laughter also was a consistency in people's suggestions. Leslie wrote that "turning little grievances into comedy" was "cathartic." Other users found comedy in other aspects of their daily lives, with one user responding that her and her partner have taken to calling their cat and dog "co-workers" and blaming any issues on them.
Of course, with the recent Animal Crossing release, some people have taken solace in that, like comedian R. Alex Murray, who said it's hard to be angry during "island time."