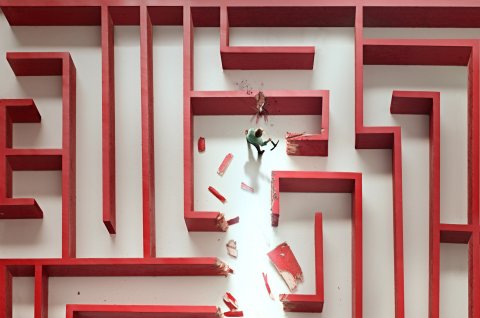 For almost every professional, life turned upside down during the pandemic. Whether you experienced job loss or a sudden shift to work-from-home, you likely had to deal with radically changed circumstances. Many of those changes persist to this day. For career expert Lindsey Pollak, whose keynote speaking business suddenly evaporated, "it was terrifying and frustrating." In response, she sought clarity by creating a roadmap for herself and others in the form of a new book titled Recalculating (Harper Business), a guide for navigating your career during times of great change.
In a conversation on my weekly Newsweek interview show Better (Thursdays 12 p.m. ET/9 a.m. PT), I asked Pollak to reflect on her key learnings. (She also wrote a piece for Newsweek about how recent graduates can adapt to the COVID-19 era of work.) Here are a few pieces of advice she offers for anyone feeling stalled, or at a crossroads.
Start with a growth mindset
Before we change course professionally, we need to believe that change can actually happen. Pollak cites the work of Stanford psychologist Carol Dweck, who pioneered the concept of "growth mindset" (change is possible!) as compared to "fixed mindset" (I am who I am, and that's it). According to Pollak, a growth mindset is key. It "starts from the belief that really anything is possible if you put in the work," she says.
Recalculating doesn't mean restarting
When you're facing career change, it's important to remember that you're never starting from scratch. "When your GPS says 'recalculating,' it never sends you back to your driveway to start over completely," Pollak says. "It always takes you from where you are. You have built skills and knowledge and experiences in whatever job you've done." Take a self-assessment or enlist a coach or your alma mater's career services office to help you discover the strengths and skills you already possess that will serve you in your next chapter.
Keep yourself accountable
Figuring out what's next takes persistence—and patience. Pollak recommends keeping a few accountability partners on speed dial for the times when motivation runs low.
Pollak, for instance, has identified certain friends she reaches out to when she's feeling bored or unmotivated, and—depending on the circumstance—they either push her to get the task done or encourage her to take a self-care break. And then get the task done. In high school and college, Pollak also used a technique she calls "sandwiching," in which she'd call her mom for encouragement and support both before and immediately after completing a tough task. "That made the thing a little less scary and bothersome," she recalls.
Remember your relationships
If you're looking for a new job or new career opportunity, there's a good chance you'll find it through a personal connection. I'm a longtime believer in the power of networking, and Pollak agrees: "I think the best piece of advice I've ever gotten in my whole life was, 'No matter what, keep building your contacts, keep your relationships.'"
Pro tip: Pollak, a former LinkedIn brand ambassador, remains a huge fan of the service as a way of keeping in touch. Instead of just sending a blank connection request, she says, "Always customize your outreach request to people. Just a sentence, 'Hey, Dorie, really enjoyed your show,' or 'Hey, great to meet you at the career fair. We're an alum of the same school.' In other words: show that you're not just writing 'Dear occupant'."
You can 'recalculate' your current job
Even if you're unhappy or unfulfilled in your present role at your company, that doesn't necessarily mean you need to leave. Employers—keenly aware that many employees are considering moving on—may be amenable to a conversation about shifting your role. As Pollak says, "share your ideas and your suggestions and your desire to maybe change directions or become an intrapreneur in your company." The key, though, is to ensure that your company doesn't view your request as a threat or ultimatum.
"You have to almost over-emphasize that you are delightfully happy in your current position and very happy to keep it and continue contributing, and you have some ideas of what you might want to do next," she says. "The trick is to never act like you're out of there if this doesn't happen, or you only want to make this change and you're not really into your job anymore."
Bottom line: Unforeseen circumstances can cause career roadblocks—and we may need to reinvent ourselves. But that doesn't mean we've lost our way. Sometimes recalculating helps us discover there was a better route all along.
Dorie Clark, author of Entrepreneurial You and Duke University Fuqua School of Business professor, hosts Newsweek's weekly interview series, Better, on Thursdays at 12 p.m. ET/9 a.m, PT at newsweek.com/linkedinlive. Sign up for updates at dorieclark.com.