'Work Sets You Free': Trump Senior Adviser Accused of Using Nazi Propaganda Slogan
Multiple people on social media have accused an aide to President Donald Trump of evoking a propaganda slogan used by the Nazi regime after he said "work sets you free" in a video.
Corey Lewandowski, who served as Trump's 2016 campaign manager and is currently a senior adviser to the president's 2020 campaign, made the comment in a video posted to his Cameo account on Thursday. Several current and former Trump associates have joined Cameo, a social media platform that allows anyone to purchase either a public or private personalized video message from famous personalities.
In the video, Lewandowski states he is recording the message for the "Alpha Freedom Friends."
"This is Corey Lewandowski. You know me as President Trump's 2016 campaign manager and his current 2020 senior adviser. Look, I want to say freedom only for the members of the government or only for the members of the party is no freedom at all," he says. "We need to end the China virus lockdown, and only work sets you free. Let's get everyone back to work, let's get our economy growing again, let's send Donald Trump and Mike Pence back to the White House for four more years."
The phrase "work sets you free" has deep historical significance. The words translate in German to "arbeit macht frei" and are known for appearing on the entrance gates to Auschwitz and other Nazi concentration camps.
Wonkette, an online magazine, reported that "The Serfs," a YouTube channel where "two indentured plebs bring you their comedic spin on the weekly news," purchased the video message for $70. They posted an edited version of the video on Twitter, which has now been viewed more than 430,000 times.
But the "Alpha Freedom Friends" appears to be a nonexistent organization. If someone were to search "alphafreedomfriends.com," they would be redirected to a donation page for Planned Parenthood. It is unclear if The Serfs sent Lewandowski a specific message to record, or if he wrote it himself.
"It's pretty funny that about 20+ blue checkmark journalists all retweeted the Corey Lewandowski story and the only person to check out the website provided was Cody Johnston," The Serfs tweeted, referring to the podcast and video host.
Newsweek contacted The Serfs for comment, but did not hear back in time for publication.
Many Twitter users shared The Serfs' video, offering their own commentary and railing against Lewandowski, arguing that he was well aware of the phrase's meaning.
"If you are a Jew for trump you should be horrified. If you are an American who knows what happened in ww2 you should be horrified," tweeted Larry Charles, a comedian. "If you are a human you should be horrified. This is blatant purposeful antisemitism. You are being played."
Sean Hecht, a UCLA School of Law professor, took the opportunity to implore others to "vote them out" on the November 3 election, referring to Trump and other Republicans.
"In a normal political climate, Nazi propaganda slogans by President's former campaign manager & close associate would cause members of the President's own party to require an acknowledgment & apology," he tweeted. "It would, even today, if the political parties were switched."
Kathy Sullivan, former chairwoman of the Democratic Party in Lewandowski's home state of New Hampshire, tweeted: "Nothing like a little Nazi quoting from a Trump senior advisor. NH Republicans should kick him out of the party. #nhpolitics"
Newsweek contacted Lewandowski for comment through his company Rough Rider Media, but did not hear back in time for publication.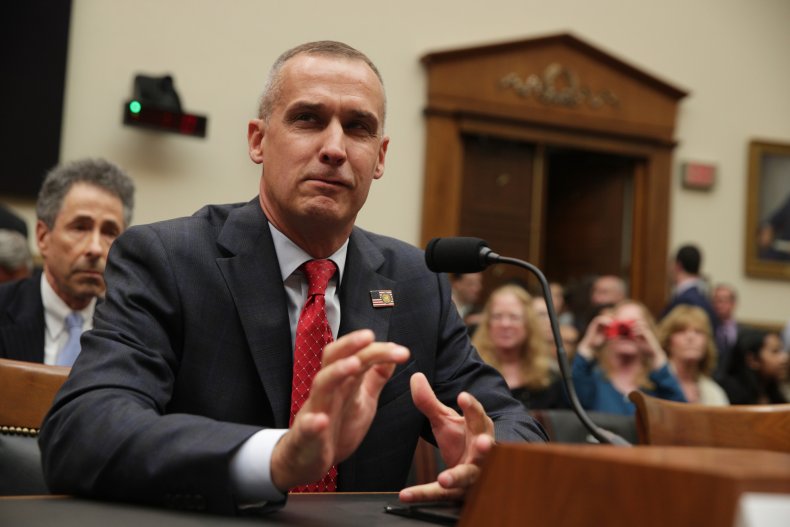 This is not the first time Lewandowski has fallen for a suspected troll. Actor Sacha Baron Cohen, who has made a point of pranking Republican figures, featured Lewandowski on his Showtime program Who Is America? in 2018.
The segment coincided with the first anniversary of the Unite the Right rally in Charlottesville, Virginia, where white supremacists and counter-protesters clashed, resulting in the death of one woman.
Cohen used his character Billy Wayne Ruddick Jr., a conspiracy theorist who runs the fictional far-right TRUTHBRARY.org, to speak with Lewandowski, The Washington Post reported. "Ruddick" asks Lewandowski why Trump should "pick a side between antifascists and fascists," after the president came under fire for claiming there were "very fine people, on both sides" in the wake of the Charlottesville rally.
"There is a place and time to disagree with people — everywhere," Lewandowski responded. "You don't have to agree with people. You have to respect them, and you can't be attacking them."
"Ruddick" further presses Lewandowski: "You can't be attacking honest, fascist people that just want to express their right to start a genocide — that is their right."
But Lewandowski demurred, saying: "I don't know about that."