'I Worked With Mother Teresa In Calcutta'
I was living in Fiji in the mid-90s. My family is originally from Goa in India but we'd never been. My parents, younger brother and I were born in Africa—we were refugees who fled from Uganda to the UK when I was seven. In 1995, I somehow persuaded my family to meet me in Goa. When they agreed I immediately felt there was another reason for me going to India, apart from to see my family. An inner voice told me to go to Mother Teresa.
I had an amazing time with my family in Goa, and then made my way to Calcutta. I showed up at the Missionaries of Charity's Mother House, knocked on the door and said I was there to volunteer.
Mother Mary Teresa Bojaxhiu (Mother Teresa) and I started talking when I started going to morning prayers at Mother House. I was a lapsed Catholic at that point, but working with the dying men was so devastating that I needed morning prayers to see me through the day.
Mother Teresa often led the prayers and much as she might be available to chat after, it was clear that we weren't there to socialize, or for the glamor of it.
One of my first conversations was Mother Teresa telling me that there might be children outside who would ask me to buy their family medicine from the pharmacy. She told me they had a deal with the pharmacy to get the money back, and not to fall for it. She was warning me that it was a scam.
I wanted to work with orphans, but I was told that men weren't able to. So I ended up working with sick and dying people at Kalighat, the Home of the Pure Heart (formerly Kalighat Home for the Dying), a hospice for the dying Mother Teresa founded in Calcutta. Some volunteers romanticized it, thinking it would be holding sick people's hands and gazing into their eyes as they passed, but it was hard work.
The first thing we had to do in the morning was get all the men up and wash them before breakfast. Their clothes and the bed clothes would go through a process of being boiled in a great cauldron, because these men had various diseases and we had to sterilize the clothing.
Most of us there were just volunteers, although medical professionals did sometimes drop by. We made do with minimum equipment. The first man I personally looked after could barely walk when he was first carried in. I took him into the stone bathroom there to shave his body and face. Not just to get the bugs out, but to locate sores and wounds, and deal with urgent needs.
Just to be touched, fed and cared for, and to have a roof over their heads was a huge deal for some of the men. Some of them were skin and bone, so one thing I didn't have the stomach to do was give injections. I was too scared.
There was one man who was supposed to be sent to the leper colony to have his leg amputated. I don't know if it was my ego, but I wanted to save his leg. We'd have long sessions with his leg stretched out and his heel in a bowl of disinfectant as I pulled out maggots from his leg with tweezers and removed dead flesh. Those maggots would swim through the disinfectant trying to get back to his leg.
He'd shout and talk a lot of nonsense because he had mental health issues, but some of the other suffering men worked out that he was once a fairly well known cricketer. It broke my heart when he disappeared from the hospice one day. I had tried my best to save his leg.
I volunteered at Kalighat for a month in 1995 and a month in 1996 over Christmas and the New Year. People from Fishguard and Goodwick, the twin town community in Wales that my family moved to when we left refugee camps, had heard that I was working with Mother Teresa, so they raised money and asked me to give it to her the second time I went back.
What was shocking was that there were a few men who we'd nursed back to health and who had gone back out into Calcutta in 1995, who were back again when I returned late 1996. Their attitude was like I belonged with them in their community. The man I'd shaved in the stone shower was back and said to me, "Brother, where have you been? We've been waiting." We cared for each other and he didn't want me to know about his health issues in case I got upset.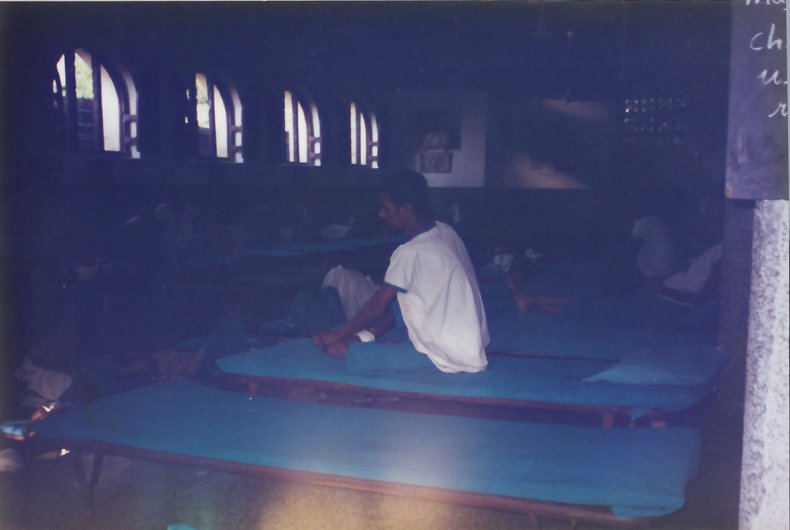 Mother Teresa would sometimes come to work with us at Kalighat, though our conversations were after prayers in the morning. One thing she used to say a lot was, "the family that prays together, stays together." Well at that time, my parents were living in Wales, I was based in Fiji and my brother was in Germany.
We were talking once about how busy she was with all the publicity she did and how little sleep she had. She said that if she had to be in the public eye to draw attention to the work, then she would do it. She told me that it wasn't about her, but about the work and serving the poorest of the poor. She wanted people to care. It put my ego in check, because she taught me it's not about me, it's about the work I do. That was really valuable.
Mother Teresa didn't suffer fools. She was focused on the work and there was no glamour. She was as much emotional as practical—things needed to be done to help people. I remember at Christmas in 1996, she told us that after our work we were to go out into the streets on procession to sing carols with her. Some of the volunteers weren't so keen, but we did what she said. You did not argue with Mother Teresa.
Mother Teresa worked, same as everyone else. She just mucked in and dealt with who was in front of her. Her mission was to care for the poorest of the poor. It wasn't about anything but the work.
I had fears when I started holding men's support groups, to help men speak about their issues, and even bigger concerns when I started training people to host their own support groups. But I know from her to just get on with the work, trust in God and that nothing else matters.
Volunteering at Kalighat was the most useful I'd been in my life, until the COVID-19 pandemic hit. I've been facilitating men's groups and helping men talk for 20 years, but since lockdown I've held weekday lunchtime men's groups to help men through these troubled times.
I had struggled with Obsessive Compulsive Disorder (OCD) since my childhood—I couldn't deal with dirt and contamination, so volunteering was unthinkable in that sense. I remember stirring that boiling pot of filthy, scummy linen one day, there was a splash and a drop of this "death juice" landed in my mouth. It was so awful that in that split second I felt like I had died. But I immediately got over it. I don't know how, but that experience basically cured my OCD.
Serving other people and meeting life at death changed my life. There was no way I was going to chase fame or fortune in life after that, it put what's important into perspective.
Kenny Mammarella-D'Cruz is the founder of MenSpeak men's groups, which aim to provide a space for men to talk openly about their experiences and feelings. His MenFacilitate workshops teach others how to listen so men speak. Since the COVID-19 pandemic, Kenny has launched MenCheck-in, a short daily men's group held online via Zoom, to help keep men calm, connected, safe and sane. He lives in London and now mainly works online.
All views expressed in this piece are the writer's own.
As told to Jenny Haward.