Worker Backed for Choosing 'Most Offensive Song' to Add to Company Playlist
Commenters backed an employee for seeking offensive song choices for a company playlist made for after-work "funtime."
The Original Poster (OP), known as u/DGReddAuthor, sought out options on Reddit's popular "Antiwork" forum where it received more than 17,000 upvotes and 20,000 comments. The post can be found here.
Office Culture
According to Comparably, a website that provides data and resources to employees, one-third of workers believe work-life balance is the most important job benefit besides pay.
A survey conducted by the company found that a majority of workers feel they are not able to fully "divorce" themselves from their job even when they're not at work.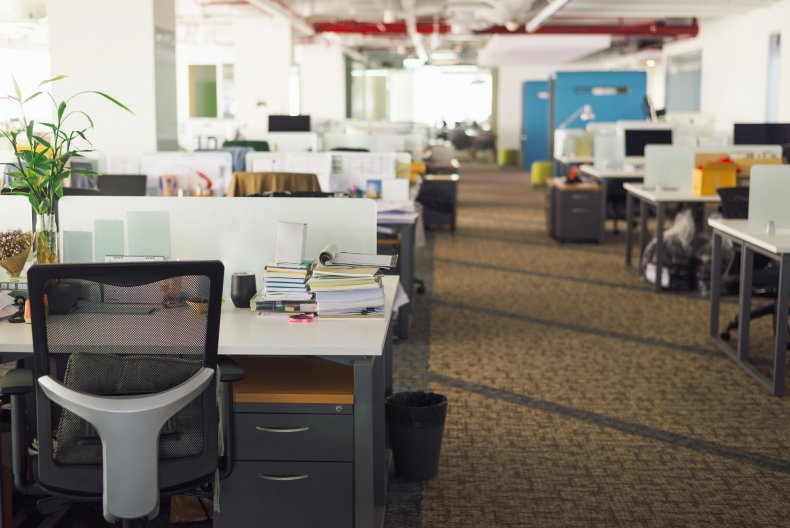 "Most American workers get between two or three weeks off per year from their jobs, but it may not be enough," the study found. "Many still report a desire for more flexibility, and work-life balance is a hugely important benefit."
In another survey, the company found that 28 percent of respondents never spend time with coworkers outside of work, while 24 percent said once a month and 10 percent said multiple times a day.
'Mandatory Work Funtime'
In the post, the OP said their job has "mandatory work funtime" after office hours. They said the "Culture Club" at work is allowing everyone in the office to add one song to the "funtime" playlist.
"What's the most offensive song I can add?" the OP asked in the post.
They said that no one will be able to figure out who picked the song, but that if anyone does, they don't care.
'Spit Their Drinks'
The OP gave just two criteria: the song must be available to stream on either Spotify or Deezer and the song cannot be subtle.
"Subtlety won't really work, so stuff like Rage Against the Machine is out," the post read. "Yes, this is childish. Yes, I want to make people stop talking and look at each other uncomfortably."
The OP said the "Culture Club" will definitely not be checking the playlist ahead of time.
"Some genius in the Culture Club has created a slackbot for this," the post read. "Best case scenario is that people spit their drinks and clutch their pearls."
In the comments, the OP said they are between the song "Juicy" by Biggie Smalls and "Rack City" by Tyga.
Song Suggestions
More than 20,000 users commented on the post, many offering their most offensive song suggestions and others sharing their own funny work experiences.
"Anything by cupcakKe," one user commented, referencing the rapper.
"Peaches - F**k The Pain Away," another commented.
"Too many suggest something with sexual tone," another user commented. "You want it to be offensive to corporate (to the point it could get you fired on the spot)? Try : 'The Internationale,' by Billy Bragg."
"Billy Bragg: There Is Power In A Union," another user suggested.
"Similarly, Tom Morello's cover of Solidarity Forever," another commented.
"Yes, this is definitely a better theme than a song that's just crass or sexually explicit," one user commented. "This hits the meaning home of the OP's issue with forced work 'fun.'"
"Funny you should mention Tom. This happened a few years ago," one commenter replied. "I work at a Walmart warehouse that plays a rotation of Sirius XM stations on the floor. Well it so happens that the station of the day was celebrating a union day and Tom was the guest of honor. Dude spent a few hours touting unions by talking and playing pro union songs. I loved hearing that in a super anti union environment."
"Only correct answer is 5 Million Ways to Kill a CEO by The Coup," a user commented.
"Pretty much anything by The Coup works for this," another user replied.
"Take This Job and Shove It by David Allan Coe," one user commented.
Newsweek reached out to u/DGReddAuthor for comment.
Other Viral Posts
A boss was criticized in another viral post from Reddit's "Antiwork" forum after expecting their co-worker to reply to an out-of-hours email.
In another post, a company was told it was "insulting" its employees with its employee "appreciation potluck" and another allegedly threatened employees with jail time if they refused to work overtime.